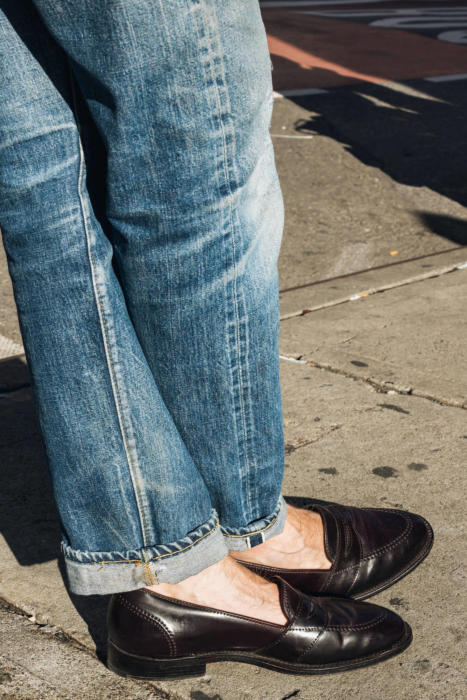 This is intended to be a partner to the 'If you only had five shoes' article in our Wardrobe Building guide, which was all smart footwear. Today's piece is shoes that aren't smart enough for a traditional office or – perhaps a better definition – for not wearing with tailoring.
Casual shoes is a huge area, from boat shoes to cowboy boots, espadrilles to trainers, so I'm going to try and break it down by use rather than just give a list of five specific pairs. Only then will I go into my style, and then suggestions. Hopefully this will make it as useful for as many people as possible.
So if I had to pick five casual shoes I'd divide them into:
Smart/casual

, still for jeans or chinos but dressing them up, for a day in town etc

Very casual

, a trainer/sneaker, could even kick a football with it in the park

Winter casual

, for rain and colder weather, probably a boot

Summer casual

, probably a loafer, or boat shoe, moccasin, espadrille

One more depending on lifestyle

, eg a work boot, a sandal, a chelsea boot, a smarter trainer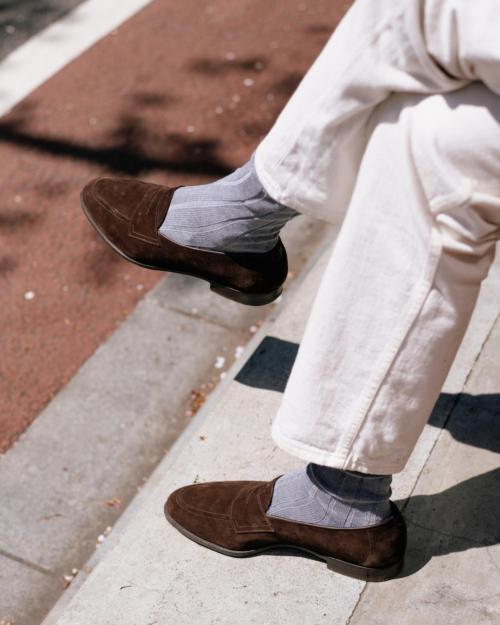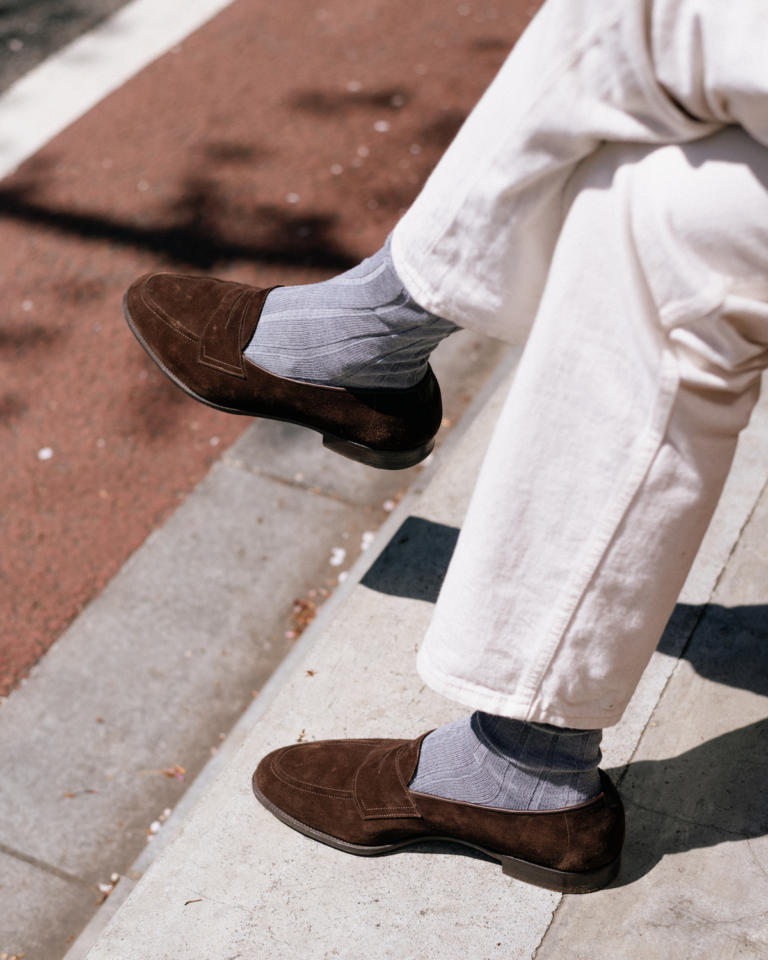 Smart/casual
A shoe that, if you wore it with jeans and a nice sweater, but still look good going out for dinner, or a museum or similar trip to town.
It could be a derby, a boot or a loafer, in calf or suede, dark brown or tan. But the most versatile is usually dark brown, suede and a loafer, as they go with the broadest range of other colours and styles.
My personal favourite is the Belgravia or Piccadilly loafer (above) from Edward Green, which I would have unlined. But it's very closely followed by the full-strap loafer from Alden in Color 8 cordovan (top).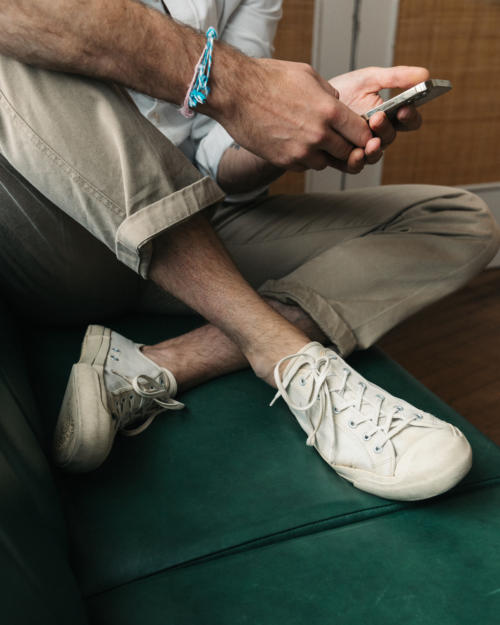 Very casual
A shoe that's still well made, that you like the style of, but which you can put on with old jeans to go down to the playground with the kids, walk through a forest and get a bit muddy.
This is where most people today would wear a trainer, and I'd advise trying to get one that can dress up a bit too – often a little slimmer, perhaps not too overly designed. My most useful is a canvas shoe, a plimsoll, like my Doeks (above).
That's because I like the vintage-looking feel of them but they still work with most casual things. An oxford-style one like my 45R pair is a little smarter, and a leather style like Common Projects more so.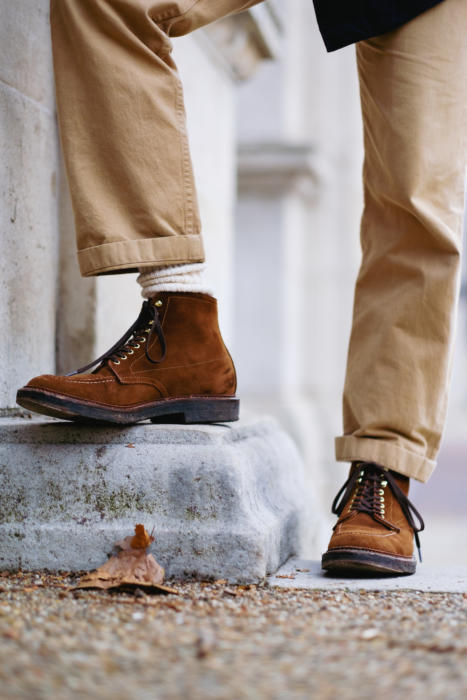 Winter casual
The biggest growth area for traditional shoe brands in the last few years has been boots and loafers, and that shouldn't be surprising – as people dress more casually, they turn to these over oxfords and derbys.
So you're going to want a boot, for colder and wetter weather but also as a change of style. This is such an extremely short list of footwear that again you're going to want a material and style that's very versatile. Dark brown suede or cordovan perhaps, or if you wear denim a lot, a tan leather or snuff suede.
My personal favourite is the Cranleigh in dark-brown suede from Edward Green, which is pretty casual for them. But I also really the Galway and my Alden boots – particularly the pair on a modified last I got last year at Moulded Shoe in New York.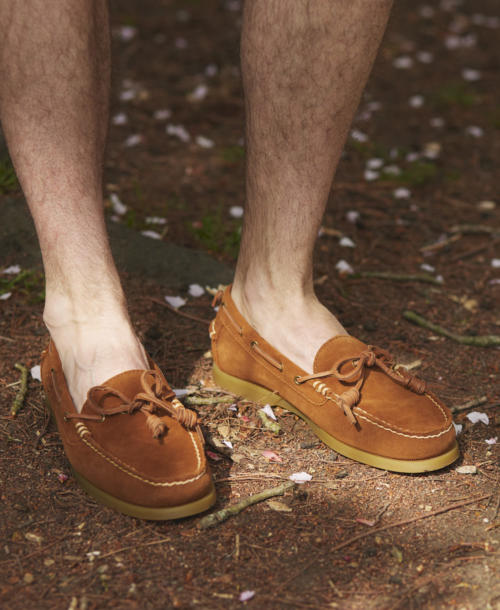 Summer casual
OK, so a shoe you can wear when it's really hot, without reverting to flip-flops. We've done a piece here on summer shoes, which will give you a broader take on the categories and the options.
If you still want to walk around town in them, real hot-weather shoes like espadrilles or most sandals don't really cut it. Soft, unstructured loafer-type shoes work best, and that is probably an actual loafer or a moccasin-style shoe – like a boat or deck shoe.
Personally I wear both my Doeks and my suede loafers in the hottest of weather, just with no socks or hidden socks, so the ankles are bare (it makes such a difference to coolness). But given those are already included in this list, I'd pick a nice slim, low boat shoe. They can look a little old-mannish, but perhaps wear them with more casual or flashier things elsewhere (eg baseball cap rather than a panama).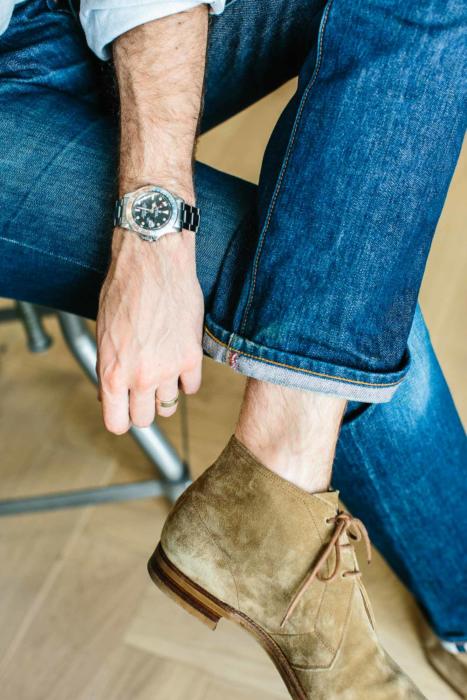 One more
So this is the spot to add in whatever best suits your lifestyle. You might want a work boot like a Viberg, because that's your vibe for dressing more casually, an RM Williams Craftsman for something more outdoorsy, or a desert boot for soft and slouchy (above).
Personally I live in loafers, so I'd want another – three of my five shoes, if I could only have five, would be loafers. I'd want the Edward Green brown suede, the Alden full strap in Color 8 (pictured top) and the Alden LHS in snuff suede (below). Those and a trainer and a boot would do for me.
I think the important thing with shoes is to not think of them in isolation – which articles like this, and indeed most conversations, inevitably do. Those that dress well rarely have their outfits driven by their footwear, and usually have more shirts and trousers than shoes – so they want things that go with a real range. Think of shoes in the same way when picking your little capsule collection, or more realistically, when you're deciding what to add to a slowly growing one.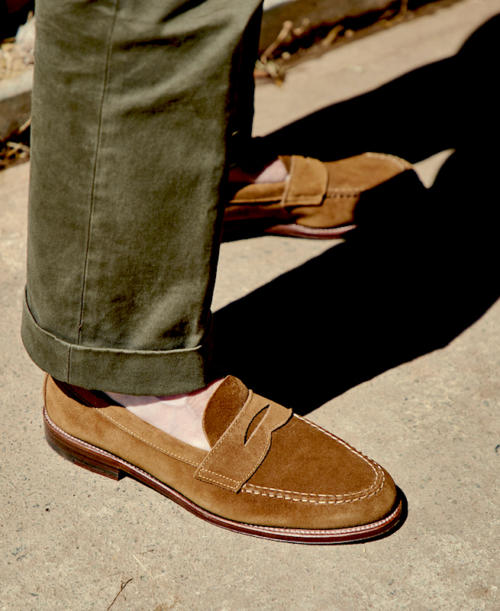 To put it in a list, my five would be:
Edward Green Piccadilly loafer, dark brown suede
Alden LHS loafer, snuff suede
Alden full-strap loafer, Color 8 cordovan
Doek derby-style canvas shoe, ecru
Edward Green Cranleigh boot, dark-brown suede
I also asked our writer Manish to give us his five, for some variation. They were:
An Alden loafer – The slightly wider profile helps Alden loafers to sit nicely in the smart/casual category. My choice would be a black tassel – I know that for some readers both the colour and the style will be too smart, but I think they work really nicely with chinos and washed-out denim. Failing that, I'd second Simon's pick of the LHS loafer in snuff suede
Belgian slipper, brown suede – I like Crown Northampton's Brockton model but I believe it's been discontinued
Moonstar Gym Classic, off-white canvas – Twice as expensive as Converse but my pair have lasted four times longer
A holiday shoe – This seems to vary depending on where I've travelled to (espadrilles in Spain, huaraches in Mexico, friulane slippers in Italy), but whichever one makes the list I can be relied upon to wear it to death. A better souvenir than a fridge magnet!
Alden Parajumper boots, Color 8 cordovan – I love the depth and richness of Color 8 but a dark brown cordovan might be a little more versatile.
And finally, if I could add another five, they would be:
Margaret Howell/Mizuno trainer, white (below)
Edward Green Galway boot, dark-brown suede
Viberg Service boot, brown Chromexcel leather
Castellano/Beams deck shoe (not covered yet), tan leather
Espadrille, any brand, black canvas and thin rubber sole over rope
What would your five be? Let us know.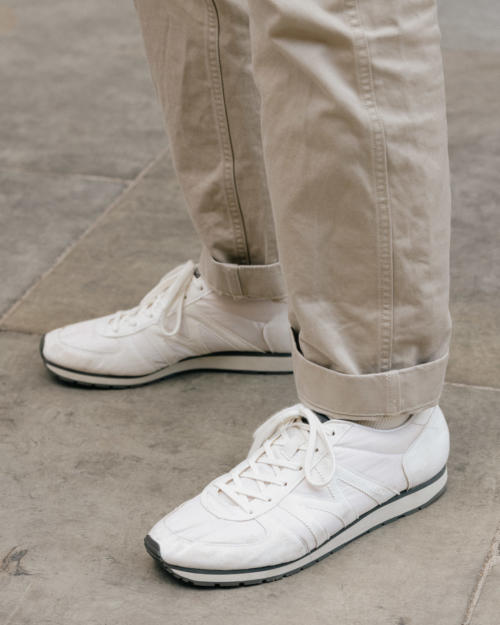 I know some readers will ask about shoes without socks. Most of the time I wear hidden socks in summer with loafers, from Uniqlo or Mes Chaussettes Rouges. I will sometimes wear my Doeks or Alden LHS without socks, but most of the time this isn't much cooler or more comfortable, and is worse for the longevity of the shoe. It's just convenience.