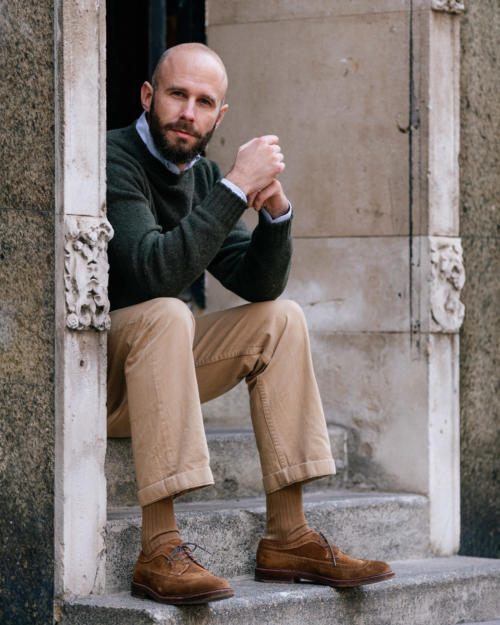 We all know different materials age in different ways.
Leather is probably the most beautiful, and certainly the most varied. As a skin, if untreated it darkens when exposed to dirt or hands, yet lightens where it's exposed to sunlight. It will take on the patina of the creams and polishes used to treat it, and even how they are applied.
The variation you get as a result in leather shoes, bags and jackets is as delicate and complex as many things in nature.
Wool is probably the worst of the common menswear materials, with cotton second. Wool lasts well, but most of its signs of age are simple balding. Cotton, by contrast, frays in ways that can be attractive, as well as losing colour.
This fading is most obvious in denim, with the white core of the yarn showing at points that fold and rub. Jeans tell a story more than any item of clothing – from whiskers to honeycombs, wallet outlines to pockets fraying quicker than others.
In fact there's a separate article here at some point, because I think people are starting to forget the beauty of raw denim, and of personal ageing of jeans. Washed and bleached denim is becoming more prevalent, and it often looks tacky.
But I digress. This piece is about how great (non-indigo) cotton ages.
The chinos here are my old, and much-loved, Army Chinos from The Armoury.
This model has gone through several iterations over the years since, with variations in material, maker, cut and details. The current ones are different in each of those respects.
We have talked about bringing them back together, and perhaps that will happen at some stage. Luckily, I have no need to replace mine, which are only getting better and better with age.
(I also have a back-up: the gurkha model, which was introduced the following season. I don't like the fastening so much but it does have a nicer (higher) rise. They'll do if these ever disappear.)
The material has softened. This is the prime thing you notice on vintage cotton trousers: how incredibly soft they are, while still being strong enough to take a beating, in any activity.
The coarser cottons used in workwear chinos, like these, start off stiff but soften and soften with every wash. I'm sure they're still softening ever so slightly.
This is also what separates them most obviously from 'dress' or smart cottons – those supplied by the vast majority of mills for bespoke tailoring.
These are often softer to start with, but do not change. They are designed to retain their feel, which is one of luxury and elegance: a pleasing hand but fine and dense enough to maintain a sharp line.
I've never gone into the technical details on cottons, but perhaps it would make a good addition to our Guide to Cloth at some point.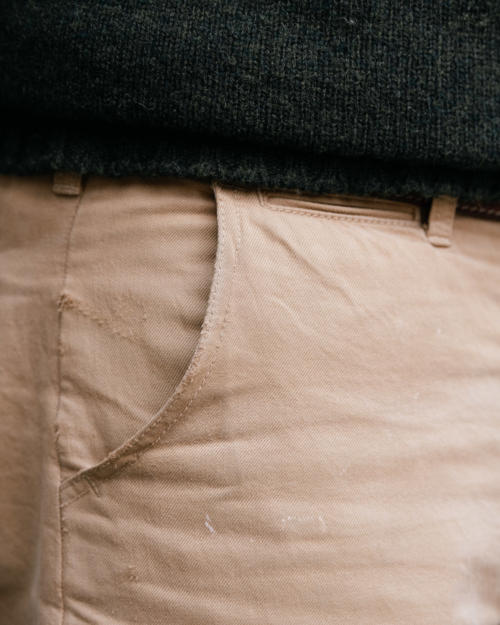 So the thing I love most about good chinos is this combination of softness and strength. By one definition of comfort, I think they're the most comfortable thing you can wear.
When I get home after a day in a suit, my first thought is not to change out of the worsted into pyjamas, but into these chinos. Keeping the oxford shirt, and throwing a cashmere shawl-collared cardigan over the top.
This association with pleasure and comfort is probably why the trousers are one of my favourite-ever pieces of menswear.
The fraying and slight fading are also a reminder of that long personal association.
It's most obvious around the pockets, where the cotton is coming away slightly on the pocket edge and on the body of the trouser, just behind it (shown above). I imagine my hands going in and out of those pockets, thousands and thousands of times.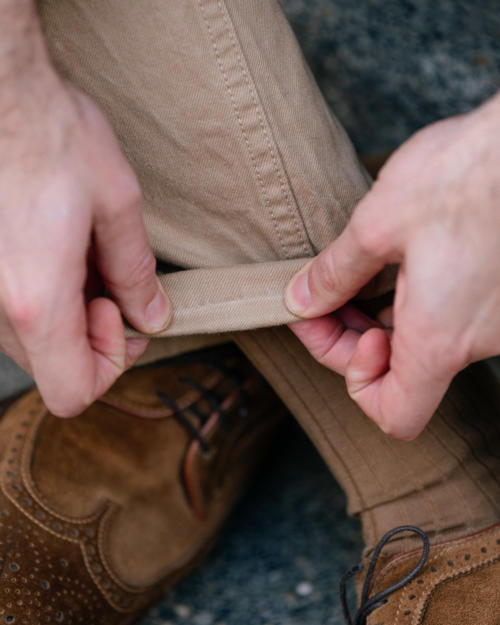 There are also little nicks and frays on the sides of the trousers, perhaps where I've leant against too many a brick wall. And some tiny flashes of white paint, which never quite washed out.
The hems of the trousers – which have always been turned up once, simply – are faded along their bottom edge, as that fold in the fabric has caused the cotton to lose its colour quicker that the material around it (above).
And the legs also have faint lines of fading up and down them, most likely caused by the trousers being left damp and wrinkled too long, after washing.
The rivets on the fly have rusted ever so slightly.
I know this was a deliberate design decision, to use uncoated metal, and I like the additional sign of ageing – in the same way I like untreated brass that will tarnish and can be polished, if I wish. Like the hardware on the vintage belt worn in this outfit, in fact.
This will probably split opinion a little bit, but I like the effect, and the rusting has never caused any other deleterious effects, such as staining the cotton around it.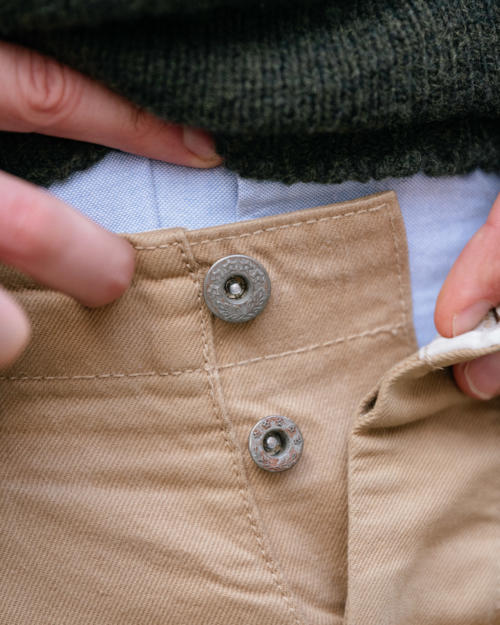 The quality of clothing is also revealed by what doesn't age as much as what does.
So it is noteworthy that although there are many other signs of wear, no seam has a single loose thread – and the rear pockets are still razor sharp.
Granted, those pockets have not been heavily used, but still it speaks to the way they were made – the internal structure and the precision of the work – that they look no different to that day they were made, even after dozens of washes.
People that care about creating good products often say that they'd love to come across their clothes in a vintage store, 20 years after they were made, ready for a second life.
I think these trousers could certainly fit that bill, and they compare favourably with vintage ones I've bought myself, such as this pair from Le Vif in Paris. The softening isn't quite as extreme, but then the material is different too. The fraying, nicks and marks are comparable.
If anyone wants to know the closest thing I've found to the Armoury chinos since, it's probably these ones from Blackhorse Lane. That cotton has also softened really nicely, though it's hard to make a direct comparison, having not had them as long.
I'm also expecting great things from the Rubato trousers, of which I have the 'officer's chino'.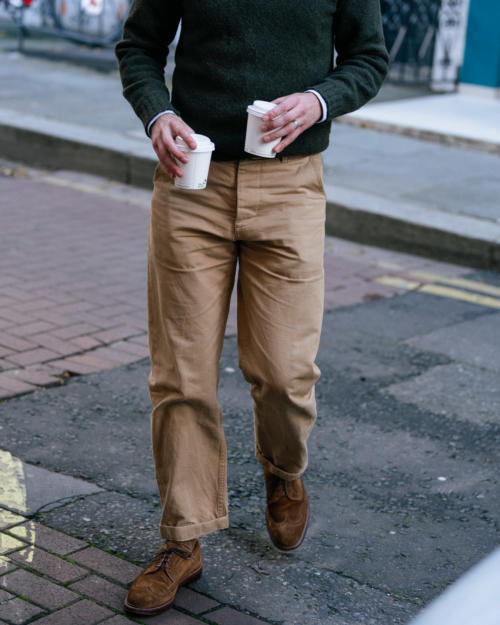 Those items shown near the top of this article, by the way, to illustrate the beauty of ageing are:
All those links are to old articles on them.
And the other clothes shown in this shoot are:
Photography: Alex Natt