To what extent can rags be beautiful?
Is there even a point at which fetishising the clothes of the poor– how threadbare they are, how re-worn and re-hashed – can be disrespectful?
Twenty years ago, when Stephen Szczepanek began importing them into the US, neither question had really been asked about vintage Japanese fabrics.
The clothes and ceremonial garments of the poor in Japan – with their faded indigo dyes, sashiko stitching and patchwork construction – were barely noticed, let alone collected.
Today they are known by the term 'boro' cloth, and are obsessively bought, worn and recreated.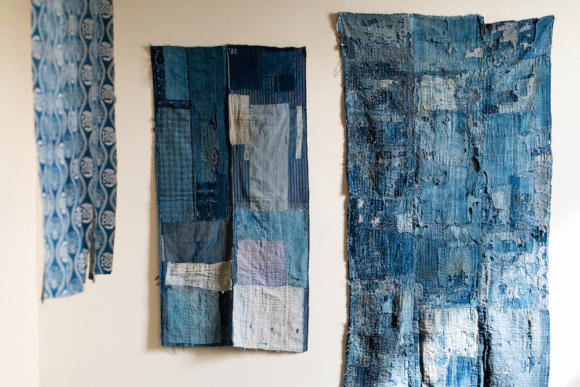 It's not hard to understand why. In an age that values craft and quality, that loves beaten-up Barbours and perfect denim fades, boro cloth is wonderfully authentic.
It is also beautiful. The shots here of pieces in Stephen's studio hopefully bear testament to that.
An interesting question, though, is what makes one piece more beautiful that another?
"That was a really hard thing to get my head around initially," says Stephen. "I knew I liked some pieces more than others, but it was hard to know why. And there were no standards, no traditions around what was more valued."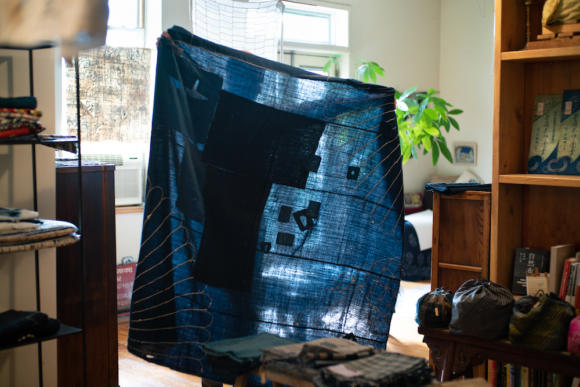 Is it better to have greater variation in colours, or less? Is one unexpected patch an effective counter-point, or a distraction?
In the end these are really artistic questions, and admit little logic.
Indeed, the large sheets of boro aren't that different to a canvas, and personally appeal to me more than more formal textiles-as-art (such as the work of Anni Albers, for example).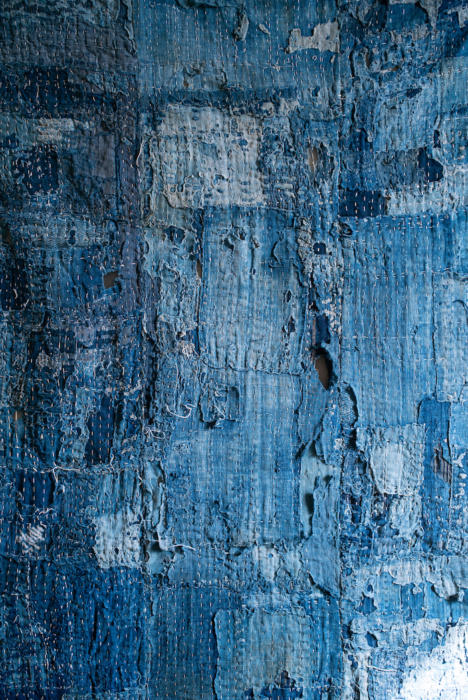 Stephen first found examples of the cloth when he was travelling around Japan, but there wasn't much available. It was mostly seen as rags, and certainly no textile distributors valued it.
"I thought it was some of the most beautiful fabric I had seen," Stephen remembers. "But in Japan it just showed you were poor – you patched and re-made old things because you couldn't afford new ones."
Today he goes back to Japan twice a year, when particular markets are held around the country.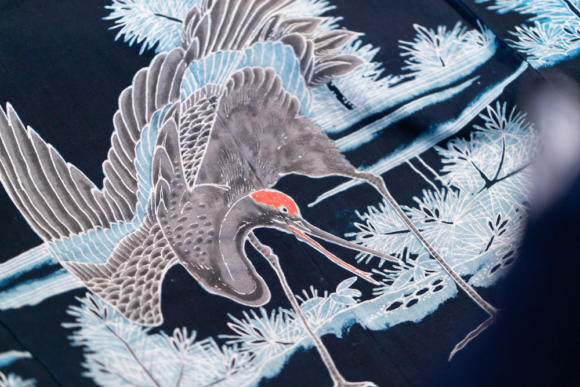 A friend of his also runs a shop in Kyoto, and takes a more academic approach to boro - researching the history of certain pieces, their regional variations and uses.
"Even though they might look ragged, these were largely ceremonial pieces: parts of a wedding trousseau, perhaps a kimono or a covering for the wedding bed," he says.
"They were repaired and kept in good order so they could be used for these purposes. Day-to-day clothing didn't get as much care."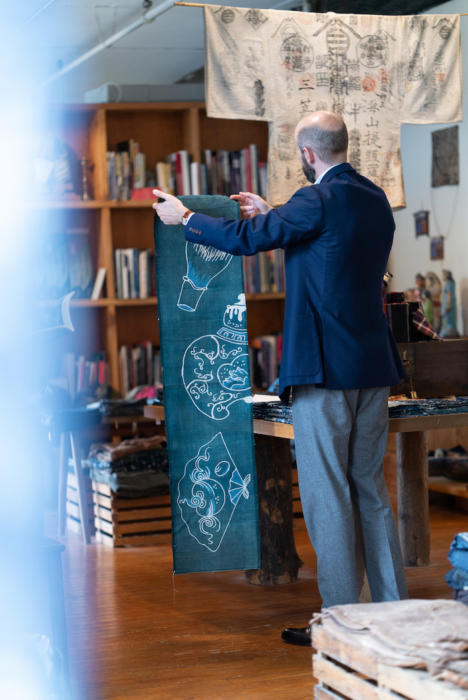 Although indigo is common to most boro cloth, there is a variety of decorative techniques, including stencil-resist dying, hand-drawn wax designs (above) and tie dying.
The most popular pieces, though - and my favourite - are the patchwork sheets kept together with rows of sashiko stitching.
This method of patching involves not just sewing around the outside of the added cloth, but running lines across it, for reinforcement.
As these stitches are usually in white, contrasting against the variegated indigo patches, the effect is striking (see title image).
After a while you also notice that a lot of boro cloth also has one short row of white or red stitching somewhere, which was often added as a good-luck charm.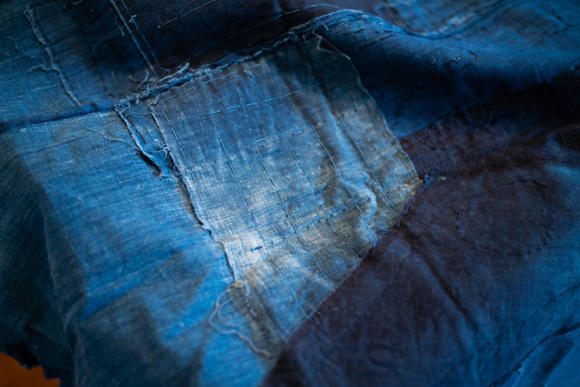 I had been following Stephen on Instagram for a while (@SriThreads) and, given I was going to be in New York last Autumn, asked if I could stop by.
I didn't really know what to expect. An address down a side street in Brooklyn, it could have been anything from a shop to a cupboard in someone's appartment.
Fortunately Sri turned out to be a wonderful, calm shrine to boro, a studio with cloth hanging from the walls and ceiling.
Tea was boiling when we arrived, Stephen was working at his desk at the back. There was even a small actual shrine opposite the door.
Elliot Hammer (photographer and Birch co-founder) and I couldn't stop smiling.
As well as talking to Stephen about his history of importing fabrics, and how it has changed over the past 20 years, we spent a good half hour browsing the pieces on display.
Pretty much all of them are for sale, though prices range from $25 to over $7,000 for rare, museum-quality pieces.
Elliot was fascinated by a pilgrim's jacket hanging from the ceiling (above), which was decorated with the stamps that the pilgrim would have received at each stage of his journey.
I liked the patched fabric, and ended up buying a narrow (and relatively cheap) strip of very deep indigo, with several patches and one small good-luck line of stitching.
It will hang on the wall next to the stairs of our house, running between two stories. Perhaps as a piece of art; certainly as a memento.
Sri Threads is open to visitors Monday to Saturday, 9am to 6pm, by appointment only – email [email protected].
Photography: Elliot Hammer