Buying vintage – with Oliver and Carl of Rubato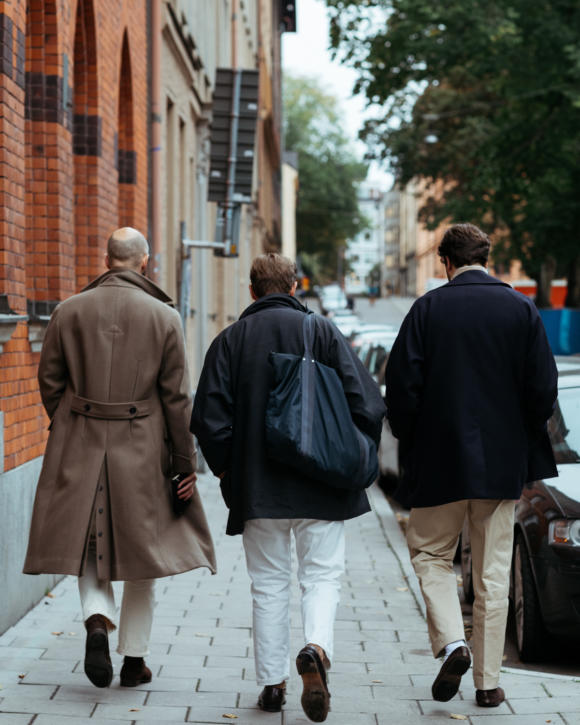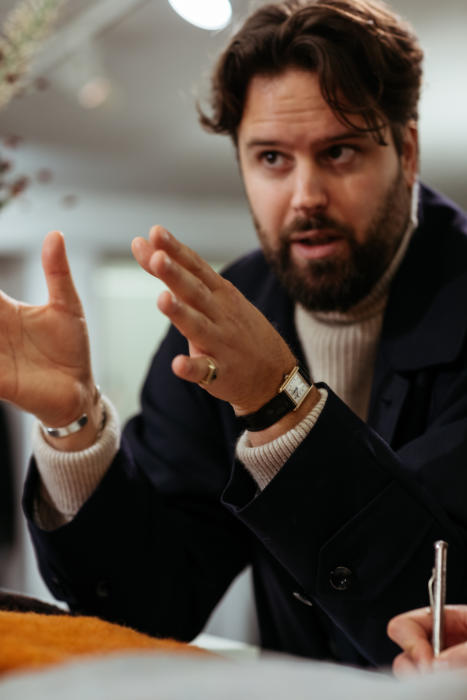 While in Stockholm last month, I spent a morning shopping with Oliver (Dannefalk, above) and Carl (Pers) of Rubato.
I was particularly interested to hear their views on vintage shopping, as I knew that both of them used to work in vintage stores in Stockholm, and that the experience had informed their approach to Rubato.
Oliver (Dannefalk) worked at and then ran the Östermalm branch of Herr Judit, whose main shop was on the Södermalm side of town. Östermalm is more up-market and the stock there was more centred around tailoring - both English and European bespoke, brands like Rubinacci, and accessories like Marinella.
I found talking about that interesting, because there's a real lack of a similar store in London - something that focuses on really good modern clothing, rather than older and more cultish military clothing or Americana.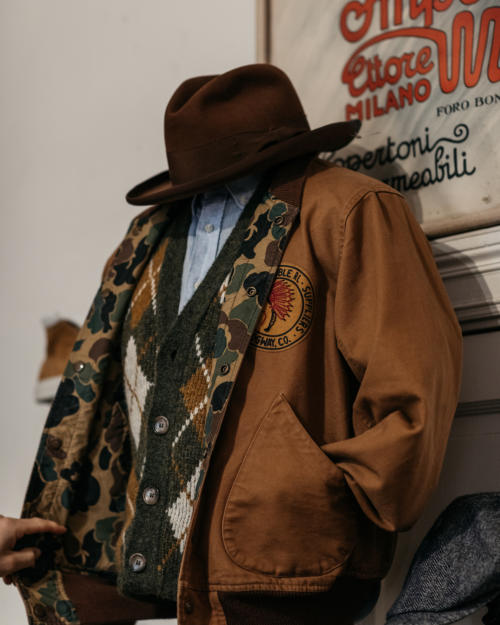 Carl was a customer at the Östermalm store, and eventually worked there as well. Unfortunately the store later closed, and now only the Södermalm branch (shown above and below) remains.
We visited towards the end of our walking tour, and found some nice pieces in among the racks. Bizarrely, the item I lighted upon was a bridle belt that turned out to be Oliver's - actually, a present that Carl gave Oliver several years ago, and which Oliver ended up selling because he had too many similar pieces.
The belt (again, coincidentally, made by Equus in the UK, whom we've covered a lot) was really nicely worn in. Bridle leather is best like this: it lasts forever, but can be hard and stiff for quite a while. It needs to be worn consistently, and will soften as it ages.
The belt was probably an example of what good, modern vintage can be: something high quality that the owner no longer wears, and which gives someone else the chance to access for a much lower price. Plus some nice patina/character.
Unfortunately, a lot of the rest of the stock at Herr Judit was less interesting, principally because it was cheaper and didn't have the attraction of accessible quality.
So perhaps my suggestion of a good, modern vintage shop in London needs to be modified to include a requirement for high quality. There's always the occasional piece like this hidden away on the racks of charity shops in rich suburbs - the likes of Richmond, Hampstead or Marylebone. Someone just has to collect and curate them.
Back in Stockholm, Carl was telling us about the kind of vintage he buys (by us, I mean Oliver, myself and Milad, who was taking the photograph).
"I guess most of what I buy is outerwear," he said. "It's more likely to have survived the ageing process well, as it's thicker and tougher.
"Apart from that it's jeans and chinos - I love how the cotton on those will be worn-in and softened. You know you can treat them badly because they've survived so much already."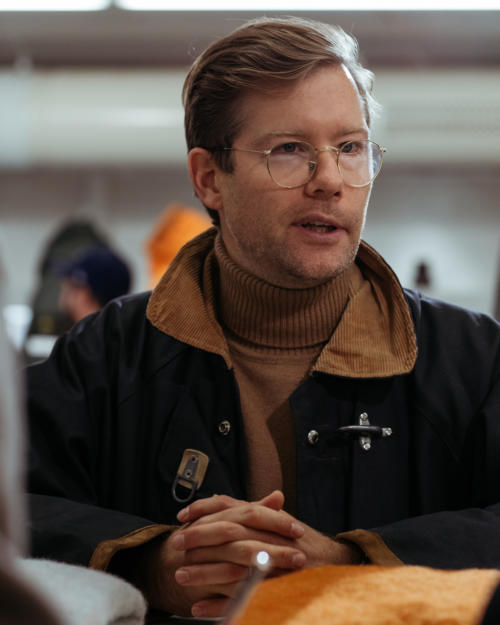 The coat Carl was wearing (above) was a vintage fireman's jacket, with its characteristic large fly front and metal clasps. And it features in the new Rubato lookbook as well.
"I think it was inevitable that those early days working in vintage would influence how we designed clothes," said Oliver.
"We got to handle so much nice stuff - both beautiful bespoke tailoring, which drove a lot of my early interest in that - and great knitwear, great shirts. You get a sense of what will last."
We touched on this influence in the launch article on Rubato, in September last year, and you can see it when you look at a lot of vintage knitwear as well as - frankly - design elements of knitwear many of us used to wear as kids.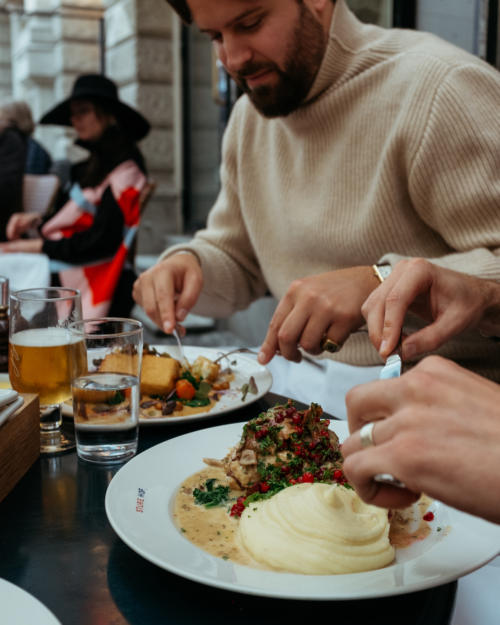 In the image above, Carl is wearing one of the new pieces from Rubato - a rollneck in camel hair. The pair decided to offer camel hair as their new range rather than cashmere, as it's a bit more robust, and so in keeping with that long-lasting vintage angle.
There are three pieces in camel, all the same natural colour, and some new pieces in the existing lambswool - including the adventurous 'Arnold Palmer' yellow.
They've also introduced belts, whose main point of difference is the width.
At one inch, they're only a bit thinner than most belts (between a quarter and an eight of an inch, in my collection) but it is noticeable - a slightly smarter look, with a very smooth suede.
Personally I prefer uncoated brass buckles to the ones Rubato uses, as I like the way they tarnish; but I can also see that the coated might be more in keeping with the dressy look.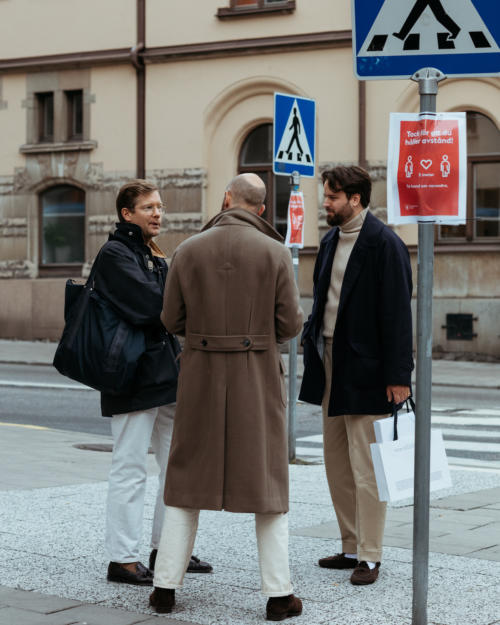 Rubato also just launched their chinos, last week. Oliver is wearing the single-pleat trouser (taupe) in the pictures here, and I've been trying out the officer's chino in ivory.
So far I adore the cotton, the Japanese make, the two styles and the three colours. But they are higher in the rise and wider in the leg than I'm used to, so I'm not sure how much they'll become a staple. (I also found they gained about an inch on the waist after the first wash.)
Then again, I have two pieces of the knitwear and wear them happily as exceptional pieces - only with my few high-rise trousers - rather than staples. So that could end up being the case here too.
Oliver was wearing all Rubato when we met, and the short, raglan-sleeved coat he's wearing is a sample of things to come. As is the longer coat worn by the model in the Country lookbook.
My outfit, with the wonderful Ciardi ulster coat, was featured in detail on PS here.
The newsagent pictured is Paper Cut, which I'd highly recommend (and stocks my books, which is nice). Oliver is reading Cereal magazine.
The vintage store linked above is Broadway & Sons, which is probably the vintage store in Sweden. And on the topic of modern second-hand clothing, if anyone wants a good example of how that can be done well, check out Rag Parade in Sheffield.
Photography by Milad Abedi