Rubato knitwear: Easy elegance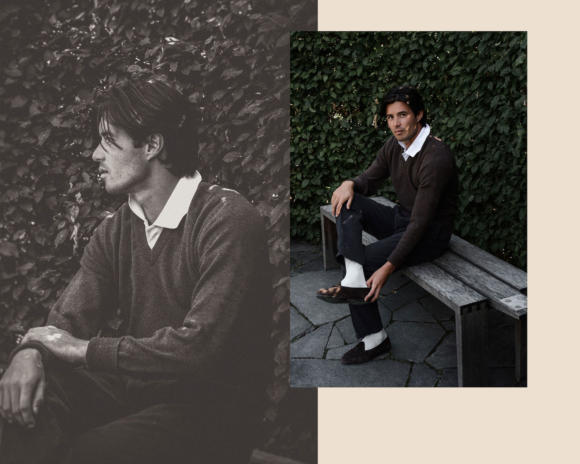 Last week Swedish friends Oliver Dannefalk and Carl Pers (below) launched a small collection - mostly knitwear - called Rubato.
It's tasteful, well-made, and (like many new brands today) fills a particular niche of clothing they wanted to wear.
I spoke to them on Friday as they were packing up sales from their first day of trading.
Permanent Style: OK guys, give me the elevator pitch.
Oliver: Right, so Carl and I have worked together for a while - we used to work in a vintage shop together, as well as now in different parts of the menswear industry - and found we sought out the same things, a certain look, but couldn't always find the right clothing for it.
Such as?
Well, one of the things was knitwear. We always felt there was some compromise - we liked the colour but not the cut, or the collar but the ribbing was too small. And vintage pieces always seemed to have that right.
So you set out to make it yourself?
Exactly, we started the company about a year and a half ago, and we began by developing the knitwear. It could have been anything - but knitwear felt like the biggest gap.
OK, so let's do the elevator pitch again. What sets this apart?
It's cut slightly shorter and boxier than other knitwear, with a tighter collar on the crewneck and a deeper V on the V-neck. It's made with lambswool rather than cashmere, because we want it to be something that's robust and lasts, and the ribbing is sturdier for that reason as well.
And what's the reason for those choices? Why do you think it's better?
We find most knitwear too long for anyone that wears their trousers higher - not necessarily with braces, up on the natural waist, but just with a mid-rise, like you do.
We also find a boxier cut to be more flattering, but only if the sweater is shorter, so it doesn't all gather around the waist. The pattern has a slight taper and thicker ribbing, which also helps with that effect.
My main fear, looking at the imagery and the lookbook, was that this cut would only work with high trousers, on the natural waist. But it works with a mid-rise too?
Carl: Yes, I wear it with jeans and chinos too - I'm wearing it now with vintage 1966 Levi's, which have a higher rise that most modern denim, but nothing like the high trousers worn with braces.
Oliver: We tried it on lots of friends too of course, and unless you wear low-slung jeans you're fine.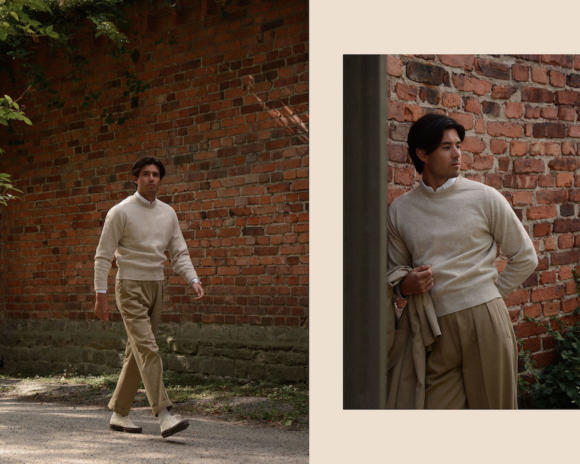 OK, so that's the cut. How about the material?
Cashmere's great, but we loved how vintage pieces wore and aged, and they were usually lambswool.
Plus we wanted something that was easy to care for, that you could wear with everything from jeans to flannels, and that was a little more accessible too.
I think sometimes it's easy to make expensive garments, because you just pick the most expensive materials, and you have plenty of money to put into design. Sometimes cheaper clothing just doesn't have the same attention to details.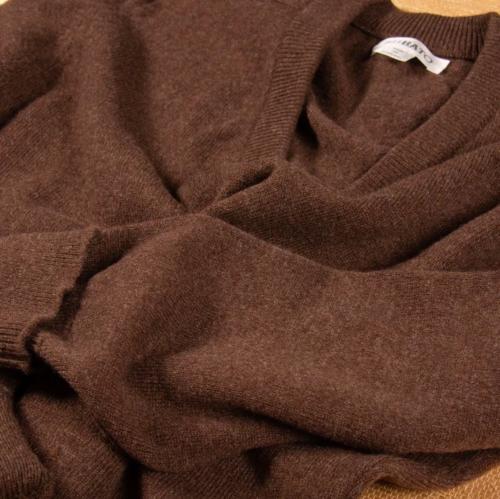 Oh, and one more thing: we kept some of the natural lanolin [oil] in the wool, which makes it more dirt and water repellent, and means it will last better.
You don't have the over-finishing of a lot of modern knitwear, which feels nice but basically damages the fibres.
Interesting. I know vintage pieces had more of that lanolin in them, and vintage reproduction places like North Sea Clothing or Heimat do the same thing. Is yours that extreme?
No, it's not as much as that.
In fact, that's an interesting point to pick up on, because we always wanted Rubato to feel contemporary. It might have vintage touches, but there should be nothing cosplay about it.
I guess that goes for the cut as well - those brands will often have a bigger body, longer ribbing, heavier gauge. One of my recent favourites is the Bryceland's submariner rollneck, which is inspired by a vintage piece.
Yes, exactly. I love those pieces, but we wanted ours to feel more modern. So we have elements of that in the cut, the wool and the finish. But it's not as extreme.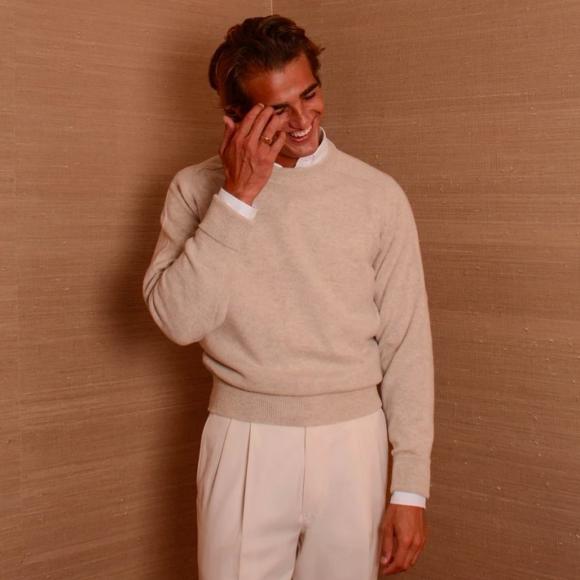 Right. We've done cut and material. What about colour? I love the natural, earthy colours - in particular the fawn and the deep brown. They're subtle and muted: two of my favourite words.
That was very deliberate. I think Sweden is associated with colours like this, and that's no coincidence. The weather can be pretty harsh and we don't get a lot of strong colour.
But also, we wanted everything to feel very comfortable and easy - the fit is relaxed and the colours are relaxed. If you see a guy walking towards you in these colours, you'd feel comfortable looking at him too. It's easy on the eyes.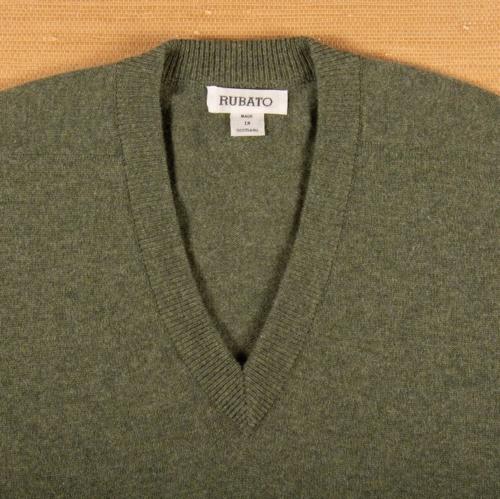 You just started selling yesterday. What colours have sold well so far?
Well ironically, the first few pieces were sage green [above].
That colour was us going out on a limb - it's a lovely soft colour, but a little unusual. We thought fawn and grey would definitely be the most popular. Shows how much we know.
Yes, you've both been around for a while and know how to do merchandising. But it's hard to predict isn't it?
Absolutely. You just have to be responsive. We've already sold out of the caps, but there's a new delivery next week.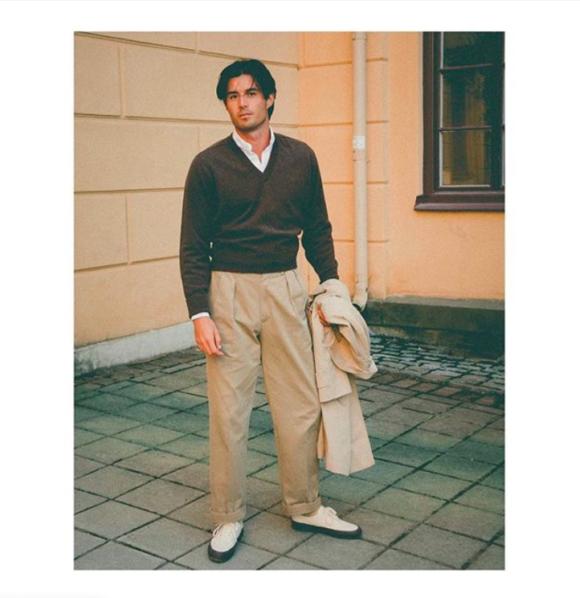 On the subject of caps, let's turn to styling.
The imagery all seems relaxed, yet elegant. I find that's an area readers find hard to get right - not a suit and tie, but not a T-shirt and jeans either.
Carl: That means so much to us that you thought that, Simon. Comfortable and elegant is exactly what we were going for. First because I don't think anyone can look elegant if they're not comfortable. And second because the clothes have to live with you, they have to be comfortable and functional.
Oliver: We're sitting here in the warehouse, Carl's son is over there. We need to be able to pack boxes, Carl needs to be able to pick up his son, we need to live our lives everyday and not be constrained. But that doesn't mean you can't be elegant.
We love tailoring, we've worked with some great tailors and wear it a lot. But I always come back to a simple button-down shirt, a nice sweater and a nice pair of chinos.
So it's just a question of what makes them nice - which for us is the cut and proportions, the little nuances that make it fit the way we want it to.
Let's pick up on that. You've made your perfect knitwear, you're happy with it and stand behind it. But does anyone else want the same things as you?
Very good question. We would only do it if it was something we loved, and could put 110% into. But that doesn't mean anyone else will like it as well.
Carl: I think we have to wait and see. That question determines how big this gets, but it doesn't have to be big. We're happy it being small as long as we love what we're making.
I guess that's one thing that always separates these passion projects from some glossy, disruptive, venture capital-backed brand. They would never do it if there was no chance of it getting big.
Very true. Growth is not the aim here.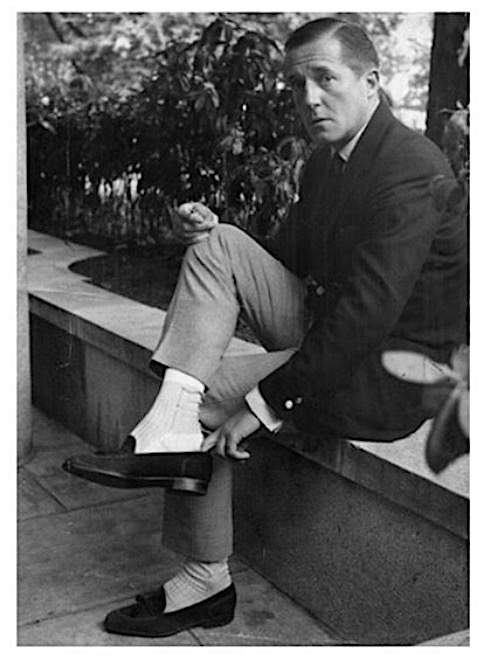 Let's finish off by talking about style a bit more.
White socks for example - some people hate them, I think because they're so antithetical to formal dressing. Why do you like them?
Oliver: I think because they suggest the easygoing attitude of Ivy. It's wearing sportswear with tailoring, it's wrapping a sweater about the shoulders.
It's not finessing things too much - the baseball caps have the same feel too, and I know you get that, I see you have the red Holiday cap.
Yes, though I wouldn't naturally wear it with clothing as elegant as this. I'd put it with jeans, a T-shirt, shorts.
I guess I'm more conservative but - as with anything that works on someone else - I find it interesting.
I think that's one thing guys sometimes forget. It doesn't have to all work on you.
I love how you wear chambray shirts and denim shirts with tailoring Simon (I particularly like the Lighter Everyday Denim). But I've tried that and it's just not me.
How about a polo shirt under knitwear. That's not easy to do - the collar can flip out, not sit right, feel too chunky.
Yes it can, a normal shirt is much easier. But I think you just have to let it live. Wear it and let the collar sit where it wants to. It's only clothes, just roll with it.
It's hard to hold those two ideas at the same time - it's almost cognitive dissonance. To feel that every piece of knitwear in the world is not right, yet also be relaxed about your collar rolling all over the place.
True. I guess you need to control the things you can, and not worry about the ones you can't.
Great speaking to you guys. Good luck with it.
Thank you Simon, much appreciated.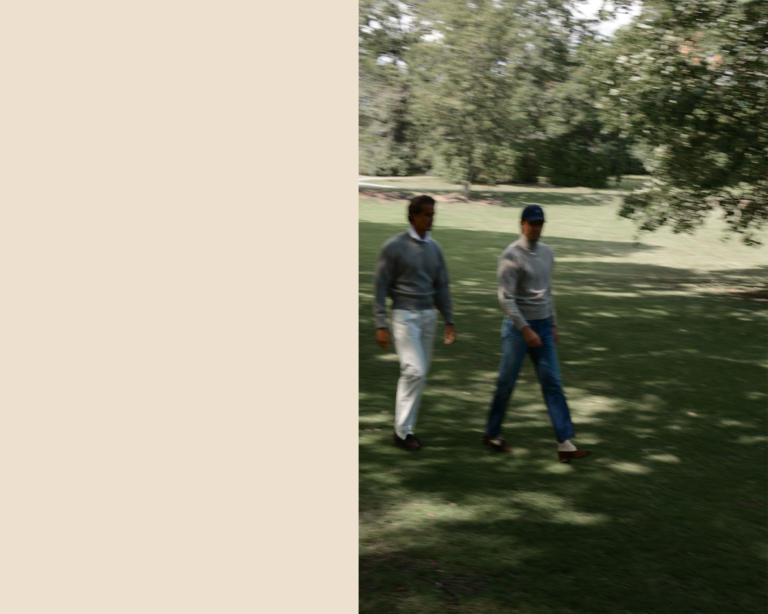 Knitwear SEK1,975, or £167
Photography: Rubato, except image of Hardy Amies, Life Magazine, and pictures of Oliver and Carl, Jamie Ferguson