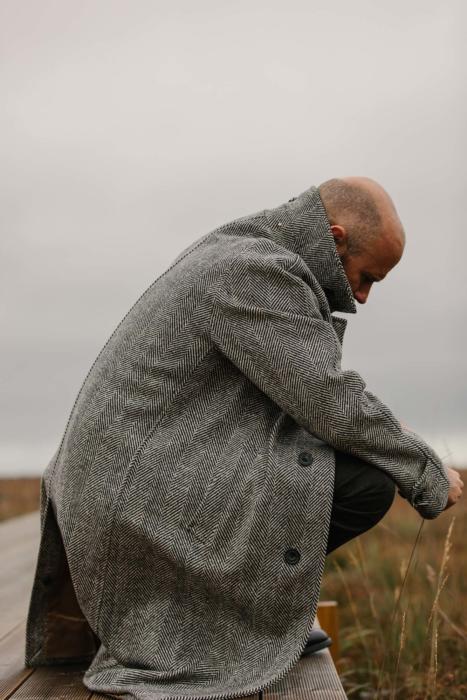 This feels like it's been a long time coming. Probably because I just got excited about this material a good year ago, and started talking to people about it soon after.
The wait is also not over quite yet, though. Due to delays everyone is suffering at the moment - petrol, people, pingdemics - the new Donegal coat will be shipping in about two weeks' time. The cloth only arrived a week ago.
But expectations have been so high for this particular collaboration, and we've had so many questions about it, that seemed best to put it on sale now. At the very least, it means readers can effectively pre-order theirs, and so stop worrying that they might miss out.
If you would like the new grey-herringbone iteration of our now most popular-ever product, the PS Donegal Coat, you can buy yours on the PS Shop here. It will be shipped out to you in about two weeks, and you will get regular updates during that time confirming the schedule.
So why was I so excited about this version of the Donegal?
I think it was mainly that I see it as potentially the most useful we've ever done.
I know I talk about versatility a lot, but when you're spending several hundred pounds on something, I feel it should have broad application. Particularly for younger readers that don't have a full wardrobe already.
And grey herringbone has always been a cloth I've recommended, both for jackets and coats. My Anthology tweed jacket has been shown on PS with everything from beat-up jeans to a shirt and tie on stage in New York. It is the only colour and pattern that I've found can bridge that extent of casual and formal.
And it's no less useful as a coat. Something like a camel polo coat can bridge casual to formal too, but it's still a more unusual and striking option in either scenario. Grey herringbone is both subtler and easier.
The issue I have with most grey herringbone coat materials is that the pattern is too small. It's almost more texture than pattern.
That's fine if you want to tip towards the smarter end of the spectrum, in a tailored, double-breasted overcoat for example. But it can be a bit smart for a raglan coat, and makes them too uniformly grey for jeans or workwear chinos.
The first two iterations of the PS Donegal Coat (here and here) used a fairly small herringbone too, but that was because it was meant to be texture - something added to a charcoal and dark-brown coat respectively, alongside the Donegal flecks, to add surface interest.
With this version, the pattern was important - to make it a herringbone coat, rather than just a grey one. To make it the first thing you noticed.
As we all know from talking about suits, casual things often have more pattern, and this is no less true here.
It is that stronger pattern that makes a weekend coat as much as a business one - and of course means it suits a wide swathe of people that is now dressing more casually, but still wants to be well put-together.
In pursuing this perfect pattern, the first thing I tried was to increase the contrast in the colours of the herringbone. Where version one was charcoal and black, and version two brown and black, I tried two options with version three: grey and black (as most mainstream coats are) and cream and black.
The latter was much better, but it still lacked something. The pattern was a bit too small. I didn't want anything as dramatic as my Connolly coat, but it still felt too much like texture.
So having talked to the weavers, we switched from a 2x2 to a 3x3 twill. This basically means the twill is bigger, so each herringbone line is wider, and the pattern becomes bigger too.
I loved the final result. It seemed like the perfect balance between a smart, elegant chic-casual overcoat and a sportier, relaxed, Ivy-style coat.
I've shown those two looks in these images, with the smart version above - sharp trousers and a nice knit - and the casual one below - jeans and a T-shirt.
I deliberately kept the colour schemes similar in these outfits, in order to focus on the contrast in formality.
So even though the smart outfit doesn't involve a jacket, the cream-corduroy trousers and navy knitwear look much more dressed-up. There's also a crisp, stark white shirt above, and dark-suede shows below.
The casual outfit uses white too, but a heavyweight T-shirt instead of a shirt; there's navy, but a chunky shawl-collar cardigan; and then of course mid-blue jeans, which makes anything and everything more casual.
The coat - strong of pattern but subtle of colour - goes with both beautifully.
The other lovely thing about grey herringbone, I've found over the years, is the way it works with bright colours.
We know from tailoring discussions that mid-grey is often good in this regard, but the casual herringbone pattern helps too.
It's one reason my grey-herringbone jacket is the one pictured with a pink-oxford shirt in that article, and a yellow oxford in this one.
With this larger-scaled coat, I've shown how it supports strong colour with a large saffron-yellow scarf in the photo below, and in other shots around this piece with the bright-red PS watch cap.
A raglan, balmacaan-style coat is the best partner for long scarves or shawls by the way. Its long fronts mean the scarves hang easily, naturally, despite being so oversized. Much better than with a double-breasted tailored coat - where it's too big to go underneath, and can seem a little forced when draped over the top.
All this so far has presumed that you, the reader, are familiar with the PS Donegal that I've enjoyed designing and offering the past three years.
If you're not, here's an efficient summary.
The PS Donegal Coat was born ​​out of a need for a versatile coat that could be worn with jeans for a walk, or tailoring to the office. Something that could be thrown on, almost without thought, and yet be rigorously designed that it always flattered the wearer.
To that end, it is a little longer than most (but can be shortened if required) to add a touch of flair, and that's balanced by a slightly higher collar that effectively frames the face. That collar stays up when put up, due to curved insert on the neck. And the standard throat latch is reshaped to sit more elegantly when not in use.
It has both two internal breast pockets, and a large hip pocket (iPad sized) in which to keep a hat, book or anything else bulky. The outer hip pockets are lined with cashmere.
It has a distinctive yet subtle lining in antique gold; and the buttons are matte two-hole buffalo horn - a style more commonly seen on Savile Row, and reflecting my love of bespoke tailoring.
Just as important as the style, though, in fact probably more so, is the Donegal wool.
Donegal tweed is so pleasing and unique in its texture. There's slubbiness in there, an authentic and natural look, plus great colour variation when you look carefully, but compared to other traditional cloths it never feels old-fashioned - unlike a big windowpane check for example.
The tweed is spun especially by Donegal Yarns in Ireland, the last remaining mill that makes the yarn - before being woven in Lancashire and then manufactured by Private White VC in Manchester.
For full details on the design and details of the Donegal Coat, have a read of the original launch article here.
Ordering
The Donegal Overcoat costs £792 plus VAT.

At the moment it is exclusively available through Permanent Style, on

the webshop here

.

There are sizes from XS (chest 46, Private White size 2) up to XXL.

Have a close look at the measurements below if you're unsure of sizing, and if in doubt compare them to a coat you already own.

However, the coat fit is pretty standard, so taking your normal size is usually safe.

I am six foot tall and usually wear a size 50-chest jacket. I am wearing a Medium.

As with all PS products, there are free returns should you want to change sizes. Ships from the UK.
Measurements:
| | | | | | | |
| --- | --- | --- | --- | --- | --- | --- |
| | X-Small/2 | Small/3 | Medium/4 | Large/5 | X-Large/6 | XX-Large/7 |
| Chest | 50.5cm | 53 | 56.5 | 60 | 63.5 | 67 |
| Waist | 52 | 54.5 | 58 | 61.5 | 65 | 68.5 |
| Bottom hem | 58.5 | 61 | 64.5 | 68 | 71.5 | 75 |
| Length | 108.4 | 109 | 110 | 111 | 112 | 113 |
| Sleeve | 81 | 82 | 83 | 84 | 85 | 86 |
| Cuff (width) | 13.8 | 14.1 | 14.5 | 14.9 | 15.3 | 15.7 |
Photography: Jamie Ferguson @jkf_man