Transforming ends, scraps and waste: Yves Salomon raincoat liner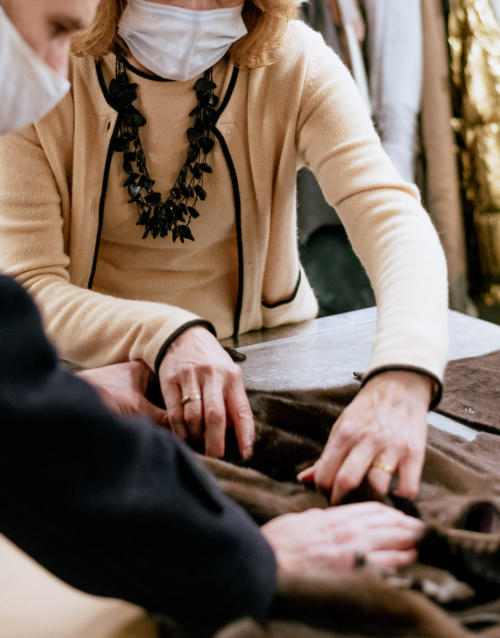 How far is it possible to make a coat lining with shreds, off-cuts and otherwise wasted pieces of fur?
When I made a lining for my M65 field jacket two years ago, the thing that attracted me most was the idea of re-using fur that would otherwise go to waste.
Since then, the maker Yves Salomon has gone further in that direction. Last year they issued what they called the Resource Pact, which promised to drastically reduce the use of new fur, focusing instead on re-using existing furs, recycling or up-cycling old pieces.
It's quite a change for a fashion company mostly producing new fur up to that point. To support and help publicise it, I thought it would be interesting to test the limits of the process by making a lining for my Coherence raincoat out of off-cuts.
(Fur is of course a controversial subject, but also far from a simple one. We had a really good discussion about this two years ago in this post. Rather than repeating all the same points, I would ask that anyone interesting in talking about it add their contribution there. Posts never die on PS - they only mature.)
The lining for my field jacket (above) was also not made with new fur - it was re-used from another, old coat. But this is relatively straightforward as the skins all match already, making a uniform pattern and colour.
Other Yves customers do this kind of thing all the time, for example bringing in their grandmother's fur coat and making the body into a gilet, one sleeve into a muff, the other into gloves.
Rather harder is using off-cuts from production, because there is rarely enough to make one uniform coat or other piece of clothing.
But, I think this can look fine in a lining. After all, it's more hidden away, and a little variation in the colours can even add extra interest.
It's like patchwork tweed, or the way Japanese boro cloth re-uses old cotton panels and stitches over them to create something new - and beautiful in a different way to something clean and new.
I decided to make a lining for a raincoat this time, because my previous liner had the small disadvantage that it could only be used in one coat.
A liner for a field jacket can't really be re-used in anything else. It's too short for an overcoat, too long for a bomber.
Of course, it can be altered, re-used and re-worked in the future - just like those old grandmothers' coats - and I'm sure I will do if I ever stop wearing it in the field jacket. The whole point of this, after all, is that fur is precious and shouldn't be wasted.
But for the moment, the rabbit lining was limited. One that was made for a raincoat, on the other hand, could also be used in any other raincoat (if buttons were attached in the same places) and even a roomy overcoat.
The Yves Salomon team showed me a big selection of all the off-cuts they had. (Nothing is ever wasted in a fur atelier - even the tiniest scraps are kept and reworked into a complex patchwork (see image at bottom). Who does this with wool, even the finest worsted or cashmere?)
From this selection, I picked out groups of dark and mid-brown mink. I was interested in mink because it is considered the warmest and most luxurious, but also because it is not as thick as rabbit and the browns would be a nice, subtle lining for this or any other coat.
We already had a pattern for the liner, because I had the original one from Coherence. So we laid that out and started fitting the different colours of mink into sections (below).
It's a lot easier to make a liner when you have the original pattern like this, and buttons set in the right places. A lot of time is saved in pattern making. I know a reader did this with the PS Trench Coat recently, in the same way.
There were a couple of other unusual things we did to make the maximum use of the fur.
One was to use the full width of the skin, which isn't common with coats because the colour varies from the centre to the edge (see central section below). Most people want a uniform colour, and so skins are normally trimmed, and more used.
The other was to use scraps at the edges and joins in the lining, to help avoid trimming or the use of extra pieces. Given the overall aim of making the most of what we had, both seemed fitting.
The end result (below) was a section of very dark, almost black mink across the top of the shoulders; then a mid-brown area across the middle of the back; and finally darker brown skins on the lower part of the back and the two halves of the front.
It's not a combination a furrier would ever use on the exterior of a coat. But on the inside I think it's nice, and certainly unique. It has a story and a purpose.
Covid delayed the result by several months. To the point now where I'm receiving it just as the weather is warming up.
But many of the workers at Yves Salomon are elderly - often with decades of experience in fine furs - and management were taking no risks at any stage of lockdown.
Still, it was worth the wait and I'm excited about wearing it this Winter. Fur is wonderfully warm, almost like a radiator under a coat. And it's nice to feel that this material would have gone to waste otherwise.
I've since learned that the darkest section across the shoulders was the remainder from a customer's great-grandmother's coat, and almost 100 years old. Yet it's still in perfect condition, and now has a new lease of life.
I'll post pictures at a later stage of the lining in the coat - perhaps when it's being worn, in Winter.
This lining cost £2200 - expensive for a lining, but cheap for mink, as it used up-cycled, mixed female mink. If a customer brings their own fur pieces to be made bespoke into a gilet then the manufacturing price would be around £1,000, depending on the style. A rabbit-fur gilet would cost in the region off £1,250.
Photography: Alex Natt, James Holborow and Jamie Ferguson
Yves Salomon Resource Pact here