Removable fur lining – from Yves Salomon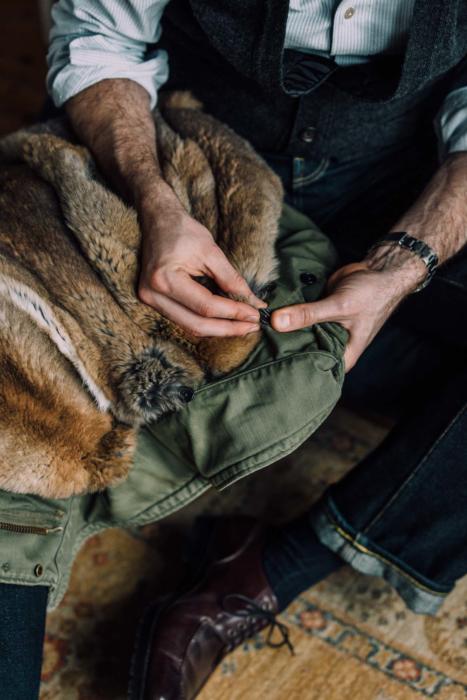 This fur lining for my vintage field jacket - originally mentioned in January - has finally seen some active wear in recent weeks, as the temperature has dropped.
It was cut, made and fixed into the jacket by fur specialists Yves Salomon, using second-hand rabbit fur.
The fact it was second hand, of course, is relevant to the discussions around fur of animal welfare, and sustainability. I would urge anyone that would like to discuss those points, to read our discussions of fur here.
In fact, it's worth reading that post and leaving comments there rather than on this article. Both to avoid repetition, and with the (always worthwhile, but equally challenging) aim of creating a useful, substantive discussion online.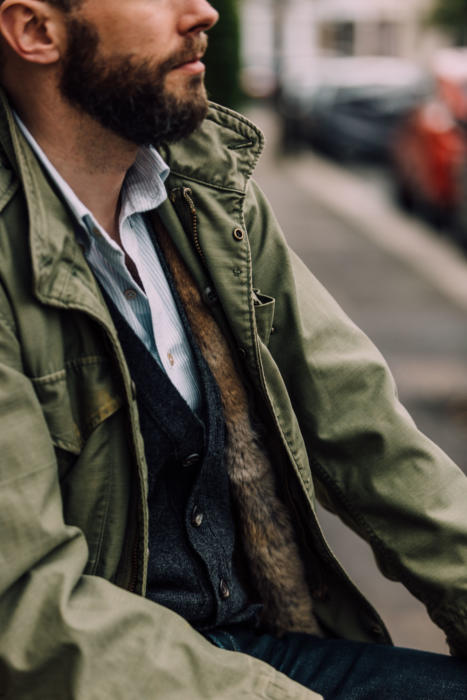 The practical point to emphasise about fur, I think, is that it is both impressively luxurious and warm.
The feel of rabbit or mink is the softest thing you'll feel in any area of clothing. More than any cashmere or vicuna, woven or knitted.
Equally impressive is quite how warm it is. It feels like having a mini-radiator inside your coat.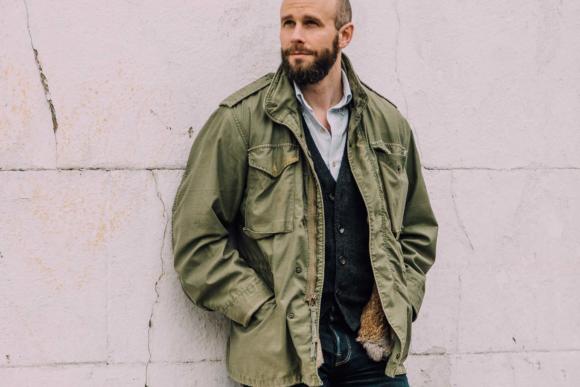 The fur lining turns this pretty cold field jacket (cotton is crap in both the cold and the wet) into something practical in winter.
Of course, a longer coat would be better (your top half is perhaps disproportionately warm), the sleeves are not lined, and the jacket is not waterproof. A wool or water-resistant outer layer would be better.
But any coat requires compromises if you want it to be adaptable across seasons.
The lining buttons into the field jacket, and can then be removed in warmer months.
Like most linings, it functions best when the buttons are on the jacket, and the loops on the liner.
This means you always have extra buttons inside the jacket, which could be annoying - but I didn't find I noticed them when I wore it without the lining, in the Spring and Autumn.
The work of Yves Salomon was very good - a large number of very precisely placed buttons, and elastic loops that are the perfect size.
We also deliberately set the fur back from the front edge (shown below) so the fur is rarely seen - this is about functionality, not about showing off, as fur often can be.
Showing this field jacket with casual clothes is also useful, as it's a nice appendix to the recent Weekend Wardrobe article.
The utility jacket shown in that piece could equally have been a field jacket like this one, and would have been more useful in the Autumn/Winter.
The jeans and shirt here are also quite similar: my heavy 18oz denim from Blackhorse Lane instead of the Levi's in that article; and my striped PS Oxford shirt rather than the plain-blue one.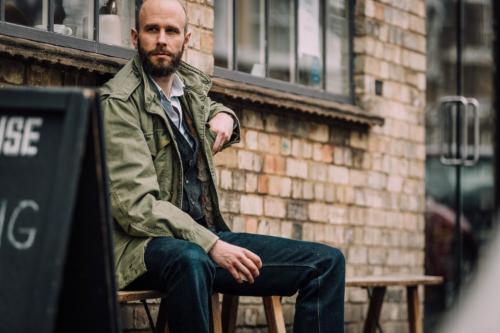 The cardigan is from Drake's - in charcoal lambswool. (I've changed the buttons myself, from a light to a dark horn.)
I know there are many more exciting colours of cardigan out there, but I do find greys to be incredibly useful and subtle.
The ones I wear most are mid-grey and this charcoal. You would think navy would be worn a lot too, but this coarseness of wool is usually worn with jeans rather than flannels, and so suits grey rather than navy.
I also tend to wear more dark-indigo jeans, which might be too close in colour to a navy cardigan.
Yves Salomon is a French fur manufacturer, which also recently launched its own designer brand. They have a shop on Conduit Street in London.
The shop was deliberately bought for its existing fur workshop downstairs, and this is where bespoke pieces can be made, such as this lining - using either new fur or reworking old pieces that customers bring in.
They also do linings for coats, or pieces to go on top of collars, if that's your style. I know Whitcomb & Shaftesbury have used them a few times to make such things for customers.
This lining cost £950, but prices vary considerably depending on the fur, the size of the piece, and the work required to affix it.
You can read more about Yves Salomon here:
"Yves Salomon: Re-using, remodelling fur"
And if you have any views on fur itself, they're very welcome. Please contribute to this post:
"Fur clothing: Ethics and sustainability"
Photography: Jamie Ferguson @jkf_man