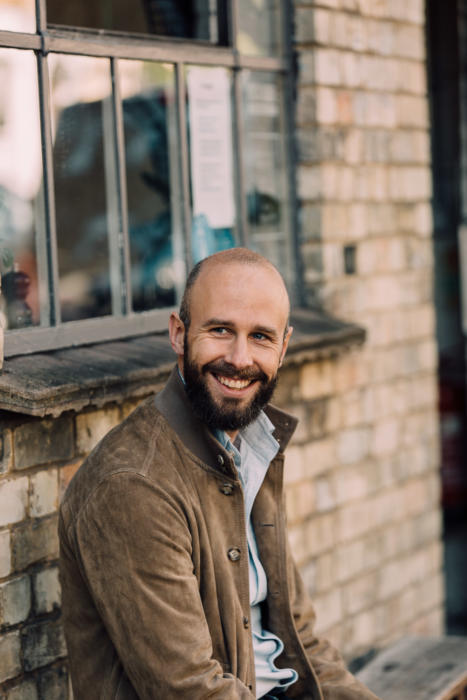 A weekend wardrobe can be a particular challenge for guys that care about their clothes.
It should be relaxed and easy – not requiring much thought, and a nice change from the working week – yet cover a wide array of activities.
At one end of the spectrum, it must suit going to an art gallery and a nice lunch; at the other, playing with children on your hands and knees.
I'm sure it's for this reason that readers have asked about clothes for the weekend so much recently.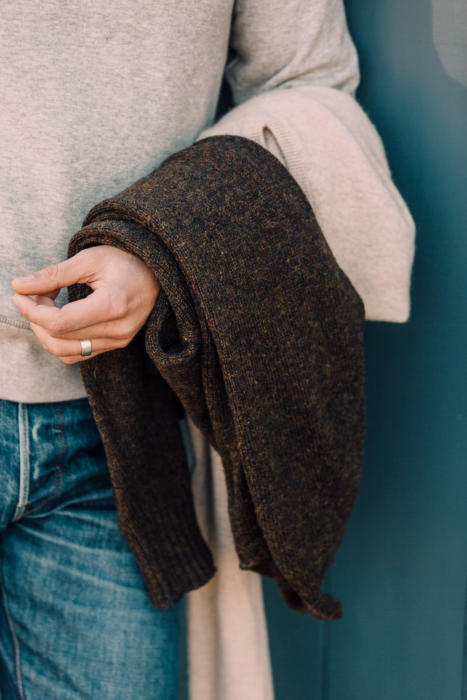 So in this post I suggest one easy, capsule weekend wardrobe, based on things I wear a lot.
It starts with a base of oxford shirt and jeans, and then presents three alternatives for shoes, knitwear and jackets, to be swapped for different activities.
It is intended to be basic. As with all similar 'capsule' posts, it establishes the building blocks of a wardrobe, to be built on over time.
More unusual, characterful clothes can be added on top. I make a few suggestions of those at the end.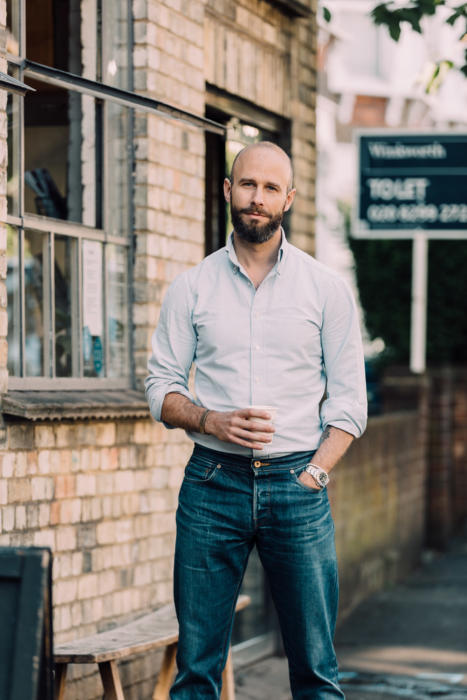 1. Foundation
The starting point for these different looks is a button-down oxford shirt (in PS Oxford cloth) and jeans (bespoke Levi's) pictured above.
There are of course lots of casual options. Chinos work very well, as does a good polo shirt.
But these two – the particular colours and the particular materials – are the most versatile. Good jeans can be used in every situation, as can a shirt this casual. As will hopefully be shown below.
As with all the clothes shown, quality and fit are crucial. Which is why my shirt and jeans are bespoke, in materials that I enjoy and know wear well.
Bespoke isn't required for good fit, of course, but don't forget that fit and quality are important with casual clothes as well as with tailoring.
(The fit may even be deliberately different – e.g. a wider-leg trouser – or the quality different – e.g. a coarser cotton. But their importance does not change.)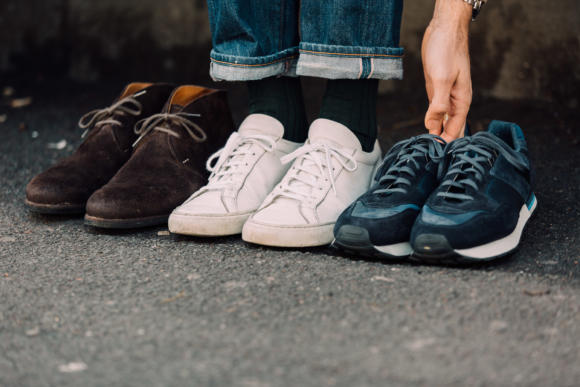 2. Shoes
Shoes might be the most intuitive of the following three categories, just because guys are used to the idea of swapping shoes for different purposes.
The ones I've chosen (above) could all be called casual, but cover every weekend activity for me, apart from actual competitive sports or adverse weather.
The brown-suede chukka boots (Saint Crispin's, on a personalised last) are the smartest, and great for an art gallery or most other strolls around town.
The white trainers are from Common Projects, and provide a slightly more casual alternative for similar activities. As set out in my trainers series, they work for those situations because of their quality, their simplicity, and their long last shape.
And the third are more sports shoes, here from Japanese brand Reproduction of Found. I'd use these where I'd be afraid of mucking up the Common Projects. So kicking a football around in the park with my children, for example.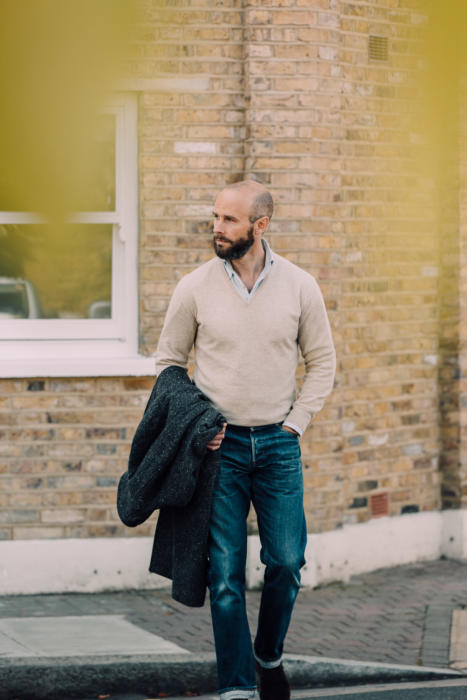 In each of these sections I'm also showing one full outfit that makes use of the different pieces.
Above is the smartest, combining the chukka boots with a fine cashmere knit in a smart colour, and a smart raglan coat (the Donegal Overcoat I designed this season with Private White VC).
Despite the fact we're working from a base of oxford shirt and jeans, the overall look is pretty smart. Even more so with darker denim.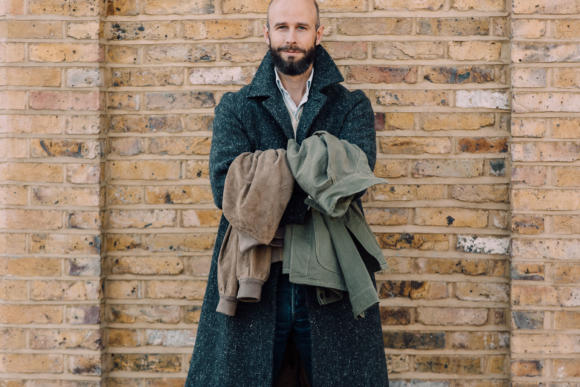 3. Outerwear
The second obvious thing to swap for different looks is the jacket or coat.
Notice none of these are tailored jackets. It's not that smart. But by simply changing the material, colour and length of what is pretty casual outerwear, most eventualities are covered.
The first option is the charcoal-wool donegal-shouldered coat mentioned above. This 'balmacaan' style is smart because of its length and colour, but casual because of its loose fit and raglan sleeve.
It dresses up jeans in this capsule wardrobe, but could also dress down tailoring.
The second option is the classic Valstarino suede blouson from Valstar. It's been noted many times in the past how versatile this is, because of the nice suede and the button fastening (rather than zip).
A dark-brown suede would be more versatile still, but I've shown this mushroom colour because it looks so nice with blue denim, and because it avoids a clash with the brown chukkas.
And the third outerwear choice is a military-style utility jacket (shown in my arms above, and styled in the next section). Immediately more casual for its rough, rugged style.
This could just as easily be an M-65 field jacket – either way, it's a much more casual, but still versatile option.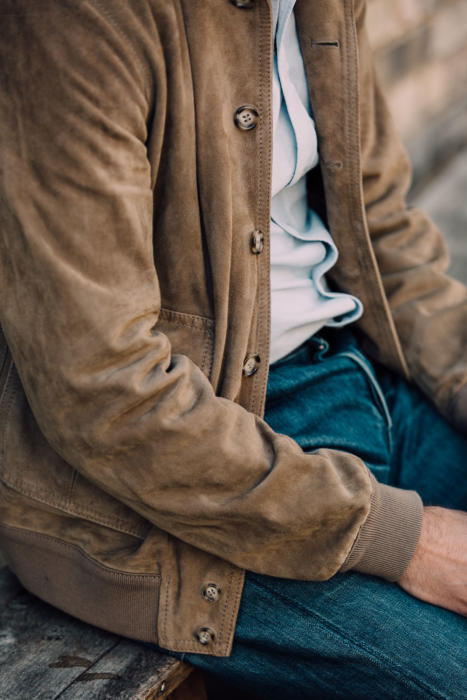 Those three jackets should cover pretty much every eventuality, just like the shoes.
With the utility jacket, I'd be happy on a wet day, wiping down a muddy dog. The Valstarino is obviously casual yet still luxurious. And any of them could be worn down the pub.
The combination in this section (above) shows the Valstarino with the Common Projects trainers, as well as the oxford shirt and denim of course. My default for going to the cafe with the newspaper.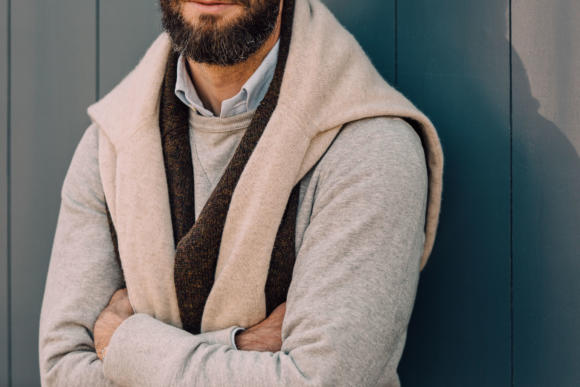 4. Knitwear
Changing knitwear is more subtle than the other two categories, but still makes a big difference.
The three pieces here are an oatmeal-cashmere V-neck (Loro Piana, the smartest), a brown shetland crewneck (Anderson & Sheppard, in the middle) and a grey-cotton sweatshirt (Merz B Schwanen, the most casual).
Each sits where it does primarily because of its material, but also because of its colour and style: the shetland would be smarter in navy; the cashmere would be more casual in a crewneck.
They can easily be swapped between most of the other footwear and outerwear combinations.
Consider the donegal coat and the chukka boots, for example. All three of these sweaters could be worn with those two, resulting in differing levels of formality.
I wouldn't wear the brown shetland under the Valstarino, but I would wear the other two – and the effect from luxe cashmere to cotton sportswear would be marked.
The combination I show in this section (above) is the most casual.
It combines the most relaxed of the sweaters – the grey cotton – with the utility jacket. Either the brown chukkas or Reproduction of Found trainers would be great on the feet.
It would look nice with a beanie too – either a smart cashmere PS watch cap or, at the casual end of the spectrum, a rolled wool one from someone like Heimat.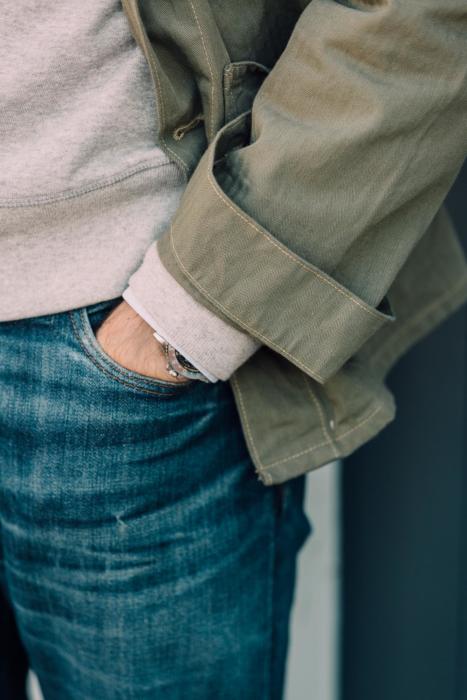 Not all of these 11 pieces of clothing work with every other one. I wouldn't wear the sports shoes with the donegal, for example.
But there are many different combinations in there, and together they make up a small capsule collection that (for me) covers all eventualities with some satisfaction.
If you then want to add some more exciting (but potentially less versatile) options, I'd suggest some to consider would be:
Shoes:
Tobacco suede boots

Chelsea boots

Bolder, more fashion-drive trainers
Coats:
Donegal in a brown or green, so more casual

A camel-coloured polo coat

Leather blouson rather than suede
Knitwear:
Roll neck, particularly at the smart end of the spectrum

Hoodie, at the casual end

Shawl-collar cardigan, great as a jacket alternative
Photography: Jamie Ferguson @jkf_man