The T-shirt under a shirt (and tailoring)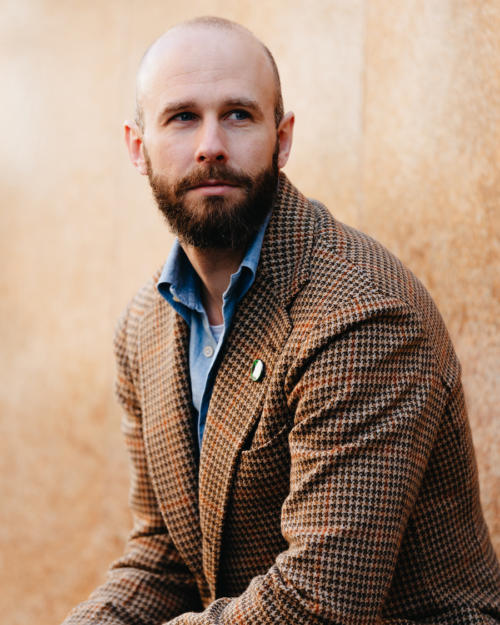 A couple of weeks ago, we looked at a relatively casual outfit - and how elements such as a baseball cap or bright knitwear could make classic menswear less formal, with some Ivy influences.
Today I'd like to talk about one element that I find just as interesting, and will probably provoke as many strong feelings as the cap. A white T-shirt under a shirt.
The fact this is controversial will seem ridiculous to many. There are few things more ubiquitous and ordinary than a white T-shirt.
But in classic menswear we are taught to avoid showing them, and with good reason.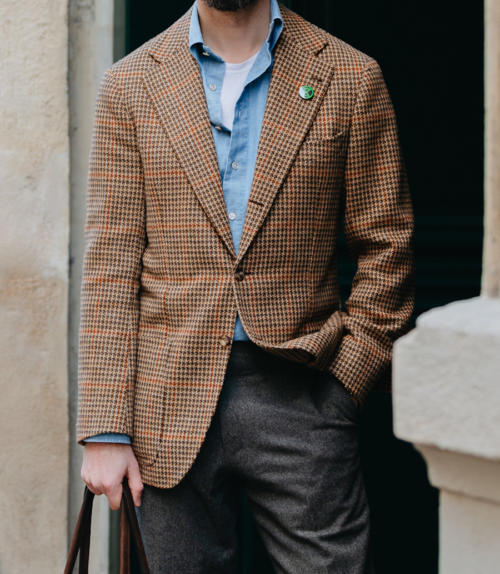 First, it's redolent of underwear when worn under a shirt. It's a long time since the tee was just underwear, but there is still that suggestion, particularly in white.
Second, the material and lack of collar mean that a T-shirt nearly always looks more casual than a dress shirt. It lacks shape and structure.
If you're wearing a shirt open-necked, it looks noticeably more casual if a T-shirt (or indeed a vest) is visible underneath. The same goes for knitwear, like a polo-collared sweater: compare my charcoal one here with a tee under, and then the Dartmoor here without one.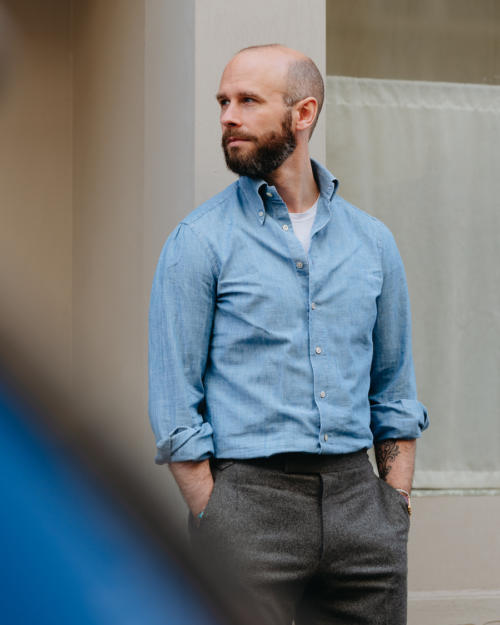 So if your goal is tailored elegance, a T-shirt is generally a bad idea. (If you do wear one, it would be better as something fully fashioned like knitwear.)
However, if the aim is to dress down tailoring, then I find a T-shirt rather effective.
The outfit pictured is already rather casual, given it involves a chambray shirt and a tweed jacket. But it is certainly made more casual by the tell-tale scoop of white tee.
And that effect would be more marked if the shirt or jacket were smarter - say a striped oxford shirt and a navy jacket.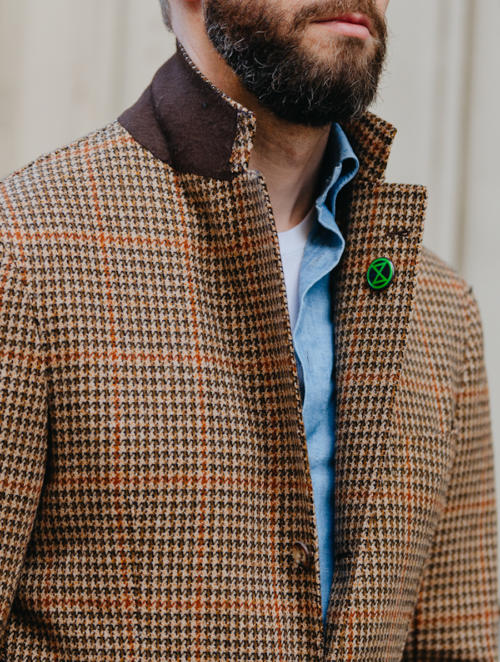 I often wear a white T-shirt like this (only white) under my blue or blue/cream striped oxford shirts, and it feels relaxed and casual. Perhaps even a little vintage - redolent of the days when a T-shirt was just underwear.
I also find having a T-shirt under that oxford shirt makes it easier to wear tailoring with jeans.
In the pictures I'm wearing it with grey flannels and bespoke loafers - pretty smart. But if you wanted to wear jeans and slimline trainers then this would help that transition.
I'm aware that in the US, it is much more common to wear a T-shirt under a dress shirt (apparently for sweat-related reasons). But that often looks sloppy because the the shirt and other things it's worn with are smart: there's too much of a mismatch.
On the way into work today I saw a man wearing a shirt, open at the neck, with a T-shirt underneath. But the shirt was too smart. It looked as though he'd just taken his tie off. (He was also wearing blue jeans with black oxford shoes, which should have been a clue.)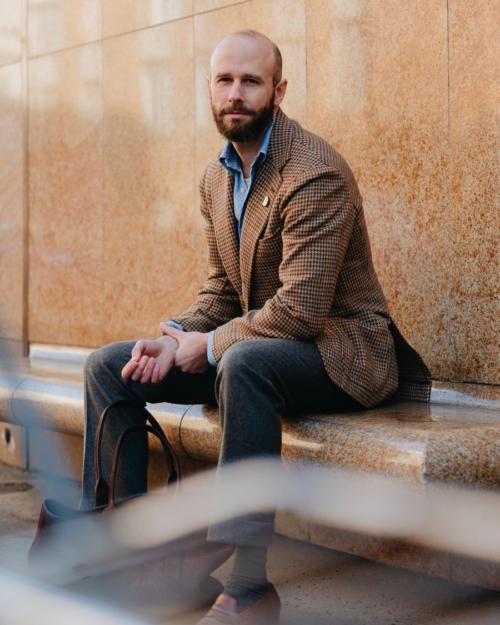 This all makes a T-shirt a great piece to take travelling. Because it can dress down that oxford shirt, in the same way a navy knitted tie (also something I always take away) can dress it up.
This outfit and the recent one with white jeans and suede loafers were shot while I was in Paris for a week, earlier in the year. The tee and those two pieces were surprisingly versatile - one thing that spurred the two articles.
(In extremis, a T-shirt can also double the life of a shirt when travelling - you can wear the shirt once with the tee, once without.)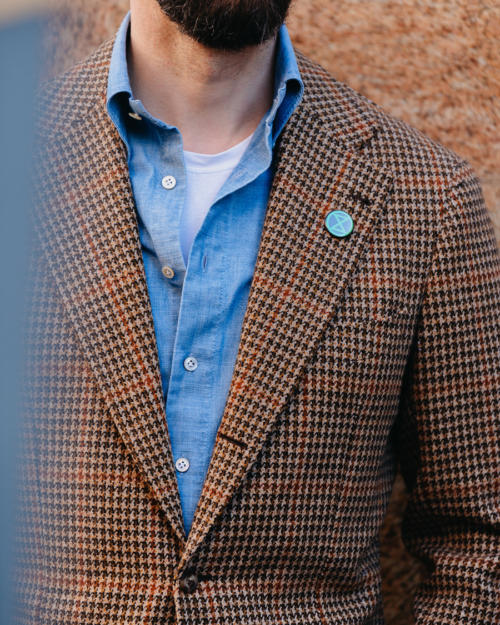 Real undershirts or vests are harder.
I love my Lee Kung Man undershirt from Bryceland's (pictured here) - for its incredible functionality if nothing else. But it is more unusual, and more of a vintage look.
The same goes for vests - they can look nice and masculine, peeking out of an unbuttoned shirt. But they also have myriad associations, from old man to the wife beater, and flatter very few men worn on their own.
I do like unbuttoning one more button than usual with a T-shirt, though, as eagle-eyed readers might notice. There seems to be a fashion for unbuttoning almost to the navel, with or without a T-shirt. But I prefer smaller, subtler touches.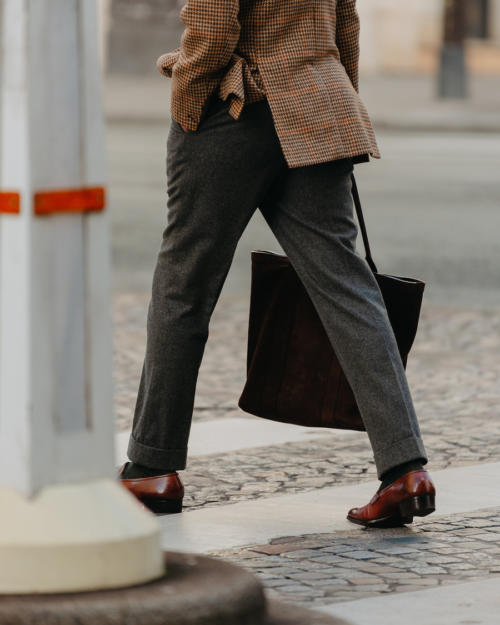 Other pieces shown are:
Gun-club check tweed jacket

, in vintage cloth from Sartoria Ciardi

Chambray shirt from 100 Hands (prototype for an upcoming collaboration)

Flannel trousers, in 13/14oz Fox

, made by Whitcomb & Shaftesbury

'Crompton' loafer from Gaziano & Girling

in hatchgrain leather

PS Watch Cap

(restocked last week)

Nubuck tote from Frank Clegg (also an upcoming collaboration)

'Extinction Rebellion' pin. A personal show of support for something I believe in. Given

how it went last time

, I'd suggest we don't get into a discussion of climate change!
Photography: Alex Natt