Artisan of the year 2019: Gaziano & Girling (or, the ideal artisanal journey)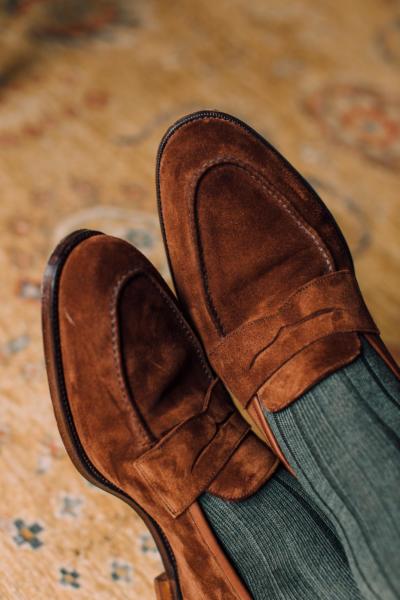 Artisan of the Year 2019: Gaziano & Girling
The Artisan of the Year category in our annual awards is an opportunity for me to personally recognise a bespoke maker, outside of the usual cycle of reviews and product launches.
It is, in effect, an expanded version of the 'Reflections on bespoke' series.
Last year the winner of the award was tailor Musella-Dembech, whose cotton suit I love so much. And this year it is shoemaker Gaziano & Girling.
The first and primary reason I picked G&G was the reflection that, looking back over all my bespoke shoe commissions, at least two of the pairs they have made me are among my absolute favourites.
The hatchgrain loafer that Tony Gaziano made me in 2012 might be my favourite of all time.
It fits well and is made well, of course, with a holding of the ankle that I can never get with ready-to-wear, and that shaping of the waist and heel that you usually only get with bespoke.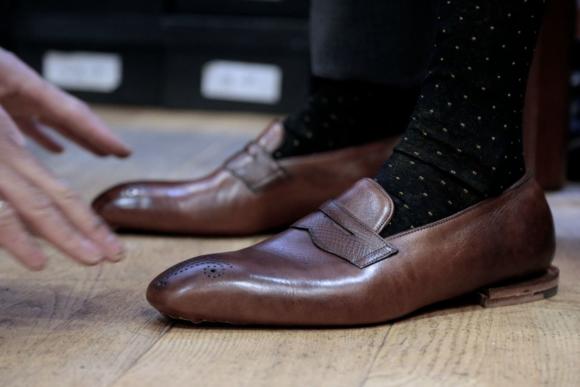 But two other points are subtler and probably more important.
The first is the technical achievement of making a shoe without a seam. Not a wholecut with a seam at the back, but one circle of leather - stretched at the ends, shrunken at the sides - with no seam at all.
Others can do this, of course, but I appreciate how much of a pain it is to do, and the fact that absolutely no one outside of a few shoe obsessives will realise that.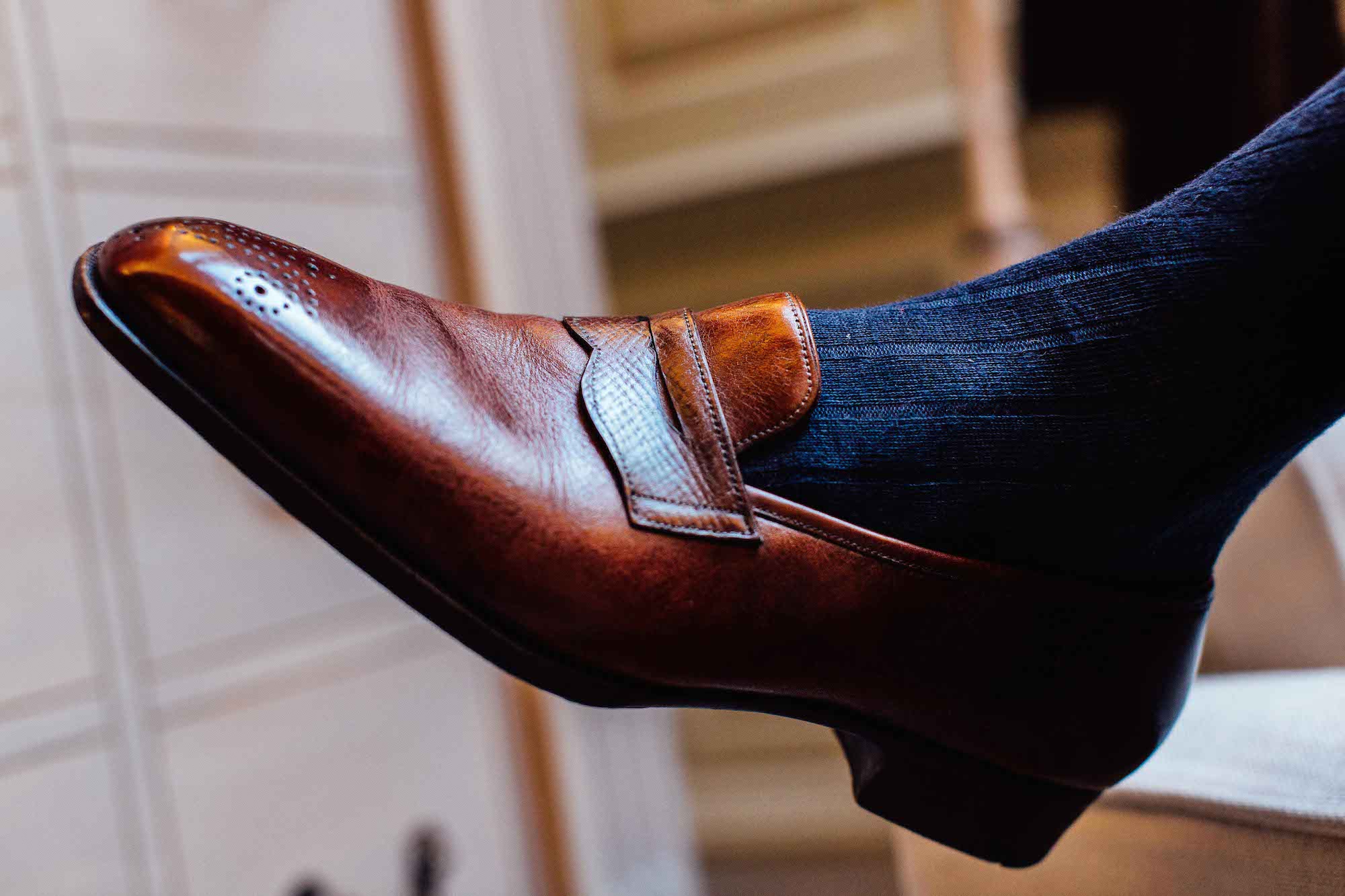 Second, the style has both worked well and is rather distinctive. The hatchgrain texture leads to natural variation in colour, both because of the places it is stretched and the way polish cracks on the more densely hatched areas.
And the style is elegant while remaining slightly casual. I can happily wear it with flannels and knitwear, but also sharp worsted trousers and a blazer.
This is the style sweet spot for me and - as in many areas - I think the importance of style is one often underrated by fans of bespoke in favour of tiny making or craft points.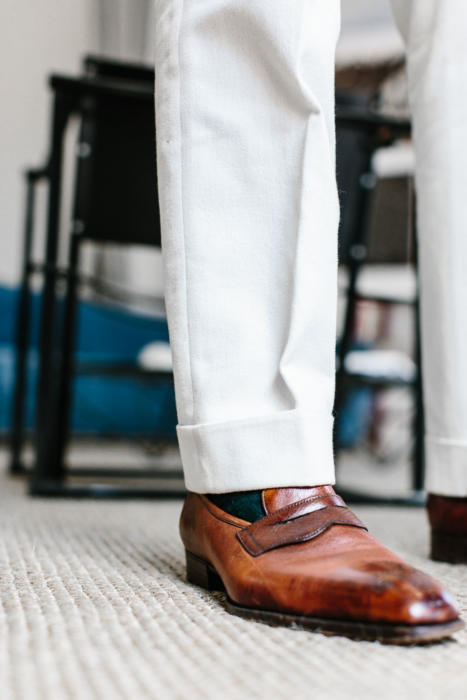 Indeed, I think this is the biggest challenge for bespoke shoemakers going forward.
I don't think men are going to start valuing craft, fit or personalisation any less. But they are going to dress more casually. (If only because that part of the equation is social.)
The extremely fine, dressy shoes offered by most bespoke shoemakers are going to have a fairly limited and shrinking market.
They need to also offer casual shoes like this that involve no less craftsmanship, but are likely to be worn with more than just a worsted business suit.
Of course, handwork generally makes more of a difference to dress shoes than flat-soled casual ones. But there are always points where that handwork can add value, like a hand-sewn split toe or double sole carved down to one sole at the waist.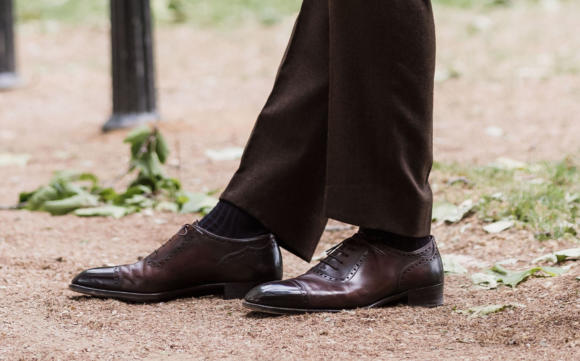 The other two pairs of shoes Gaziano & Girling have made for me are not quite as versatile.
But the adelaide shoe (above) is still a fairly useful everyday brown oxford, and the fineness and chiselled nature of the loafer Daniel Wegan made (below) is balanced by its casual brown suede.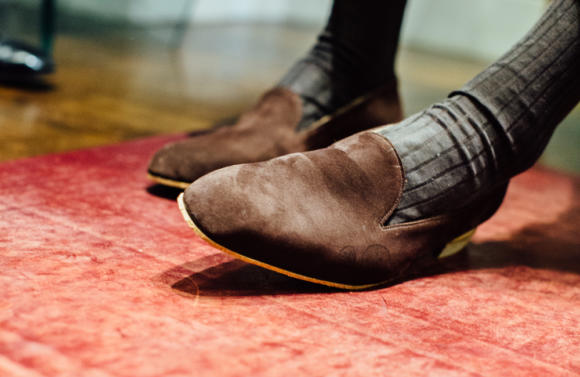 The second reason for picking G&G this year is I think their story deserves regular recognition - and it's easy to forget it.
Tony Gaziano and Dean Girling started their company from a garage, first made bespoke shoes, then produced ready-to-wear in someone else's factory, then opened their own factory, and then opened a shop on Savile Row.
It is, in many ways, the perfect trajectory for a craft-based classic-menswear company. It's what we all want from the makers we love - and G&G have done it.
Along the way they've made shoes for many designer brands, and collaborated with others - which frankly both elevated the quality the brands offered and demonstrated what great value G&G is.
The arc of the G&G story probably reached its peak this year, when Prince Charles visited the factory in Kettering, as part of a tour recognising the old (Tricker's) and the new in England's shoe heartland.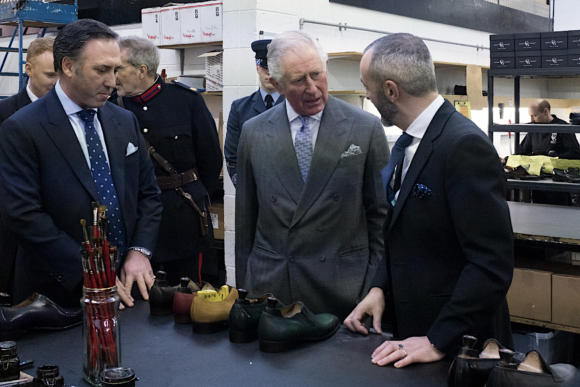 G&G's recent launch of a 'Classic' range can also be seen as a stage in their development.
When G&G launched their ready-to-wear, it had to be something different to stand out in a crowded market.
The headline was bespoke-level materials and craftsmanship, but the last shapes were also different for an English maker - elongated and chiselled. Deco, which came a few years later, was even more extreme.
Today, Gaziano & Girling is a bigger brand with a shop that many tailors of the Row send their customers to. It makes sense that the offering is broader.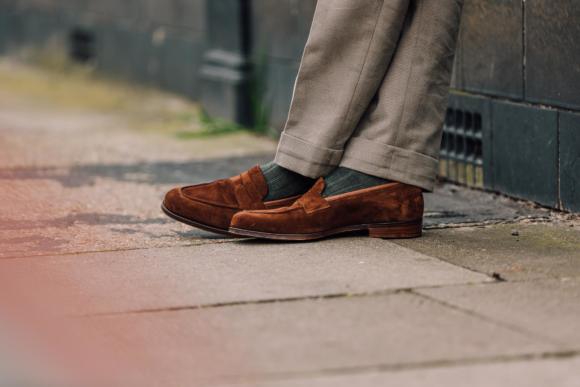 The Classic range does that, by using a more traditional last shape, a lower heel, and by taking out some of the more time-consuming bits of make, particularly around the waist.
The result is a shoe with the same quality materials (same uppers, same oak-bark soles) but in a design that I think will have a broader appeal. (It's also good value, at £580 + VAT.)
Pictured here is the Chadwick in polo suede, one of the five styles in the range that also includes a cap-toe, half brogue, full brogue and chukka boot.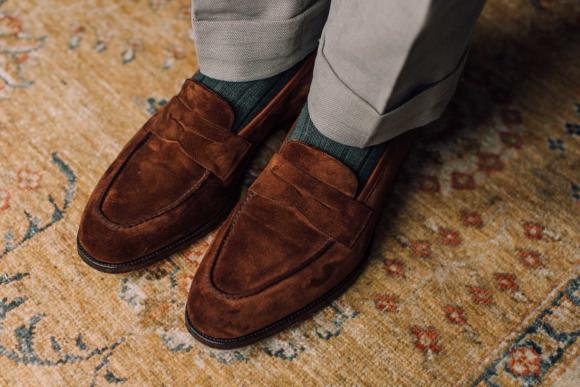 The whole team at G&G richly deserve this award, and I hope highlighting their story reminds us how far they've come.
I should also say that the seamless loafer is now available as a ready-to-wear shoe from G&G, called the Crompton.
I feel very honoured Tony and Dean decided to name it after me, but of course I did nothing - the entire credit goes to Tony.
You can read more about Gaziano & Girling around PermanentStyle.com here:
Photography: Jamie Ferguson @jkf_man except numbers 2, 5 and below, Luke Carby. And Prince Charles photos, Gaziano & Girling.
Although the Crompton is named after me, I receive no commission or similar from its sale. Want to learn more about Permanent Style's commercial relationships? Read here.