Best Artisan of 2018: Musella Dembech (Or, rating a suit purely on emotion)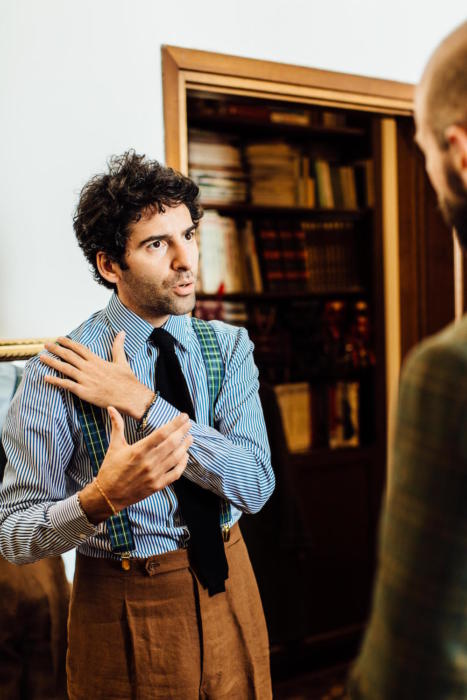 Best Artisan of the Year: Musella Dembech
This award, readers may remember, is the only one of the Permanent Style Awards that will be decided purely by me.
The overlap of readers that have used a bespoke artisan in 2017 is simply not enough, in my view, to make any voting (or judging) viable.
So it is purely a question of which of my bespoke pieces from last year was my favourite.
When trying to make that decision, I decided to ask myself a simple question: Which piece from 2017 do I most look forward to wearing?
This is a very emotional and subjective way to pick an artisan. It demotes all questions of value for money, and rides roughshod over technical points of style or craft.
But it is also, I feel, something at the very core of how we commission bespoke clothing.
Bespoke is something into which we put a huge amount of time, energy and money. It is always expensive, and it takes a lot of time and effort. It is by its nature, something in which we are emotionally invested.
So as much as other reviews prioritise objective points of fit, quality and service, I thought this time it would be interesting to ask this single, more emotional question.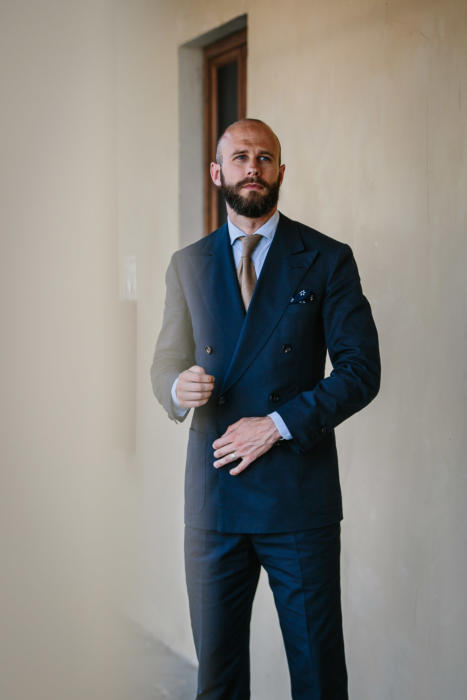 Two experiences during 2017 immediately came to mind: my navy cotton suit with Gianfrancesco Musella and family, and the tweed ulster with Liverano & Liverano.
Fortunately, my review of the Liverano ulster fell into 2018, just. So I selected Musella Dembech.
I think it's worth unpacking why I look forward to wearing that cotton suit so much.
Firstly, and most obviously, it is a piece I have complete confidence in from a style point of view.
No matter how well made a bespoke piece of clothing is, if the style doesn't work it is fundamentally compromised. Bespoke enthusiasts won't like that point, but it's true.
The longer you do this, the more you realise its truth. If the colour of a suit is a little off, or the make is too dramatic for its intended formality, it will never be quite right. It's much easier to make peace with the fact that checks don't match across pocket jettings.
Navy is a great colour for a cotton suit, and I love the shape of Musella Dembech double-breasted lapels. I think I made the right choices on pockets, turn-ups and buttons. I have no concerns at all about its style.
And more than that, I think it slots perfectly into my core aim of clothing: to be subtly and quietly well-dressed; to whisper and not shout.
Second, I have full confidence in the way the suit has been made: partly from what I can see and analyse myself, and partly because I have faith in the thought and work Gianfrancesco has put into it.
Gianfrancesco not only has knowledge and influence from the Caraceni tailoring tradition through his father (below, centre), but is constantly researching and educating himself. He is a dedicated student, with strong views but a thirst for the views of others.
When you mention something to Gianfrancesco, such as the difficulty I always have with pleats, you can see him carefully considering it - running it through all his references, knowledge and experience, and assessing.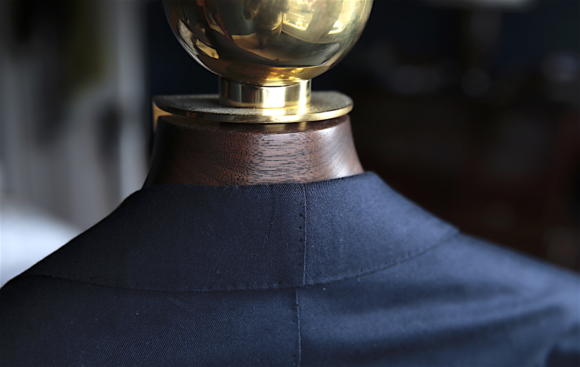 So for example, I don't mind that my cotton suit has a seam in the middle of the collar, at the back. Gianfrancesco says this helps shape the cotton (which cannot be as easily ironed or stretched as wool) around the neck.
My other Italian cotton suit, from Elia Caliendo, doesn't have this seam and I haven't noticed a difference in functionality. But I'm happy with it - because Gianfranesco knows more than I do and because he has spent an awful lot more time studying it.
We need to recognise when we lack real functional, technical understanding. And that (whisper it) sometimes there just aren't any right answers.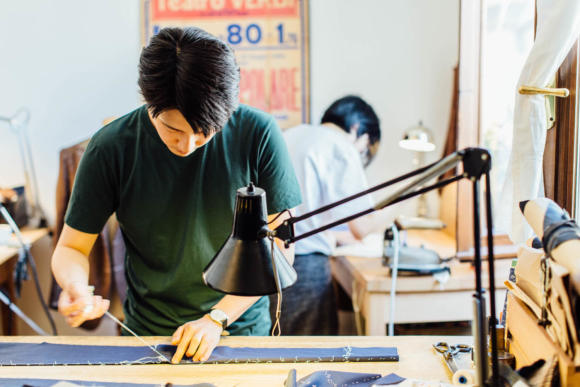 The third point is the most emotional. When I wear my suit it makes me think of Gianfrancesco and his family - and smile.
As I said earlier, a fundamental part of the appeal of bespoke is establishing a personal connection with a craftsman.
Historically they would have become having an advisor and confidant who helped shape your wardrobe. That happens less these days, but the relationship is still a far deeper and more intimate one than any other type of retail.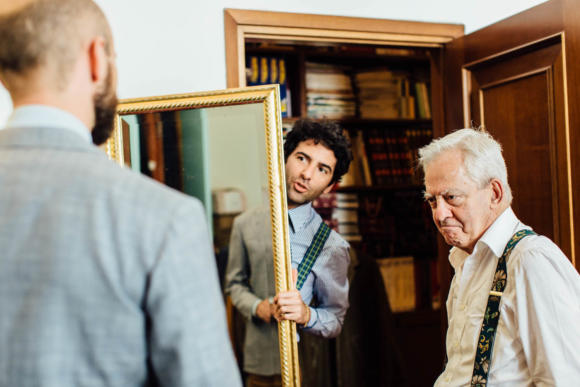 When I think of having this suit made, I think of walking through the family's sitting room to get to the workroom.
I think of the old baseball sitting on a side-table, in front of a stack of family photos. Of the coffee on a silver tray, with lace doily and blue cup-and-saucer.
And of that damned mirror, which still hasn't been hung and Gianfrancesco therefore has to hold up for this customer every time.
He really should fix it to the wall - for the sake of his back if nothing else.
But I would be a little sad if he did.
Photography: Jamie Ferguson @jkf_man