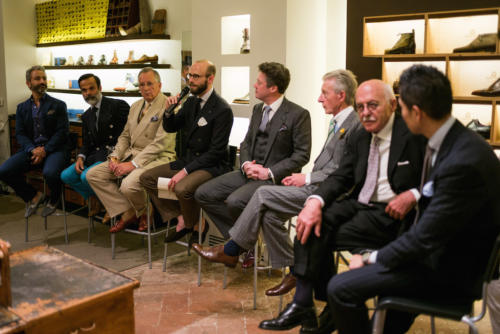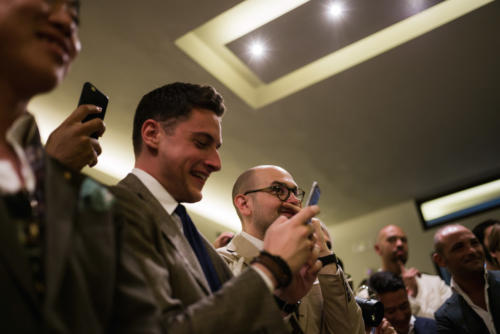 "Edward, Edward," said Antonio Panico, in a conspiratorial whisper. "What was it like to fit Mick Jagger?"
Just like the Shoemakers Symposium we ran in January, the biggest pleasure of our Tailors Symposium at Pitti this week was bringing together wonderful, talented people.
In the case of this conversation, Panico – a legendary figure of Neapolitan tailoring – was asking Edward Sexton about cutting suits for Mick Jagger in the seventies. Edward was extremely polite, showing no sign that he gets that question a lot. "His timekeeping was terrible," Edward replied. "And he wouldn't keep still."
The format for the Symposium was again similar to January. An audience of our favourite buyers, brands and friends, and six of the greats on high stools, answering my (almost) deliberately naive questions.
The difference was that before we went to general questions about the industry, I introduced each tailor's style, and they then explained it in detail to the audience, using a young colleague or customer as an example.
We deliberately picked the six tailors because of their mastery of six distinct styles: the drape of Anderson & Sheppard, the structure of Richard Anderson, the seventies flair of Edward Sexton, the rope of Cifonelli, the clean curve of Liverano, and the eternal lightness of Panico.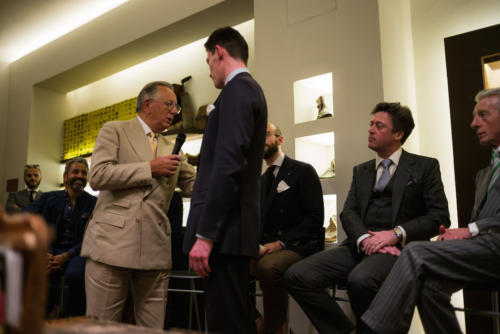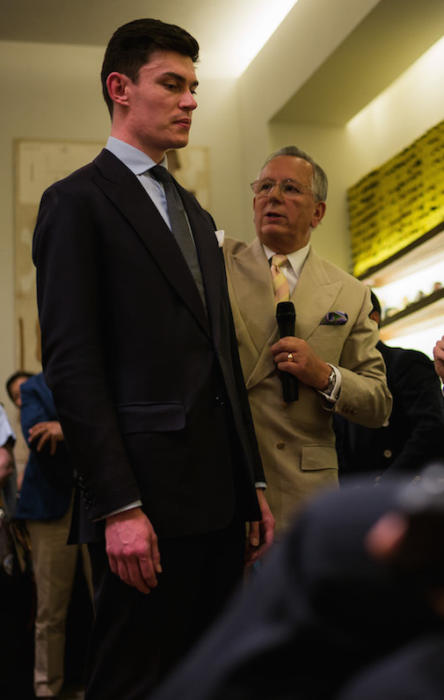 First up was John Hitchcock of Anderson & Sheppard (now retired, but still working on projects like this) who demonstrated the drape style on trouser cutter Oliver, who was wearing a peak-lapelled single-breasted A&S suit.
Oliver did his job manfully, and Mr Hitchcock similarly, even if the microphone was a bit of a struggle.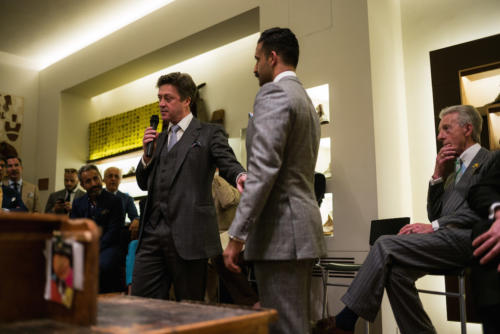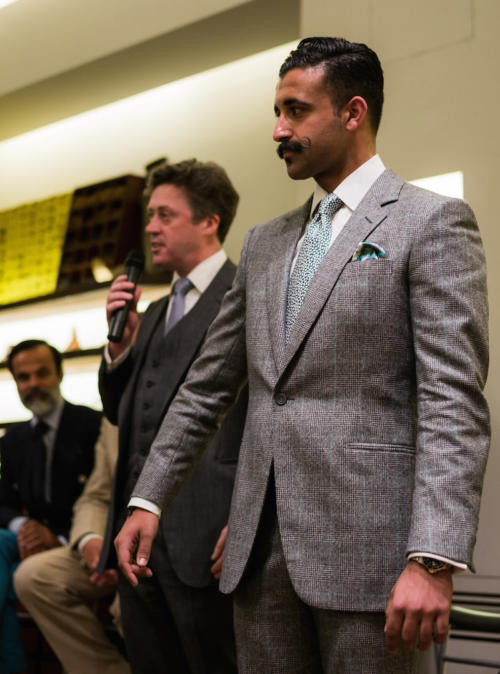 Richard Anderson walked us through his structured cut, derived from the old English hunting jacket, using Krishan as his model.
One of the nice things about the tailors was that I could introduce each personally with my experiences and reflections on the cut, in this case the dinner jacket Richard made for me a few years ago.


Lorenzo Cifonelli explained the house rope shoulder and lightweight canvas, clean chest and typical Parisian finishing, with Romain and Alexander Kraft both taking turns as models.
I was interested to hear many people – often from tailoring houses themselves – saying the nicest thing about the evening was seeing such styles demonstrated, rather than just talked about. Others from the industry – cloth merchants, retailers, manufacturers – said the same thing.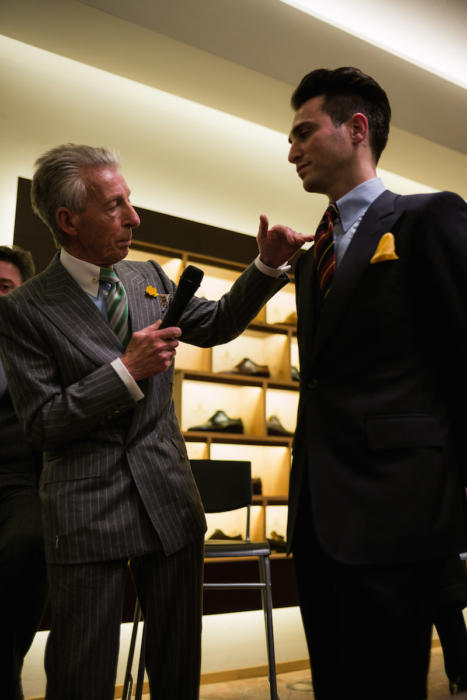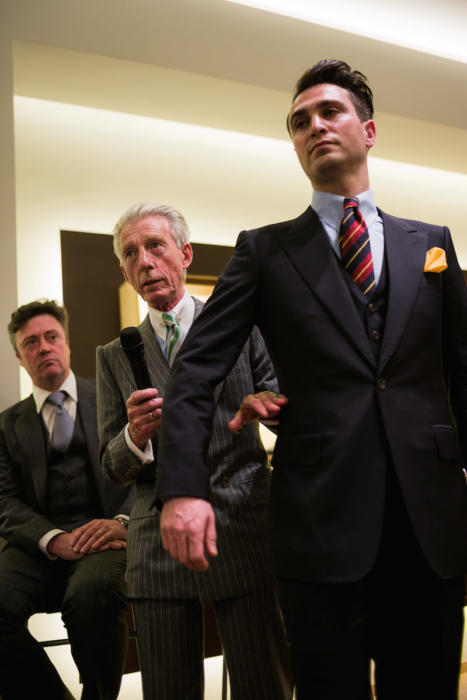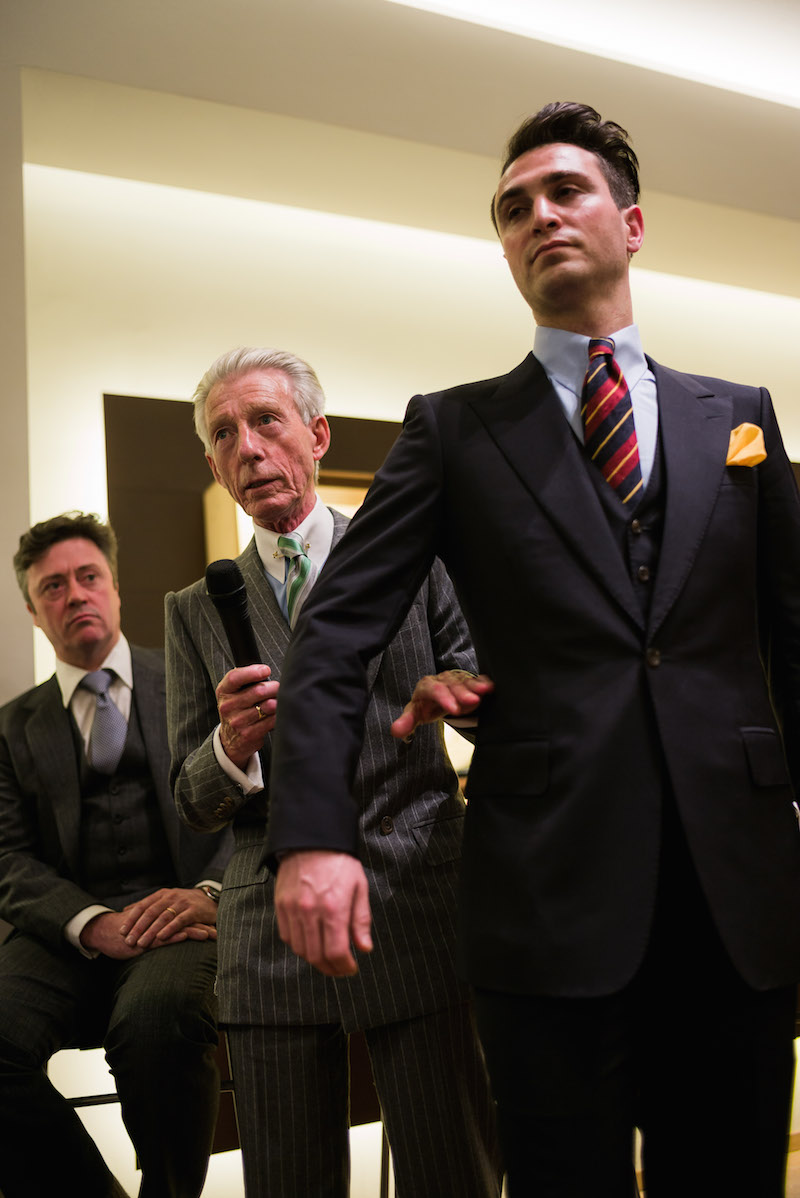 Edward Sexton was fantastic in his explanation of his style. "It's all about shoulders, collar and lapels – that's what hits you when someone walks in the room," he said.
Interestingly, Edward also noted (while pointing things out on Dominic) that he was inspired by 1940s suits when he first started. "We used to watch all the old films, Fred Astaire and so on, and then try and recreate the suits but with our own touches or styles." Interesting to know if anyone is looking at Edward's today and putting their own tweaks on the style he established.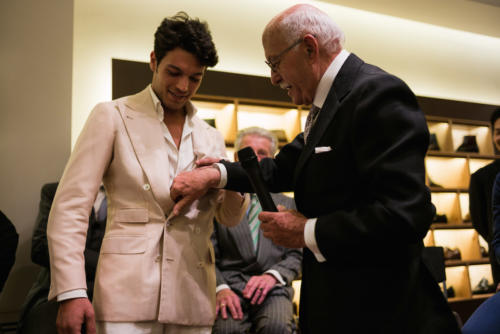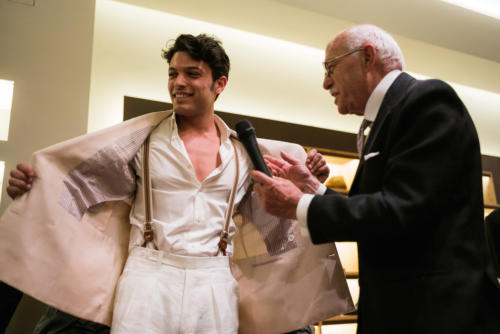 Antonio Panico was wonderfully expressive in his slot, declaring that he preferred people to see and wear the Neapolitan cut rather than try and explain it in words.
So he showed it to us, scrunching up the DB jacket and then undoing it to show the lightness of the construction.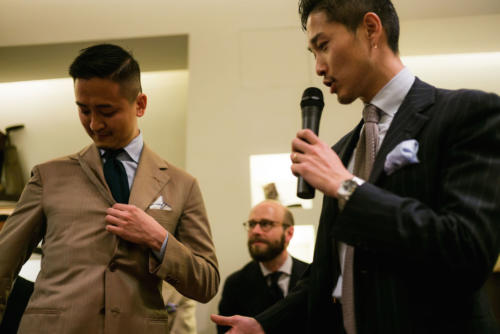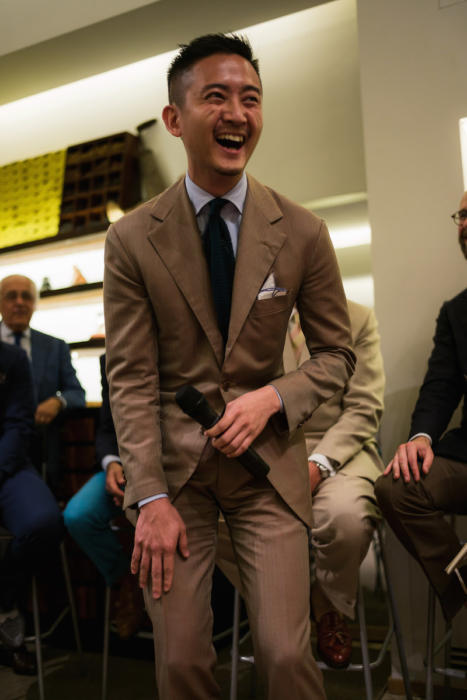 And lastly Taka stepped in for Antonio Liverano, who wasn't feeling well after the hours of coverage we had already done, and demonstrated the Liverano style on Alan See.
Amid calls of "where can people buy it Alan?" from the Armoury guys in the audience, Taka talked about the broad Liverano lapel, the shorter length and the rounded, open foreparts.
Those hours of coverage earlier, by the way, were for a feature The Rake is putting together on our symposium, and a video they are producing. So don't worry, there will be some video coverage – if not of this discussion itself.
Many thanks to Stefano Bemer and Vitale Barberis Canonico for making the whole thing possible. And to everyone for coming.