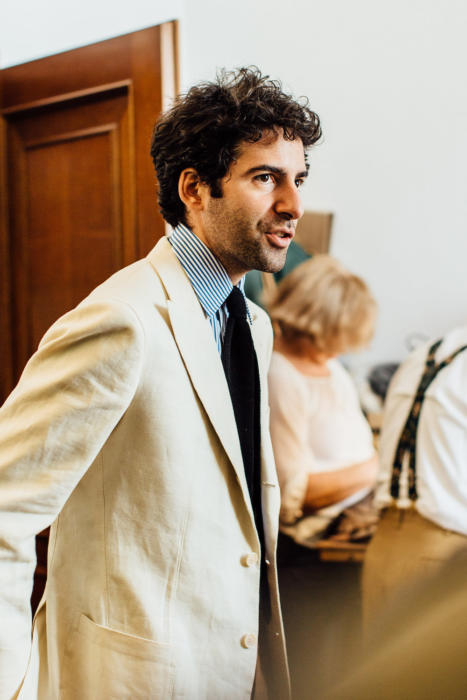 It doesn't feel like over three years since I covered Musella Dembech, but apparently it is.
Of course, there was the Young Tailors Symposium in the middle of that, which featured Gianfrancesco Musella (above), but I haven't written anything exclusive about him and his family for a while.
I recently had my first suit made by them, and will review it in more detail next week.
Right now, I wanted to explain in more detail why I find this Milanese tailor one of the most impressive around.
The first interesting point is the melding of styles.
Gianfrancesco's father, Francesco Musella (above), trained initially in the south of Italy, in Caserta, and his style is naturally quite light and soft as a result.
But the second half of his career was in Milan, working for Baratta, then Giuseppe Colavito, and finally the hugely influential Mario Donnini and Augusto Caraceni.
There he learnt the squarer, more formal lines of Abruzzo tailoring - rarely with any more structure, but with more emphasis on a strong, square shoulder.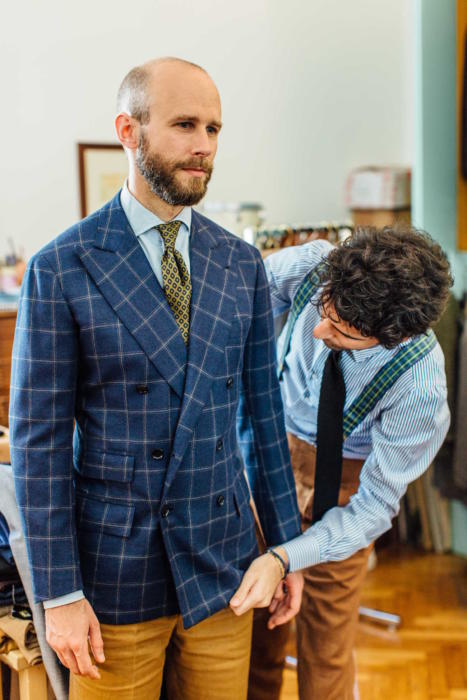 Gianfrancesco today leads the evolution of style at Musella-Dembech, keeping some of the Milanese lines and double-breasted lapel, but preferring the softer southern shoulder.
You can see some of that style above - even though this is a trial jacket and too short in the body for me.
Gianfracesco particularly likes the 'transformabile' double-breasted, where the softness and cut makes it easier to fasten the jacket on the middle or bottom row of buttons.
Even though his father oversees all the work, it is Gianfrancesco that spends his time digging up old tailoring guides (particularly English ones) and experimenting with the techniques.
As an example, on my trousers he deliberately cut more fullness in the back of the trouser than the front, to help them sit cleanly and keep the single pleats closed.
"Many tailors try to get this balance with ironing, but those old books say it needs to be in the balance through the cutting, and I think they're right," Gianfrancesco says.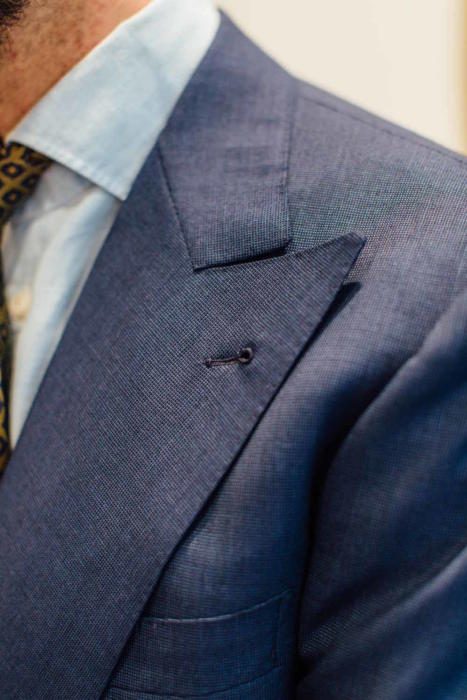 The house of Musella-Dembech has done well in recent years, partly due to the support of Armoury employees.
Gianfrancesco still does his only overseas trip to The Armoury in Hong Kong - he was there last week in fact - and is very popular.
He has been asked to travel elsewhere, but is keen not to expand too quickly - quality is the cornerstone of what he enjoys doing, and there isn't capacity for too many more customers.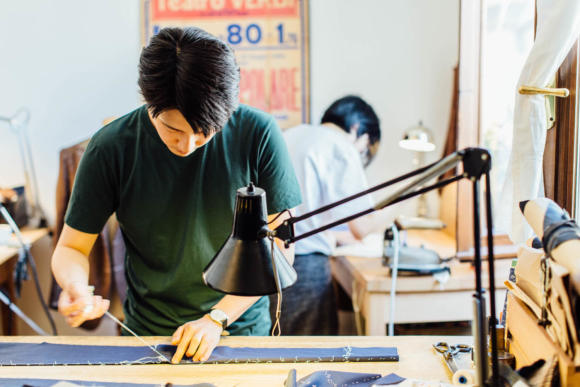 Alongside Gianfrancesco, his mother and father, there is one apprentice in the atelier who has been there two and a half years.
Outside the house they use two trouser makers, a waistcoat maker, a buttonhole maker, and one old colleague of Francesco's.
Another apprentice, a Korean (above), had to leave recently so they are looking to hire another.
This expansion has led to them trying to find larger premises.
The atelier is still inside the family home, and you walk through their hall and sitting room to get to the small workroom.
This is charming, but impractical.
"We need more space. Our techniques are so specific to us that we can't just take on more outside workers - we need them here next to us," says Gianfrancesco.
He gets particularly frustrated, he says, with how trouser makers deal with pockets - not getting the balance right and therefore causing them to pull backwards or forwards.
Returning to style, Gianfrancesco comments that he wants to be able to offer customers a range of options.
Nothing as strong as the traditional military English cut, but different things for different occasions.
"If you look at all the most stylish men in history - Onassis, Agnelli, Loro Piana - they all wore different styles. It's more interesting, and allows you to express yourself more in what you wear," he says.
I find this interesting, as very few tailors appreciate the range of styles a modern man might need - from a casual weekend jacket to a super-sharp boardroom suit.
It's one reason I consistently use the likes of Edward Sexton, Anderson & Sheppard, and Elia Caliendo.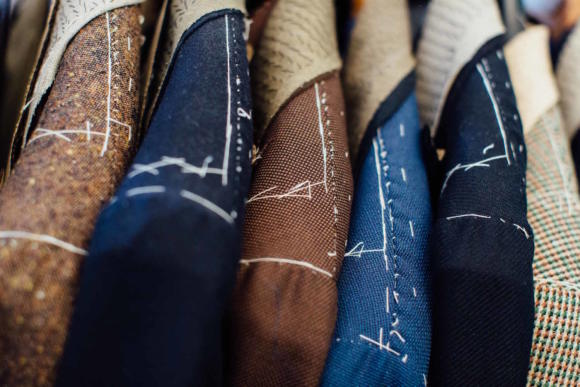 It's encouraging to see Musella Dembech doing so well.
Gianfrancesco is not only talented and interested in style, but the product is always top notch - beautifully finished and very consistent.
(The latter being a problem for many Italian tailors, as we have noted recently.)
His order book is full, and he's recently been able to put up his prices - from €4,500 to €5,000 (for a suit, €4,300 for a jacket).
When the family do move, it will be to a large space in the centre of Milan, with their name on the door. I can't wait to see it happen.
Photography: Jamie Ferguson @jkf_man (making a rare appearance above - in a navy double-breasted)