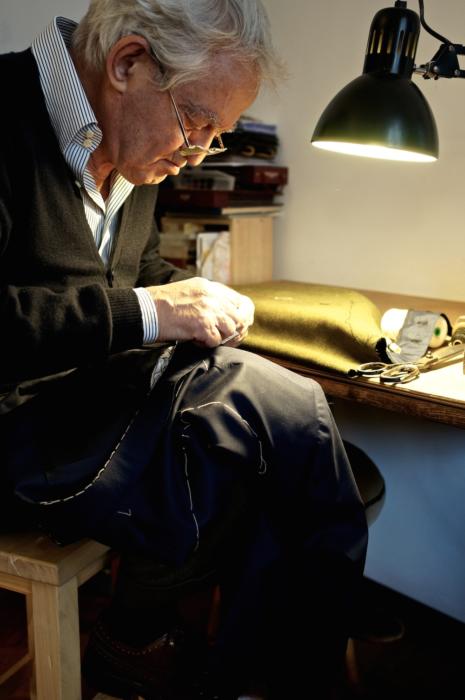 While in Milan earlier in the year I had a chance to catch up with Gianfrancesco Musella-Dembech, whose family run a small bespoke operation in Milan.
Mother, father and son all work in the same room, which is also part of their appartment. Although they also use an external trouser maker, this is the hub of activity. Patterns are being cut on one table by Gianfrancesco (the son), while mother and father work on a jacket behind him.
The three are wonderfully welcoming and have a good number of yarns to tell, given that the father, Francesco Musella (above) has been intertwined with several aspects of the story of north Italian tailoring.


Let's unwind a little of that story. Francesco worked as a cutter for the tailoring houses of Baratta, Giuseppe Colovito and Donnini e Caraceni. In this case that Caraceni is Augusto, and although we know his name, Francesco reminds us that Mario Donnini was just as important in the Donnini e Caraceni partnership. Indeed for Francesco, Donnini was the master: perhaps the most important cutter in the whole north-Italian tradition. Gianni Agnelli was a Donnini customer on San Babila, and Francesco is particularly proud of his work for Agnelli while he was there.
As for Giuseppe Colovito, he ran a separate atelier in Milan, and was an heir to Cesare Tosi – again, one of the most important and often forgotten names in Milanese tailoring. Baratta, meanwhile, was a key influence and a name that was bought out by the Campagna family along with Domenico Caraceni.


The Musella family's style today is rooted in the north-Italian cut of all these names, with a few idiosyncratic details such as two broad rows of stitching across the top of patched chest pockets. The structure is lighter than other Milanese tailors, but the style is not Neapolitan, despite suggestions elsewhere. Other things that distinguish it are: a carefully worked shoulder, that sits close all round and is slightly forward of most cuts; a full sleeve with an egg-shaped crown; unflapped pockets on suits; high-waisted trousers with two pleats; 5cm turn-ups; and curved rear trouser pockets.
Francesco has been key in the development of his son as a cutter, helping him develop his first patterns and still supervising all his work today. Gianfrancesco, on the other hand, has been very effective at spreading the name of the family firm. They have a popular website-cum-blog with regular updates on work, and have received a lot of attention online (particularly for polo-collared sweaters developed by the aunt).
If you like the style, they're certainly worth visiting in Milan. Two-piece suits start at €4500.