Gaziano & Girling bespoke loafers – Review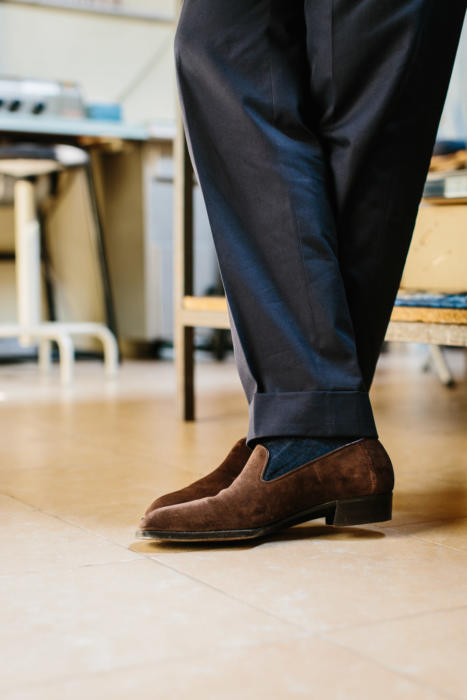 These bespoke suede loafers from Gaziano & Girling have been a while in the make - I last covered the first fitting back in September 2016.
It hasn't taken over a year to get from that fitting to now, however.
They were actually ready in the Spring, but I then wore them a few times before we had the shoe trees made. (Something G&G often suggest, so the shoe can take on the shape of the foot more.)
The final shoes were then ready in the summer (the photos here are from Florence in June) but it's taken a while for me to take more close-up pictures and get round to posting.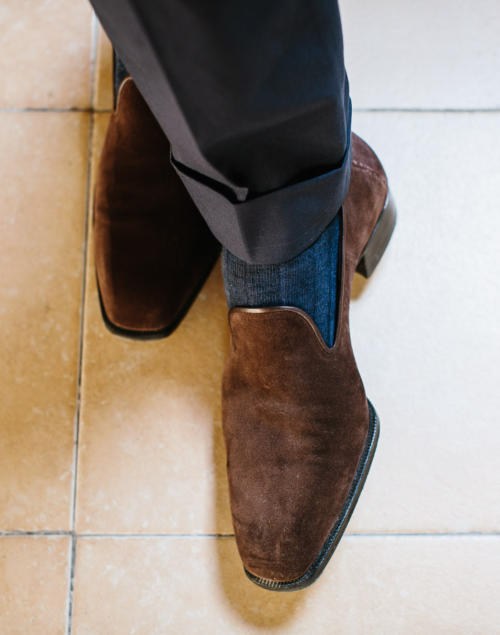 The shoes were my first made on a last by Daniel Wegan, rather than Tony Gaziano who made the lasts for my first two pairs. (A seamless loafer and an adelaide oxford).
I'd known Daniel for a while, so it was a nice to make some shoes together, and put in practice some of the things we had talked about in terms of design and finishing.
From a design point of view, the most important thing was how high the vamp should go up the foot, and how low it should be cut on either side. Given there was no other adornment (quite intentionally) this became much of the focus.
I really like where we ended up, with the vamp running up higher than on my seamless loafers, but still in proportion to the rest of the shoe.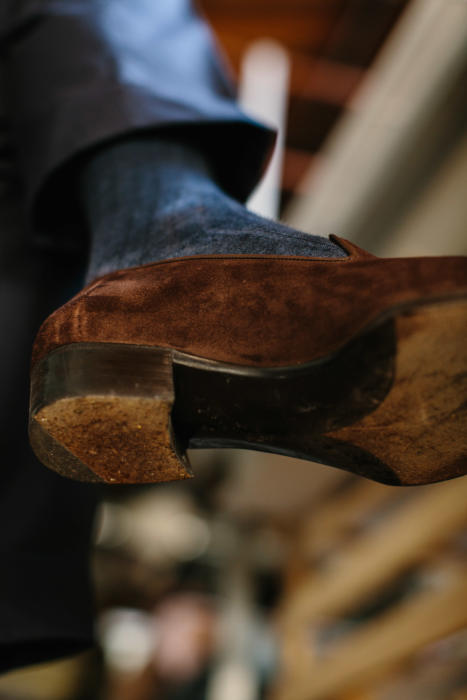 In terms of make, Daniel took things a step further than I'd ever had before with G&G.
The waist was sharply cut in and bevelled, the heel curved beautifully to follow the shape of my heel, and the heel stack pitched more than previous pairs, giving them quite a delicate look. (More akin to the double monks I had made at Cleverley.)
The loafers were also finished with a hidden seam, what Daniel calls a 'blind skinstitch'. This is hand-sewn on the inside, in the same way the toe on a split-toe derby often is.
It isn't invisible, but you rarely notice it until it's pointed out (particularly as it is deliberately on the inside curve of the heel).
And finally the shoe has French binding on the top edge, as much for strength as for decoration.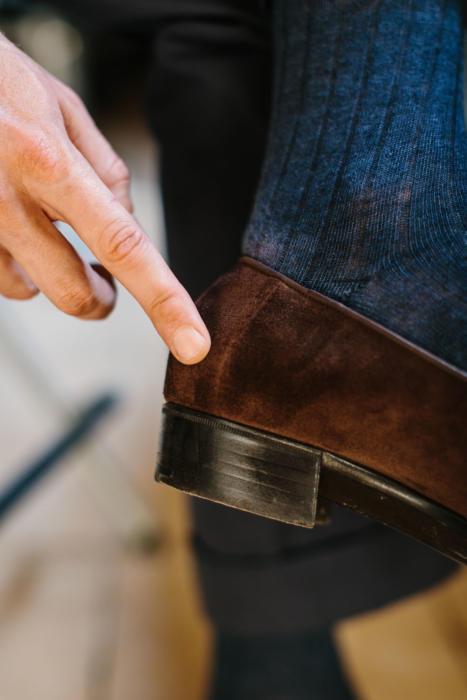 The fit on the shoes was good from the start, with Daniel spending a lot of time refining the last and getting the heel to fit closely without rubbing too much.
It wasn't quite perfect after the first fitting, however, so we had a second in another piece of waste leather.
That first fitting pair had been cut up by Daniel in any case, to see where the foot was sitting inside the shoe.
It was particularly interesting to see the difference this made around the heel, where Daniel was able to curve it underneath by about half a centimetre more, moving the heel stack forward as well and shortening the shoe overall.
I'd still say the fit is 99% right; not quite perfect. There is also a slight ripple on the top of the joints.
But then they will continue to adapt more as I wear them (I only wore them a few weeks over the summer) and they fit far better than any ready-to-wear (RTW) loafer I would ever have.
On that point, I'd stick to my position that bespoke should largely be bought for the aesthetics rather than the fit.
Unless you have very unusual feet, you should be able to find a last out there that will fit you well RTW, or at least made-to-order in some last/size/width combination.
And bespoke can be a temperamental process in terms of fit - far harder than with tailoring.
Bespoke is largely about the aesthetics (although some of those can be found in some RTW) and the creative process. These loafers were conceived from scratch, as a result of discussion between myself and Daniel over more than a year (as the couture houses say, starting with a blank sheet of paper).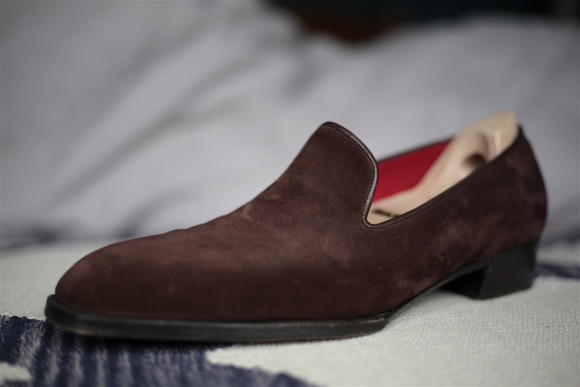 As a style, by the way, I couldn't be happier with these loafers.
Wear them with fairly conventional clothes in the office, such as a navy suit, and they stand out only in the most beautiful and subtle ways. You catch people admiring them without quite being able to pin down what is so attractive.
There's no horse's bit, no flapping tassels, just deep-brown texture and flowing lines.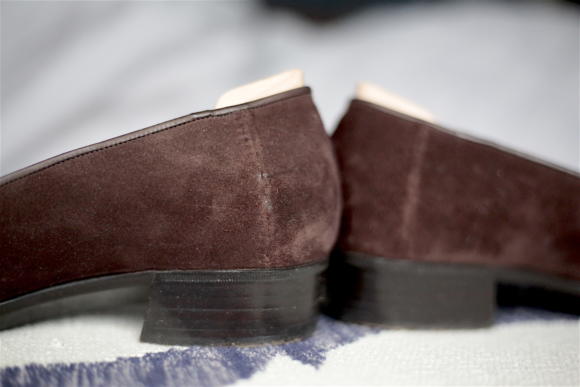 Gaziano & Girling bespoke currently starts at £5000 for first-time customers, £4200 for repeat customers (as I am). That includes VAT and shoetrees.
The time to complete a pair is 12-18 months for new customers and 6-9 months for existing ones, although due to a big increase in demand recently, they are not taking on new customers until the middle of next year (with a waiting list in the meantime).
Photography: Jamie Ferguson (worn) and Permanent Style (unworn)