Connolly, which opened on Clifford Street at the end of last year, is one of the most interesting new menswear stores London has had for a while.
It offers luxury clothing, both under its own name and a few European brands (Charvet, Car Shoe, Stile Latino), covering everything from knitwear to tailoring, shoes to leather goods.
It is best understood, however as three different collections: the Driving Collection, the Classic Collection, and the leather goods.
It's important to understand the differences, as each has a distinct outlook, and seeing just one (for example, by not visiting the lower-ground floor) could mean missing out on what is a very rich and original contribution to menswear.
The first, and easiest to get excited about, is the Driving Collection.
Although everything is overseen by founder Isabel Ettedgui, the collections have different designers - in this case, Adam Cameron, who readers will know from The Workers Club.
The collection is a mix of knitwear, soft tailoring, outerwear and accessories. All are beautifully made (by the best manufacturers I know), are good value by luxury standards, and often have small and original design quirks.
There is a cashmere knitted jacket, for example, which has piped seams and is slightly felted to give it a little more of the feel and drape of cloth. There is a cream-canvas tote with the most subtle white leather binding (above).
And there are some beautiful suede jackets. The Autumn/Winter collection had a full-length, hooded coat in unlined navy suede; it was sensational. Spring/Summer has a collarless biker jacket in the same soft stuff (pictured below, £2600).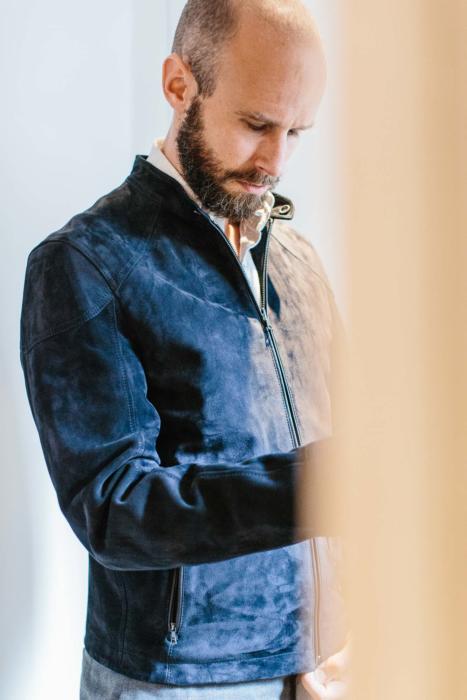 There aren't many pieces in each category. This is not where you go to fill up on navy ties or pale-blue shirts. But each piece has an interesting aesthetic without becoming too fashion-y.
For example, the key summer shirt is in a broad blue-and-cream stripe, linen/cotton mix, and relaxed cut. That's it in the image below, far left.
Next to it is a herringbone-linen jacket made by Stile Latino, wonderfully slubby and softly structured. Further down the rail are that blue-suede biker and the cashmere-jersey jacket.
The Driving Collection is well-curated and highly wearable, and readers will have no problem finding things they love. It even contains the only cotton drawstring trousers I've ever been tempted by (deliberately in a trouser cut, rather than baggy in the thigh and pegged at the ankles).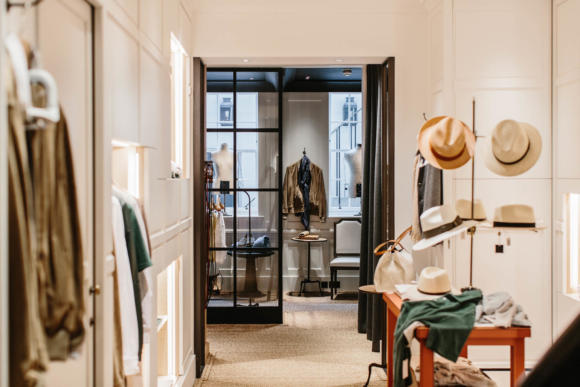 The Classic Collection (upstairs, at the back) is a different kettle of fish.
Designed by Marc Audibet - of Hermes, Prada, Ferragamo and others - it is a more fashion-forward collection, with more unusual cuts, materials and proportions.
But the colour palette is still very restrained (mostly navy, cream and brown), and it is this that I think keeps a lot of it very relevant - in fact, exciting - for a Permanent Style reader.
To take an example, consider the ribbed cream sweater I'm wearing in the image above (£550). The colour, the knit and the materials are the same as a classic piece we'd expect from one of the Scottish knitters we know and love.
But the neck is scooped and high. The body is voluminous, high in the waist and then expanding in the chest. And the cuff is very long - 2 or 3 times the length of a classic piece.
None of these design points are extreme. This is not a showy piece of fashion (you'd struggle to pick them out coming down a runway). But the overall effect is very distinctive.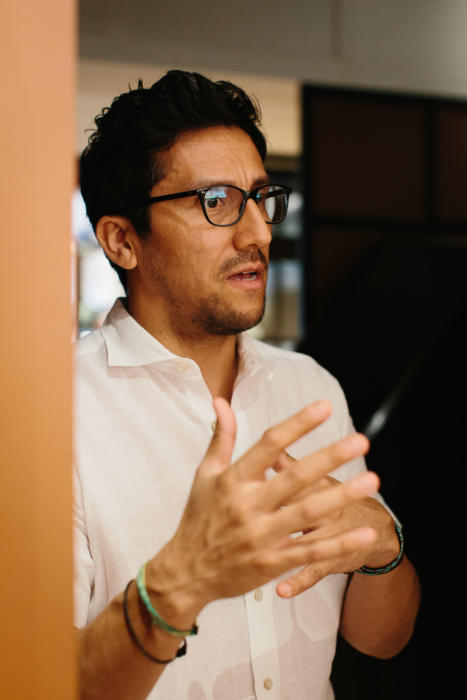 Isabel and retail director Ivan (above, who some readers might remember from Trunk) agree that the aim here is to mix the best qualities and classic menswear styles with touches of originality and fashion.
"It's refreshing to mix these ideas, while remaining faithful to the best makers and best traditions of quality," Isabel says.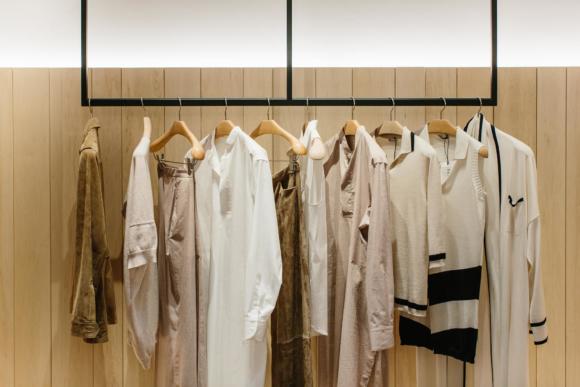 Some pieces in the Classic Collection are less unusual - eg a beige-suede safari jacket (above, left). Others are more so - such as the floor-length liquette overshirts (fourth from left, £550).
But there are always pieces at a perfect, wearable point in the middle.
For example, the Spring/Summer collection has knitted polo shirts in either cream with navy ribbing, or navy with cream, that have extended sleeves finishing just above the elbow (pictured above, third from the right, £285). The effect is quite subtle, and the navy/cream version was my first purchase.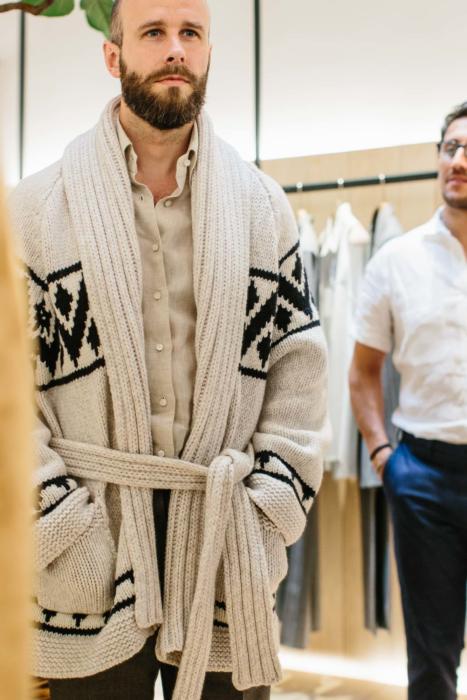 And there is the staggeringly wonderful shawl-collar cardigan pictured above (£1700).
(Deliberately slouchy, but not as oversized as pictured - I am wearing a large/extra-large, though I would actually be a small/medium.)
All of the pieces in the Classic Collection also seem to have nice manufacturing details - such as the full-length pleats in the liquette (below), or a strip of herringbone knitting just before the end of the cuff in the polo shirts.
Overlaying all of this in the Classic Collection is the idea that this is a shared wardrobe, with pieces that can be worn by either men or women.
I can see this putting off some Permanent Style readers, but I think it's a little bit of a red herring.
Some materials will be too effeminate, such as silks and gauzy cottons. But these are easily avoided, and the cuts of the other pieces are perfectly masculine: more suited to women borrowing from their partner's wardrobe than the other way around, in my opinion.
Elsewhere in the beautiful Connolly building are some unique leather bags and accessories, and a collection of vintage pieces on the top floor.
Connolly was originally a leather business, founded in 1879, and it made the interiors for some of the world's best-known cars as well as for the British Houses of Parliament.
There is also backstory to the clothing, as readers may be aware. The original shop was opened in 1995, in a crescent just off Belgrave Square. Isabel was responsible for bringing many luxury brands to London for the first time, including Charvet and Car Shoe.
It was the best curated luxury shop in the city, and had a real loyalty among men in Mayfair, as well as a great clubby atmosphere. (In many ways, a forerunner to shops like The Armoury that we celebrate today.)
It expanded and moved to Conduit Street in 2000, before closing in 2010 with the death of Isabel's husband (and founder of Joseph), Joseph Ettedgui.
Isabel opened again last year after a long time of looking for the right location, and the right partners.
The location on Clifford Street was perfect (Isabel also lives above the store) and the partners turned out to be both as brands and manufacturers - the key way the new shop is different from the old one is the amount of 'Connolly' product rather than just curated brands.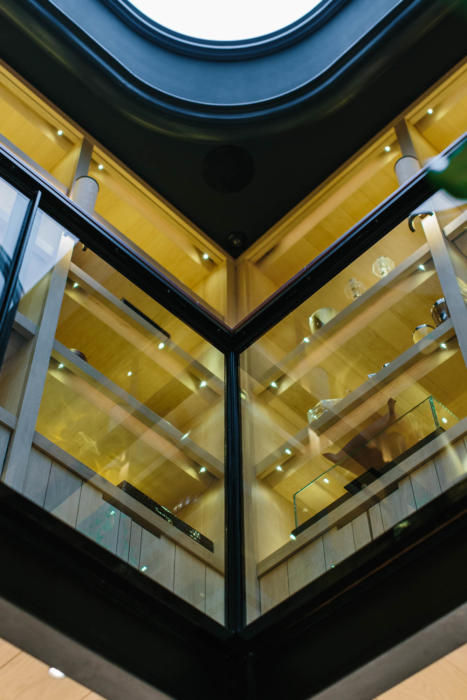 I'll cover more of the ethos of Connolly in a separate interview with Isabel, but it is notable how much of the online menswear philosophy - which we discuss and analyse here on Permanent Style - has always been at the heart of Connolly.
To pick a few things from its mission statement:
"Connolly believes we don't need more stuff, just good stuff"
"Connolly champions craftsmanship, not something designed by machine"
"Connolly thinks less is more, and more is less"
"Connolly provides truly personal service, not lip-service"
They're all things that could have been lifted from this very site over the years. And they are still a rarity today among fashion companies.
Here's to another great shop in London - alongside Trunk, Anderson & Sheppard, Anglo-Italian and others. It will be fascinating to see how this small but endlessly variable shop evolves.
Photography: Jamie Ferguson @jkf_man