The versatile outerwear of The Workers Club
It never fails to surprise me how little magazines analyse product when they cover a brand.
An article is more likely to be about the founders and their story than the product itself - setting it in context, comparing it to its peers, analysing both its quality and aesthetics.
Human stories are far easier to get a handle on and to write, of course. But it's the product that we buy. The product we have to make an educated decision about, and wear.
Such has been the case with much of the coverage I have read about The Worker's Club (TWC).
Adam and Charlotte Cameron (above) do have an interesting back story.
Both are industry veterans, having spent their careers designing for luxury and high-street brands respectively.
They set up TWC from a house in the Oxfordshire countryside, and have slowly expanded from one room into another since their first collection in 2015.
Adam was previously the head of menswear at Dunhill and is currently designing the Kingsman collection at Mr Porter. He is also responsible for the beautiful Driving collection at Connolly on Clifford Street.
But it is the product that is the most interesting thing about TWC - or more precisely, the concept.
Although TWC now sells everything from jeans to socks, it started with the idea of a shell jacket (above) that could be adapted to different weather conditions.
"Most outerwear is too heavy to be worn most of the year - and you end up needing two or three pieces," says Adam.
"We began with the pretty basic idea of making a shell that different layers could be zipped into, making it much more versatile."
So the outer shell is made from a water-repellent cotton canvas: the Italian version of Ventile, whose fibres expand in the same way on contact with water.
It has taped seams; a peaked, removable hood; and lots of functional details like perfectly placed hand-warmer and chest pockets.
Into this shell you can zip a gilet - the winter version is in Harris Tweed, the current model in a wool/cotton jersey (above).
This pushes the outer shell into cold Autumn days and mild winter ones.
And on the really cold days, you can replace it with the down-filled bomber jacket (below). This zips in in the same way, and is reversible between cotton drill and water-resistant microfibre.
The overall system is called 'The Works'. Both gilet and bomber jacket can also be worn on their own (though I confess the bomber jacket isn't really my style).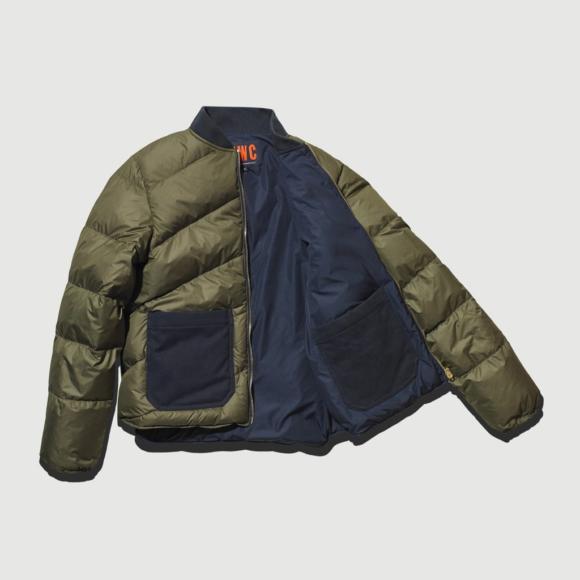 There are also some styling details I would change on the shell - such as the hardware, which is shiny gold rather than the antiqued metals often used on vintage-looking outerwear.
But as with other things Adam does, all the layers have the practical details absolutely nailed.
Those pockets I mentioned earlier (hand-warmer pockets are rarely in the right place); adjustable cuffs and hood; concealed snaps everywhere and big RirRi zips.
"The quality on everything is very high for such a simple-looking garment," says Adam.
"From the material to the hardware to the finishing - we wanted high-quality pieces that weren't too extreme-looking."
I've tried on the full range of pieces, and it is this practicality that hits home most.
I haven't bought and owned one myself, so I can't speak to wear over time. But seeing Adam's much-worn and much-loved version shows how attractively the cotton will age.
It's a nice, more practical alternative to Barbour and similar casual outerwear pieces.
Each piece is good value too compared to outerwear of a similar quality, with the shell at £545 and gilet £250.
I won't comment at all on the other parts of the TWC range - jeans, knitwear, socks, both because I haven't tried them and because I don't have the context.
The Workers Club is sold exclusively on the brand's own website and through Mr Porter.
The current season includes a black rip-stop version of the shell jacket, as well as a rubberised version in cobalt blue.