Crockett & Jones 'Harvard' loafers: Review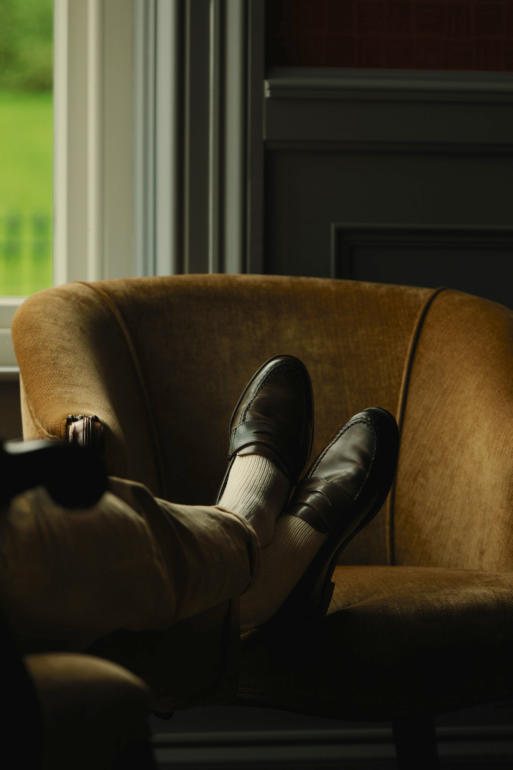 I've always recommended Crockett & Jones to readers over the years, as a solid, good-value English shoe. But I've only briefly owned a pair.
I had some when I was in my twenties, but bought the wrong size - so sold them within a few weeks. This pair of Harvard loafers, which I'll review today, is therefore my first proper experience of Crockett's.
I bought the Harvard model because I was interested in trying a more Ivy style of loafer, with its longer apron and higher 'wall' at the front of the toe.
The classic American penny, basically, which Crockett's was the first to introduce into the UK, back in the 1940s (1952 catalogue below - blue suede!).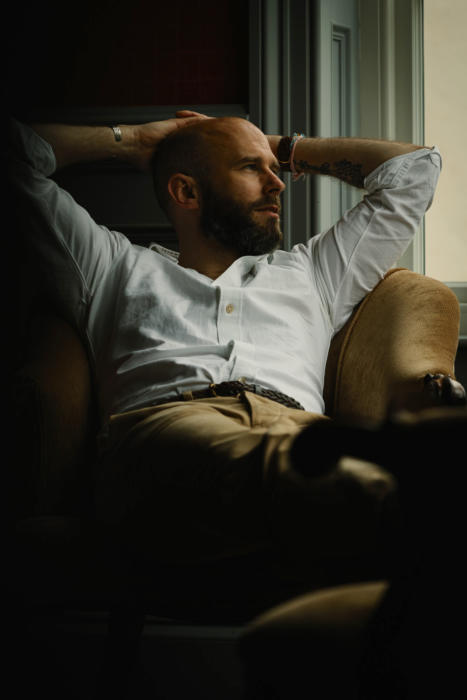 I have Alden LHS loafers in this style already, but only in suede.
I wear those very casually – with chinos, with jeans, even with shorts – and hadn't thought that I'd wear a leather version, as I usually prefer a slimmer shoe for that (like my Aberdeen-last full-straps).
It's early days, but I'm finding that I like this Ivy style most with casual chinos, like my old Armoury ones shown in these images. This is very much the 'workwear' style of chino. With a smarter chino like those from Rubato, I usually prefer my slimmer loafers.
Basically, I like to smarten up casual clothing.
That usually means wearing slim shoes like a suede Belgravia, even with white jeans. But when everything else is very casual, like beaten-up chinos and an oxford, a cordovan penny loafer is a stylish way to do it.
(And of course, finding ways to smarten up casual clothing is very much the order of the day. When others are in a hoodie, wear a shawl cardigan; when they're in Converse, wear pennies.)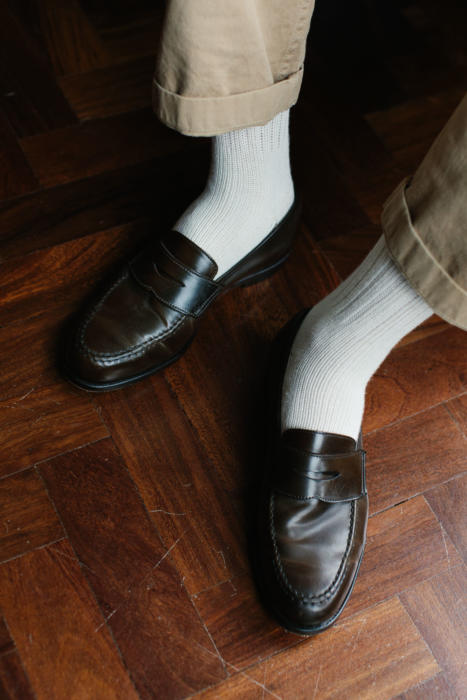 But onto the shoes themselves.
I've been very pleased with the quality here, although it turns out that might be because the Harvard is more similar to the Hand Grade line of Crockett's shoes than the main line.
Chatting to James Fox from Crockett's, he explained that they use oak-bark tanned soles from Rendenbach on their cordovan shoes, because they find they're a better partner for that tough upper material. And otherwise those soles are only used in the Handgrade line.
A loafer style like this also has a hand-sewn apron – one of the few jobs that Crockett's still outsources workers at home ("I know some like doing it in front of Strictly," James said with a laugh) - so there's an extra level of craft.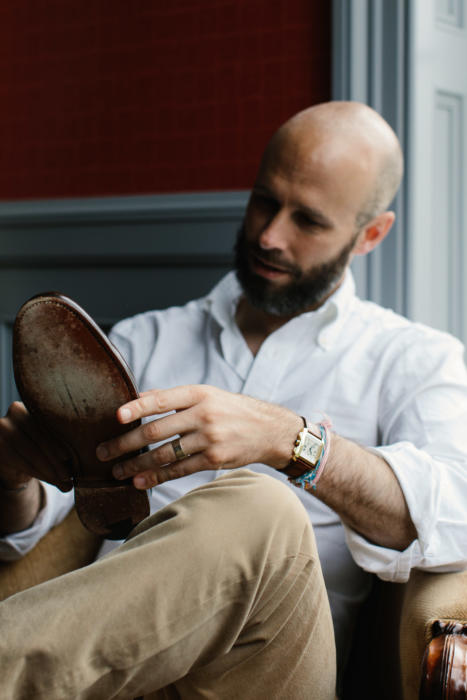 The only remaining difference between these and a Hand Grade shoe is the lack of a channelled sole (shown above).
So this is perhaps best seen as a review of the Hand Grade and cordovan Crocketts shoes, rather than the range in general.
The other point worth making on quality is that cordovan from Horween doesn't really vary, unlike grades of calf leather from a single tannery. So the quality of the upper here is the same as you'd get from a more expensive brand, or indeed from a bespoke maker.
That doesn't mean there's no reason for a John Lobb or Edward Green shoe to be pricier – as a reader put to me recently – because there's a lot more to a shoe than the upper. But it's one point that's consistent.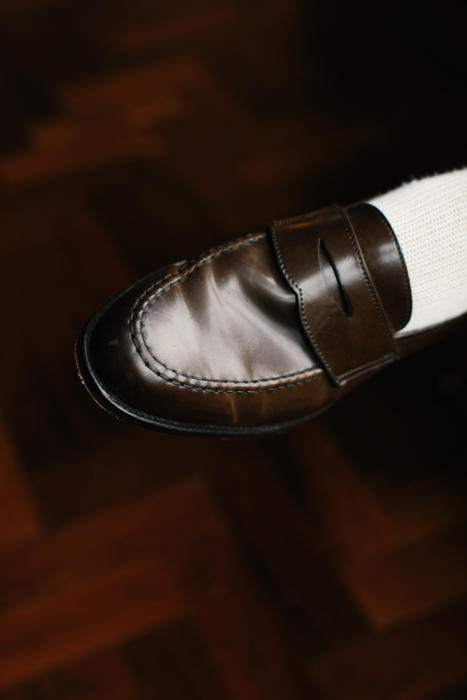 On cordovan generally, makers I speak to always say that Horween is the best, consistently. I haven't tried other producers myself, but brands have many times, and that's always their conclusion.
Among shoes in Horween cordovan, the only difference worth noting is that Alden recolours some of its supply before using it. That's why Color 8 often looks darker from Alden.
If the Harvard had been in Color 8, it would have made me think twice, because I really like that Alden shade. But there's less of a difference with other colours, like my mid-brown.
The only thing you do get with lighter colours of cordovan, is natural variation between skins. (Not surprising really, given the very hands-on way that Horween stains them.)
My pair is lighter than the ones shown on the Crockett's website. Which I prefer, and was a reason I chose them, but is also an argument for buying in person if you can.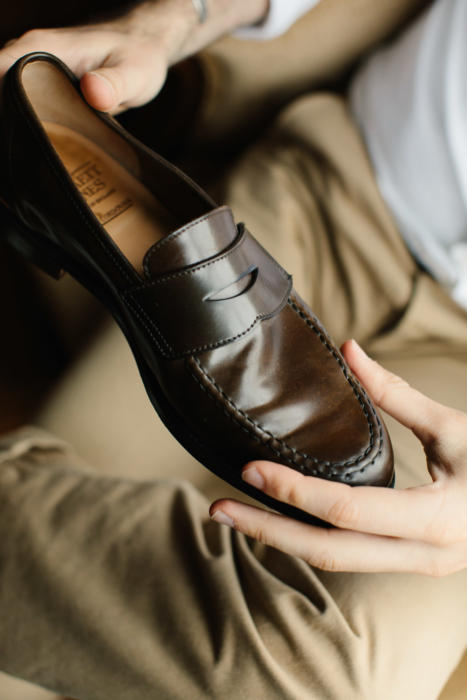 I've found my Harvards very comfortable, which I think is partly down to the fact they're unlined, unlike my Aldens. (The LHS is half lined, just in the back, and the full-strap loafer is fully lined.)
Cordovan is always a tough material to wear in, and being unlined helps that happen more quickly and easily.
A downside, though, is that the uppers lose shape more easily, turning up at the toes after wearing. This is absolutely fine if you use shoe trees in them, and also isn't a problem if you forget to do so for a few days (as I did on holiday recently). But I heavily recommend using trees when you can.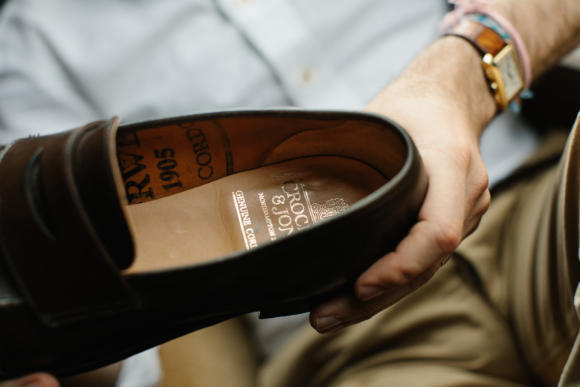 The other reason the Harvards are particularly comfortable is that I sized up – from the 8.5E I usually wear to a 9E.
This was for two reasons. One, I wear more casual, thicker socks in general these days, but particularly with these loafers. They'll often be worn with off-white Ivy-style socks or something similar.
And two, I think over the years I've tended to prioritise fit at the back of the shoe too much, rather than the front.
As readers will be tired of hearing, I have a slightly 'spade-shaped' foot, with a narrow ankle and wide toes. This makes loafers difficult to fit: a shoe that is wide enough at the front is too big at the heel, causing it to slip when I walk.
On balance, I've tended to get the right fit for the heel, and put up with closeness at the front. But I think that might have been wrong, because it's easier to put a half sock in the back of the shoe, or use a tongue pad, than it is to try and stretch the front of the shoe.
It's not a big issue, and doesn't make any of my older shoes less wearable. But when combined with the use of thicker socks, it was a good reason to size up here.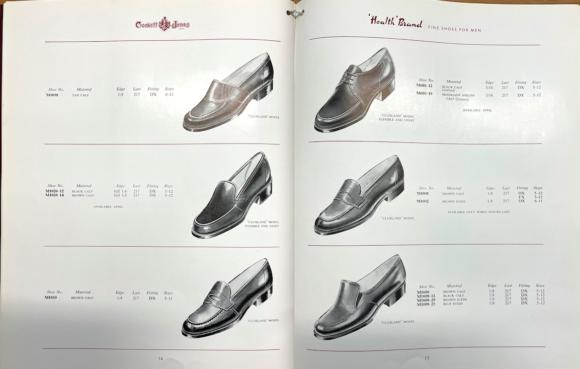 Interestingly, James also said that 2019 was the first year in Crockett's history that a loafer was the top seller.
As mentioned earlier, they've been selling American-style loafers since the 40s - above is the earliest catalogue they have showing the style, from 1952. But the oxford has always been the most popular.
In 2019 it was overtaken the Sydney, which is an elongated penny loafer. And the Boston loafer in brown suede was number three. That's perhaps not surprising, given how more casual things have become more generally, but it does mean this article has particular relevance.
I've historically always preferred Alden cordovan, and Edward Green for my calf loafers. But for this colour (not Color 8) and style (classic American penny), I'm very happy with Crockett's instead.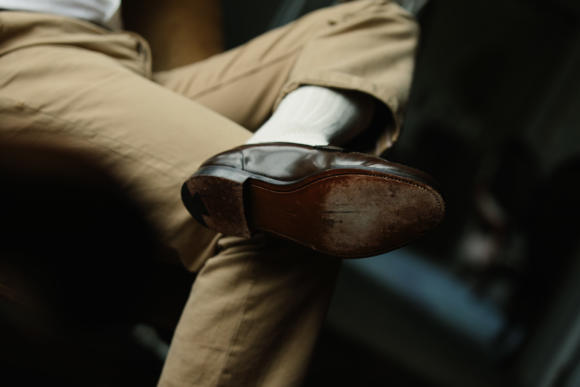 The Harvard loafer is made in dark-brown cordovan, on the 314 last, which is known for being generous in its fitting. The Harvard is unlined and costs £640.
The Harvard 2 is on a different last, the 376, which has a slimmer heel, and is made in dark-brown suede. Fortunately I didn't need the slimmer heel, though it could have been helpful for my foot shape. It has a rubber sole and costs £370, reflecting the cost of both cordovan and the oak-bark sole.
Both are evolutions of the more famous Boston model, which is also made on the 314 last, in a range of calf leathers and suedes. It costs £375.
Photography: Jamie Ferguson. Shirt shown is a white PS Oxford