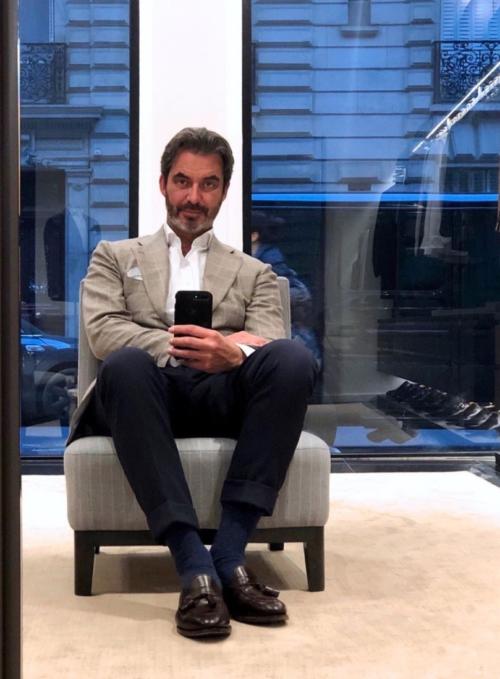 I asked Jean-Manuel Moreau to be the next chapter in our 'How to dress like' series specifically because of the way he wears colour.
Creating jacket/trouser/shirt/shoe combinations that feel new and interesting, yet remain modern and relevant, is one of the greatest challenges for a modern dresser. And JM wears many combinations I don't.
So I asked him to describe briefly how he dresses – with what aims and principles – and then to break down how he put six interesting combinations together.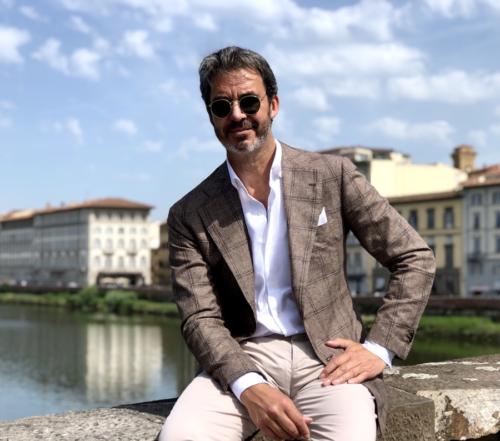 "I am a very instinctive and intuitive person in the way I dress. And at the same time very classic: I know the limits I have to stay within and the frontiers I may not pass.
For example regarding colour, I usually dislike combinations that are too loud. I don't particularly like green and grey together (except perhaps light grey), and I dislike wearing black, except occasionally in a rollneck or polo.
Yet I also take pleasure in trying unusual colours, and trying to find ways to wear them that are pleasing, and harmonious.
I think the most interesting challenge in one's style is to remain consistent, recognisable, whatever you wear – yet to also explore, fill, this whole but quite small space which is finally devoted to yourself.
I think I'm quite an 'urban' guy when it comes to what I wear. While I love nature and the countryside, I'm not a fan of what I call the 'gentleman farmer' look. So I generally avoid this kind of style.
I'm also not a fan of the 100% vintage look we've seen a lot in recent years. I've no doubt that all of us want to achieve a balance between historical handmade craftsmanship, and modernity in how we look. But one of my firm personal rules is to stay within the times in which I'm living.
Usually, I start building an outfit with one of the three principal pieces: jacket, trousers or shirt (or rollneck). They just all have to work together in a harmonious way, however obvious or unexpected each may be.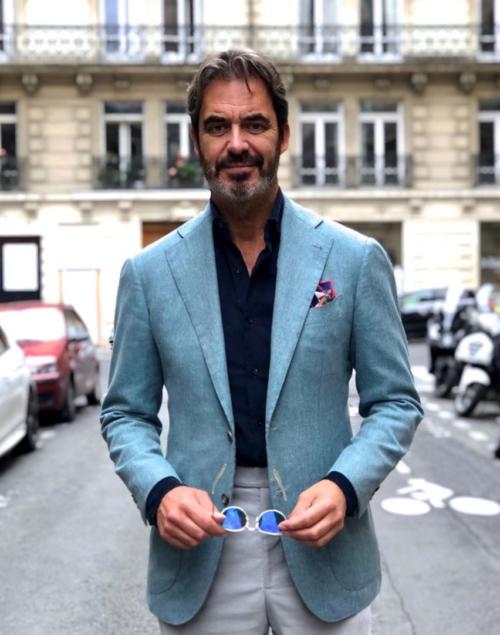 OUTFIT 1.
Jacket: Blue/green fabric by Holland & Sherry (Oceania bunch)
Shirt: Navy mini-corduroy by Canclini
Trousers: Corduroy by Holland & Sherry
Here I started with the jacket, obviously.
This very specific, tender green goes well with the putty colour of the pants, in particular because, in the texture of the jacket, there are some touches of grey and beige that pick up the putty.
The added interest of the outfit comes from the navy shirt. This deep navy is like a developer, an enhancer, of the both the jacket and trousers. I think the combination is also helped by the pocket square, which adds some warmness, thanks to its reddish touch, to quite a cold whole.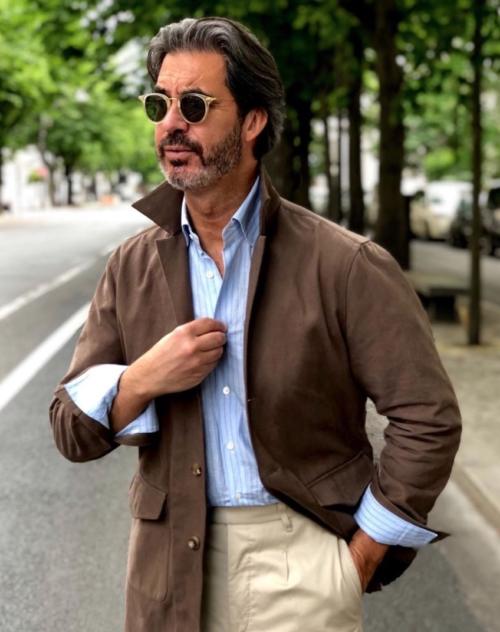 OUTFIT 2.
Sahariana: Light-brown winter cotton by Caccioppoli
Shirt: Striped-blue linen/cotton zephir by DJ Anderson
Trousers: Beige cotton by Holland & Sherry
I started with the sahariana. The trousers were an easy match. But I then wanted to stay in an 'urban' register, which explains the choice of the shirt.
First it is a yellowish blue, which matches well with both the jacket and trouser colours. But at the same time, it creates real contrast. Like a wake up. And the sophisticated striping (if you look up close) brings the total look back to the urban universe I'm working in.
The choice of the picture background is perhaps not an accident: the head in the trees, the outfit in the asphalt.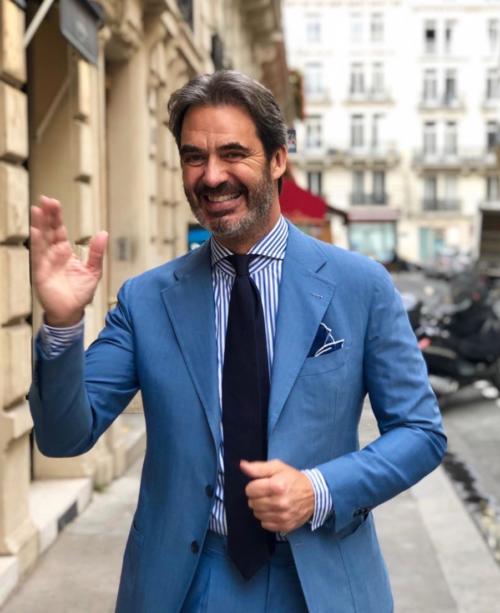 OUTFIT 3.
Suit: Intense-blue wool cloth by Caccioppoli
Shirt: Navy stripes by Grandi & Rubinelli
Tie: Seven-fold navy silk.
Of course, I started from the suit.
This blue is very intense. All the more so as it is a suit, not just a jacket. My challenge that day was to take this colour and make it as corporate as possible. A white shirt would have been too formal: navy bold stripes for the shirt, and a basic solid navy tie were the solution.
The pocket square, in my opinion, mixes the styles: making it classical, in a solid navy, is a confirmation of the neutral corporate look, but its shaping in the pocket is loose and wilful.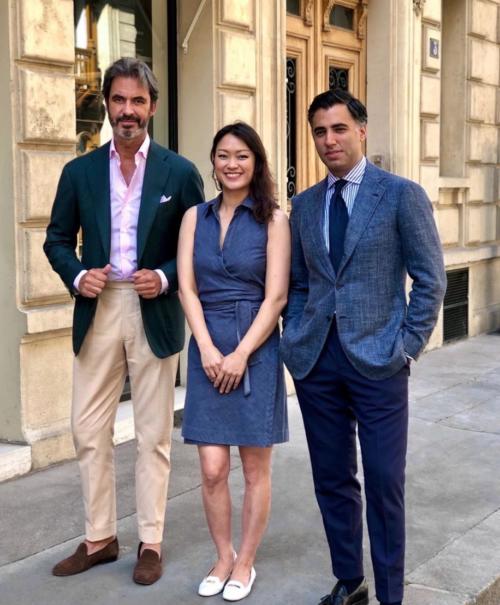 OUTFIT 4.
Jacket: Dark-green piquet by Loro Piana
Trousers: Beige cotton by Scabal
Shirt: Pink stripes by Canclini
I started from the green jacket – as ever with the bolder colours.
Green is not a colour I'm that comfortable with, so it was a real challenge. Always this fear that it's too connected to that 'gentleman farmer' look. But I do like this deep green. A white or a light blue shirt were too easy in my opinion. I found the pink very interesting, taking into account that the pink I like always has white too, in a striped pattern.
The beige pants with a touch of red looked ideal to match both the green and the pink. The white pocket square had to be as neutral as possible.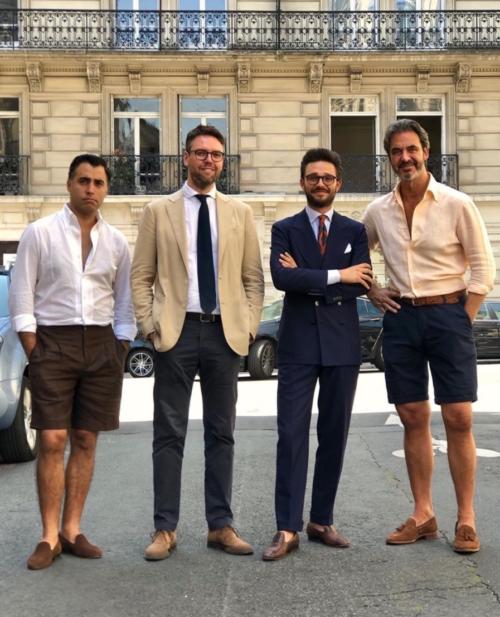 OUTFIT 5.
Shorts: Navy cotton by Caccioppoli
Shirt: Peach linen by Carlo Riva
I think this is the only time in my life I went to the shop in shorts. It was 40 degrees in Paris that day. So definitely, the shorts were the start of this 'Parisian beach' outfit.
The challenge was to stay 'urban' as much as possibl. The peach colour of the linen shirt, from such a unique fabric by Carlo Riva was nice. It gave some yellow and orange sparkle to the whole.
I am a big fan of tassel loafers. They are in the same color as the braided nubuck belt, building a valuable third colour I could not get otherwise, because of the lack of a jacket.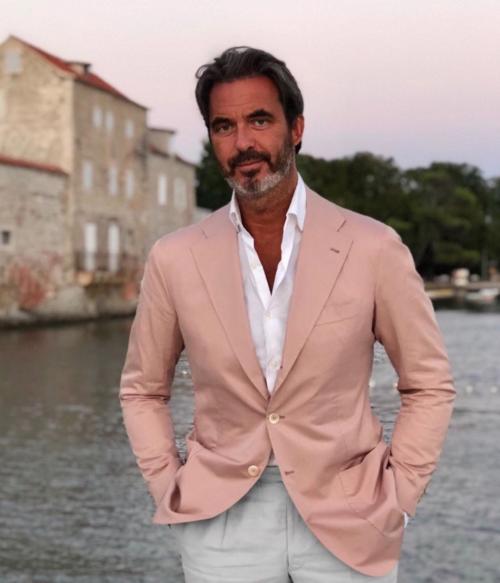 OUTFIT 6.
Jacket: Pink cotton by Holland & Sherry
Shirt: White cotton/linen by Canclini
Trousers: Irish linen by W Bill
I love this pink cotton jacket. In French we call it 'old pink'.
Of course, it drove the rest of the outfit. The shirt had to be white – better than off-white in my opinion so that it 'wakes up' the 'old' feel of the pink.
I kept the off-white, with a touch of grey, for the trousers to allow some contrast with the shirt. The overall idea being to enliven the pink of the jacket and leave it as the focus, for the upcoming evening event.
Background on Jean-Manuel and his shop here.
Review of my made-to-measure suit from him here.