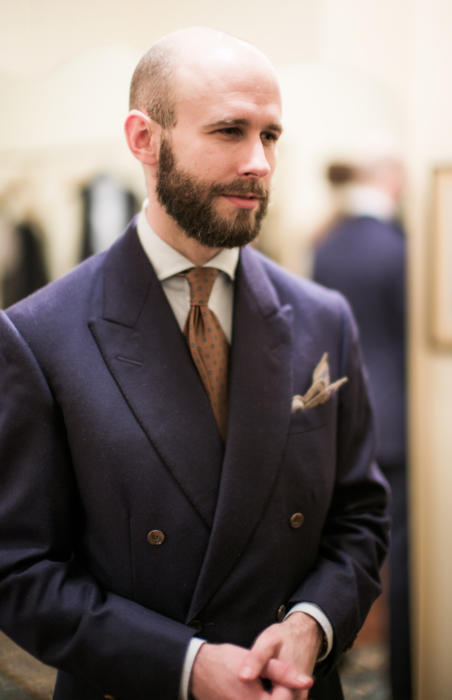 Everyone gets dressed in the morning. Most put no thought into it; a few put too much into it.
My approach, formed through nothing more than hazard and habit, is to do one of two things:
Pick out one piece that I really want to wear (usually something new, often something unusual) or
Pick out an outfit I already know I like, and fiddle around the margins
With the outfit shown here in Milan, for example, I wanted to wear my royal-blue flannel DB suit from Anderson & Sheppard. Because it's still one of the most beautiful things I own, and it's not really office attire.
Only dark-brown shoes really go with it: black or tan create too much contrast, when it needs the opposite. So I picked by Edward Green Top Drawer monk-straps.
Equally, a white shirt can work, but blue is much better for reducing that contrast, so a plain spread-collar shirt from Luca Avitabile.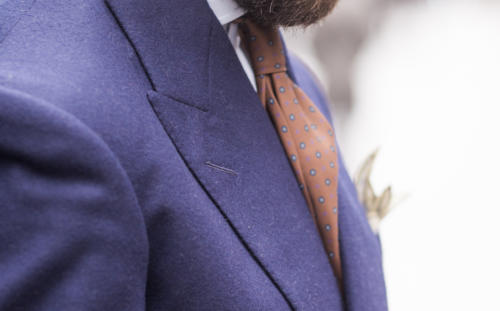 Now the tricky bits – the tie and the handkerchief.
Soft, autumnal colours achieve something similar to the softening of the brown shoes and blue shirt, so I considered browns, oranges and greens, before selecting this seven-fold untipped tie from EG Cappelli in a burnt orange.
Helpfully the tie has a blue geometric device in the print, which makes it a little easier to sit with the blue of the suit.
For the pocket square, again I considered several muted colours – including muted variations on white linen – before selecting a Drake's silk/wool handkerchief in green and navy.
Given the cold, wet day in Milan, a scarf was also a very useful thing to have in my briefcase, and grey is a very versatile option. Other colours as mentioned above, such as browns, would also have worked, though might have risked a clash of too much colour.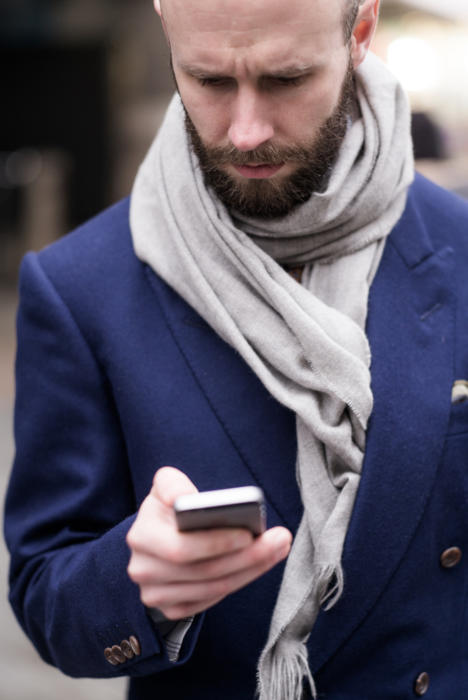 The alternative dressing approach is to pick out an outfit I already know and like, and then give it a touch of originality.
It's hard to keep all these outfits in my head. Most of them are scattered over the past nine years of this website, but I do have a folder with them all in to scan through when I'm drawing a blank.
So for example, I like the monotone simplicity of this outfit I wore to photograph my new Ferdinando Caraceni jacket and Simone Abbarchi shirt. I know not everyone agreed, but for me it looks smart, subtle, young and contemporary, which is not an easy combination to achieve.
In order to retain the same approach, but avoid wearing exactly the same thing, I have worn it recently with a navy Friday Polo and my Solito navy-cashmere jacket. And I have worn a paler grey shirt and chalky navy tie.
Or as another example, I really like my tan-corduroy suit from Anderson & Sheppard, but nearly always wear it with a blue shirt and grey cashmere tie. (As with all hyperlinks here, you can see a photo of it at that link.)
So to change things up, I have paired it with a brown-and-navy grenadine striped tie on occasion, or a deep green woollen tie.
Little things, but they make a difference. And if they're good enough, they get added to the file for future reference.