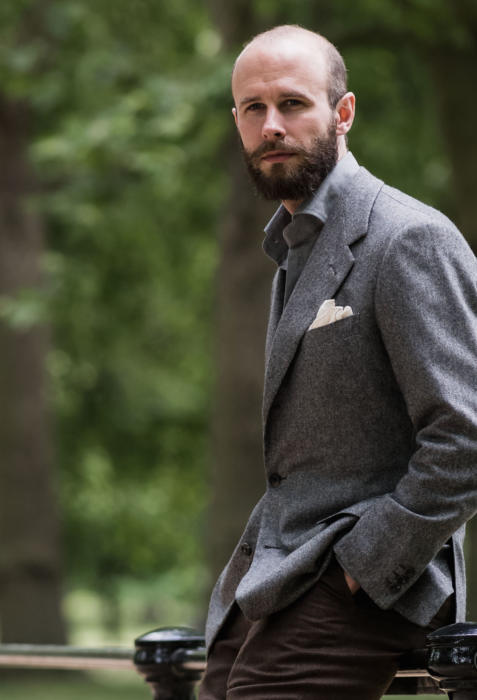 Last week's explanation of how I put an outfit together seemed to be popular, so let's try that again.
This outfit is simpler than last week's. There are fewer colours, there's no tie to worry about, the handkerchief is plain. But still, there is a clear process and choices at every stage that are worth exploring.
As before, the process started with one thing I wanted to wear: my Ferdinando Caraceni cashmere jacket. (I'll do a separate post on that on its own on Friday).
I wanted to wear it quite casually, but its construction means it is too formal for jeans and probably chinos. So in order to be similarly casual, I went for an open-necked shirt.
Next, I wanted the shirt to bring the outfit away from being too smart or corporate. My two favourite ways to do this are with a grey or denim shirt.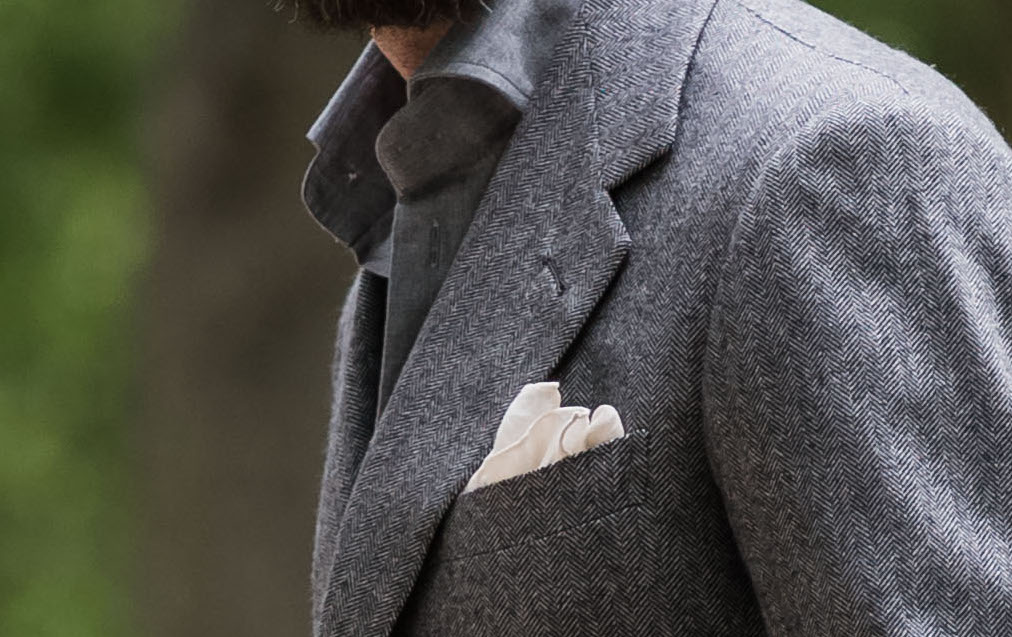 Denim undermines the smart/corporate aspects of tailoring because it takes a common shirt colour – blue – and it gives it an unexpected texture and variety in tone.
A pale grey shirt does something similar with tone, as an alternative to white. A mid-grey shirt (like this one) achieves that immediately by being simply darker than any formal shirt. And its lack of saturation means it works much better than other dark colours.
Trousers. Navy chinos might have been OK, but as I said more formal materials feel better with this jacket. Lightweight flannel therefore, and navy often looks too smart as an odd wool-trouser, so brown, tan or green are the general options. Brown felt better for the subtle, sombre effect achieved elsewhere with the jacket/shirt combination.


Shoes. Not easy with brown trousers. The options are black or very dark brown – so dark they achieve the same level of contrast.
These, my Gaziano & Girling bespoke Adelaides, aren't quite that dark, but the contrast in the patination, with a virtually black heel and toe, is sufficient.
Finally, handkerchief. Cream linen, as last week, would have been less formal, but I felt overall the outfit needed a little more contrast, so white (from Anderson & Sheppard) won out.
The shirt is my Simone Abbarchi (again, separate post on that soon) and the trousers are a Vitale Barberis Canonico flannel made up by PA Crowe.