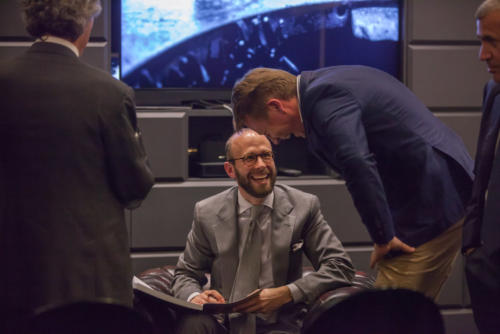 Last week was the official launch of the Permanent Style book, with an event in Milan hosted by Vitale Barberis Canonico and A Caraceni.
I was interviewed by the fashion editor of La Repubblica, Simone Marchetti, about my history and views on contemporary luxury, in front of a small audience. There will be some video coverage at a later date.


Grey shirts have been an interest of mine in recent weeks – they have a similar effect to denim or chambray, in adding an unexpected, less formal element to an otherwise conservative outfit. I have two: a pale-grey poplin from Luca Avitabile, and a mid-grey brushed cotton from Simone Abbarchi.
The evening in Milan turned out to be an all-grey affair: that pale-grey shirt, a grey herringbone suit from John Kent, a grey/silver woven-silk tie and a brown/grey handkerchief (both Tom Ford). Alligator oxfords from Gaziano & Girling on the feet.


Such monochromatic outfits are usually more formal than those with more colour. Hence a white shirt and dark tie for smart evening events. However, removing the contrast from the outfit (grey shirt and hank instead of white) makes the overall effect softer and more subtle.
With such combinations, the important thing is to retain a little contrast through texture. So a woven silk tie helps: the silk is shinier than the matte of shirt and suit, and the weave adds texture that catches and reflects the light irregularly. A silk hank, equally, creates contrast of texture to the suit, rather than the contrast of colour that would come from white linen.
China launch in Beijing this Friday, at Brio. Looking forward to seeing everyone there.