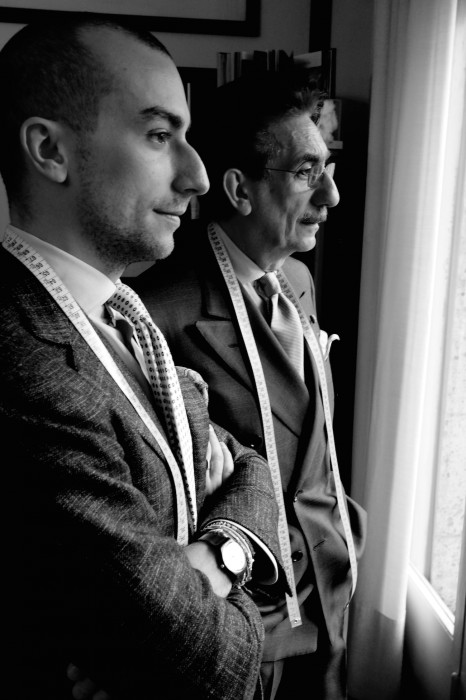 Although I decided to have my first Milanese suit made at Ferdinando Caraceni (see previous post), I've visited and got to know Carlo and Massimiliano Andreacchio at A Caraceni as well. Between them, they are the highest form of central-Italian tailoring left in the country.
A. Caraceni was founded by Augusto Caraceni, younger brother to Domenico. He started the Paris branch of the firm in 1935 and became one of the best-known tailors in the city, before being forced to leave at the start of World War Two.
This cross-pollination between Italy and France is the major reason the tailoring styles are so similar today – softer construction than the English, but with a stronger shoulder and narrow waist. Although there are significant differences between Cifonello and Camps de Luca in Paris, and the Caracenis in Milan and Rome, they are all more similar to each than to London or Naples.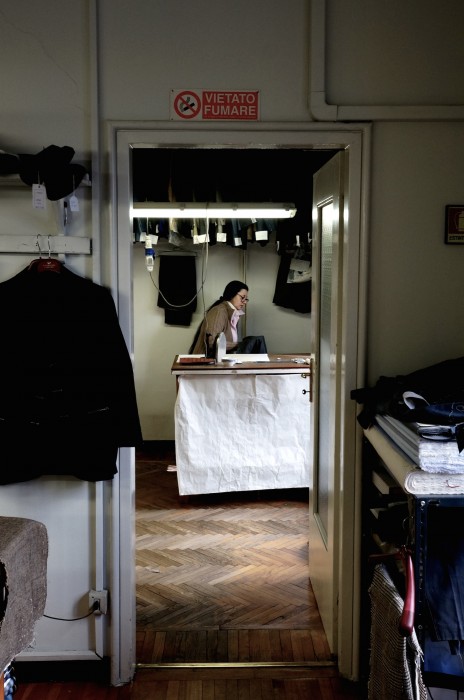 Augusto opened in Milan in 1946 under the name A. Caraceni; he handed onto his son Mario in 1972; and in 1998 Mario handed over to his daughter Rita and her husband Carlo Andreacchio. Carlo and his son Massimiliano, pictured top, are now the two cutters at A. Caraceni.
"We have continued the style of Augusto and Mario throughout the years," Carlo told me when I visited earlier in the year. "I think the only exception today is that we cut a slightly narrower lapel – perhaps narrower than some of the other Caracenis – and overall we are more open to customer suggestions and requests."
"In this age you have to be more flexible, yet retain that style that links you to your heritage," adds Massimiliano. His style is a good example of this (see details in bottom picture), with a classic Caraceni jacket make up in denim-looking wool/silk cloth and some colourful accessories.
"The style is still tight through the waist," continues Massimiliano. "That's a feature of a lot of Milanese tailors – trying to make the man looks his best, his sharpest, in tailoring. In fact, there is a story that one of the tailors here refused to make for any man that was overweight, as his suits wouldn't look as good."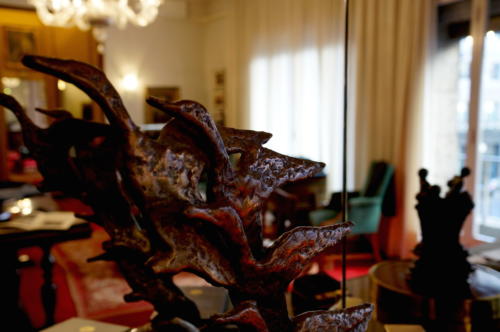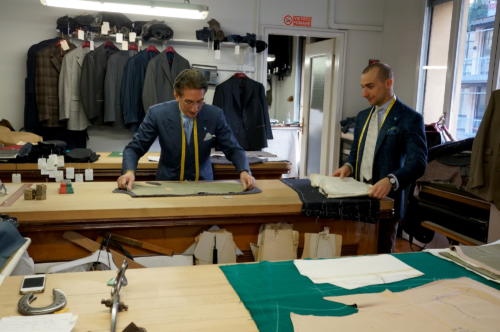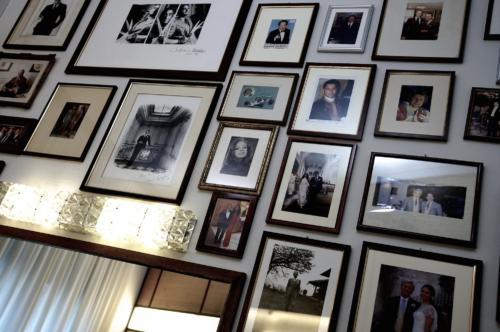 "There's still a lovely collegiate atmosphere among the Milanese tailors, even though there are fewer of them than there used to be," adds Carlo. "They used to all meet up at Bar Campari in Piazza Duomo on a Friday night, to talk about the industry. It always ran late because no one wanted to leave – they knew that as soon as they did everyone else would start talking about them."
Caraceni has a very similar feel to the Parisian tailors such as Camps de Luca and Cifonelli. It is large (30 tailors and the two cutters, with five of those tailors offsite) and situated on the first floor of the building, with some lovely heirlooms around the place. Carlo mentioned that they recently blocked off part of the floor to make an office and every single customer that came in commented on it. For them, he says, it is still a home from home – as tailors should be.
Caraceni suits are – as I commented with Ferdinando Caraceni – some of the most stylish in the world. Their combination of soft construction, classic shoulders and shorter length makes them feel very contemporary: what most RTW companies today are trying to achieve, but with far less success.