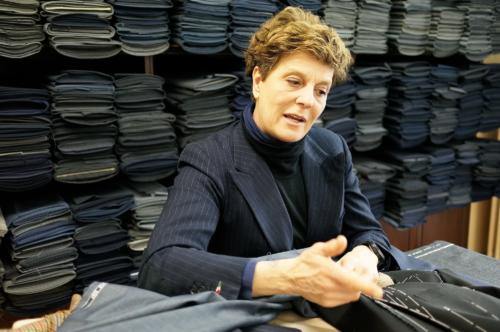 Back in February I began working on a jacket project with Nicoletta Caraceni, of Ferdinando Caraceni in Milan.
There are, as you know, several tailors with the name Caraceni in Italy. They all stem from Domenico Caraceni, the founding father, and his younger brothers Augusto and Galliano. Two of them are run by descendants – A Caraceni and Tommy & Giulio Caraceni) while D Caraceni is actually merely the brand and run by Gianni Campagna.
The fourth was started by Ferdinando Caraceni, who oddly is no relation to Domenico's family despite coming from the same village. Far more importantly, however, he was the cutter at Domenico Caraceni and then Augusto Caraceni for 29 years.
It is for this reason that the central Italian tailoring style is so homogenous, as so many of the biggest names learnt their style from Domenico.
The operators today are:
– A. Caraceni. Run by Carlo and Massimiliano Andreacchio (husband and son of Rita Caraceni, Augusto's granddaughter) in Milan
– F. Caraceni. Run by Nicoletta Caraceni, daughter of Ferdinando Caraceni, in Milan
– Tommy and Giulio Caraceni. Sons of Galliano Caraceni, in Rome
– D. Caraceni. Owned by Gianni Campagna in Milan and focusing on RTW and made to measure

I've known most of them for a while, and seen several examples of their tailoring on friends. So how did I make the decision to go with Nicoletta? Largely based on style and relationship.
I get on with Nicoletta. I admire her passion and I identify with her style. There is nothing to separate the Caraceni houses in terms of make and finishing, and from a cutting point of view I've seen fantastic examples from A, F and T&G. The last piece, then, is style – and the relationship that determines how you communicate it.
I first met Nicoletta at an event at the Italian Embassy a few years ago, and we have stayed in touch ever since. I love the way she still wears her father's blazers, altered and repaired, with other more feminine pieces – it lends a lightness to tailoring that most men struggle to achieve. Since starting the commissioning process, I have also learnt far more about her views on fit and flair, which have only underlined that decision.
The Milanese and Roman cutting styles are pretty similar – in part due to the dominance of families from the Abruzzo region in the industry. It is a very flattering and remarkably modern style. It has the softness of much modern tailoring (sitting between even the drape styles of London and the ultra-soft of Naples), but with a relatively wide, slightly bellied lapel. The modern look is also achieved through a suppressed waist and slightly open foreparts (below the waist button).
The style is quite similar to the Parisians, particularly Cifonelli, which is of course no coincidence: Cifonelli was established first in Rome, after all.
"The jacket should screw up in the hand, like a handkerchief," says Nicoletta. "But it has more shape than the Neapolitans, in the collar and the shoulders. It's perfectly possible for a jacket to be so light you forget you're wearing it, yet make you look fantastic."
It's a big promise. Let's see how she delivers.