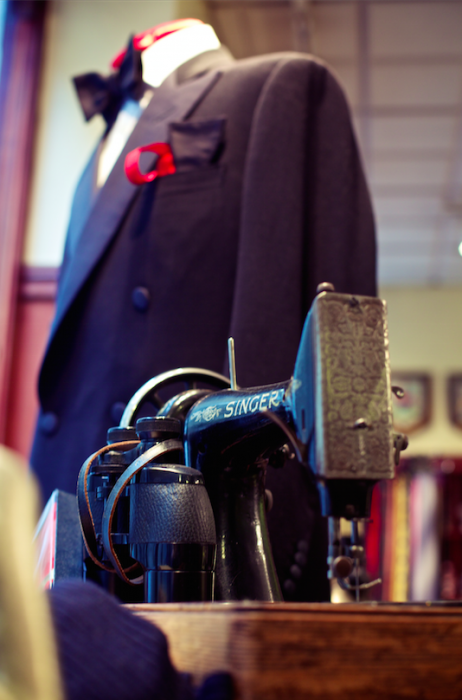 I have worked around the corner from PA Crowe for over 10 years, yet it was only two months ago that I really became acquainted with them. Why? Partly because I discovered Graham Browne early on – the bespoke tailor only slightly further away that I have been covering for almost all of that decade – and partly because I simply had no excuse to. Eventually Mark Whitfield, the ever-dapper front-of-house you can see pictured below, offered an official invitation following a chance encounter at the BTBA dinner last year.
PA Crowe is a bespoke tailor. It has been around for just over 100 years, and absorbed a few other names in that time – as with most British bespoke outfits. It is now owned by Mark's family, and he runs a shop comprising himself, cutter Keith and two tailors. Although alterations and other work can therefore be done on site, most of it is given to outworkers (in common with most of British bespoke).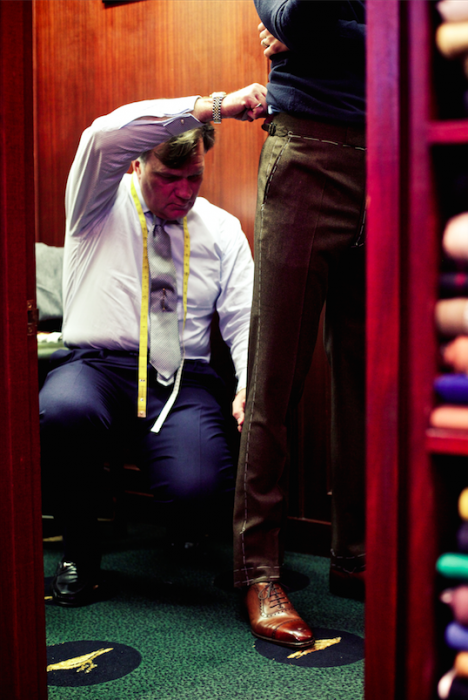 That's Keith below, carefully cutting a nice piece of blue flannel. And above, Mark is fitting me for a pair of brown flannel trousers. I decided to take an old piece of Barberis cloth to them to have made up, in order to more thoroughly review the service. Brown is a much-underrated colour for separate trousers, in my opinion. It goes particularly well with navy jackets and feels more contemporary in that combination than classic colours such as cream and charcoal.
The trousers were cut to a nice line and Mark understood clearly my preferences for the rise and slimness of the leg. The front of the trousers, however, have proved troublesome. They consistently collapse below the waistband, creating a lot of folds either side of the zipper.



I know from experience that it is difficult to cut slim, flat-fronted trousers to my figure, with the slimness of waist and large seat making it tricky to have enough space in the trousers yet retain a slim line. I am having a charcoal pair made at Chittleborough & Morgan at the moment and this has been the biggest issue.
However, other tailors have accomplished it, with those from Elia Caliendo and Cifonelli probably being the best. The several pairs I have from Anderson & Sheppard are also good, and I loaned Mark and Keith a pair of those as a shorthand for my preferences in design and shape.
We are having another go at the trousers and will see if we can rectify the issue.



I can, however, wholly recommend Crowe's valeting of suits and jackets, which I tried out on two old pieces. There are few tailors around who will take other people's work, get it cleaned by someone that understands bespoke tailoring, and then press it to perfection when it is returned to them. It can give a whole new lease of life to a suit.
PA Crowe suits start at £2200.