In many ways, tweed should be the perfect material for a modern man. It is practical, hard wearing, and can be dressed up or down, from almost-formal to definitely-casual.
On the formal side, a navy tweed jacket, grey worsted trousers and button-down shirt is the smartest dress most men outside professional offices require.
And for a casual look, a softly made jacket in perhaps a grey herringbone suits a crewneck sweater, jeans and boots, making an informal outfit that still looks considered.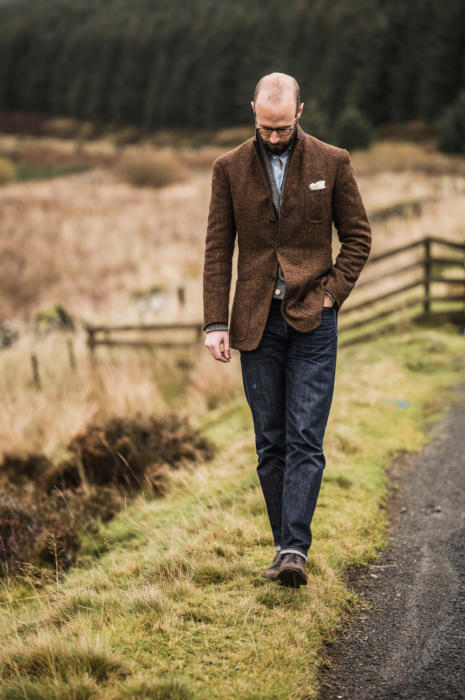 But tweed has an image problem. Despite its variety of uses over the years, it is still strongly associated with country pursuits, with an older generation, and with the English upper class.
Indeed, the very name can put off younger guys - tell them something is a 'wool' jacket rather than tweed, and they will often look at it in a different light.
"These popular associations largely come from the media and from fashion designers," comments Fiona Anderson, author of Tweed (Bloomsbury, 2016).
"Tweed has always been worn by a range of classes, but it is the upper classes that are featured in films and TV, such as Downton Abbey, and that are romanticised in fashion advertising, particularly by Ralph Lauren."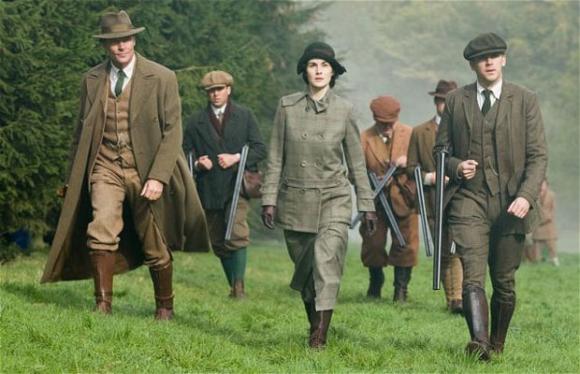 These old-fashioned associations are a pity, because tweed is so practical - the original performance fabric. Nothing compared to modern synthetics for waterproofing of course, but still very windproof, water-resistant and breathable.
"Tweed owes its weather-resistant properties largely to the hairy, springy texture," says Anderson. "It means that water is more likely to stay on the surface rather than soaking in."
She adds that tweed first became popular in the 1830s, when Scottish field sports started to be fashionable and the alternative cloth - a brushed wool broadcloth - soaked up water much faster.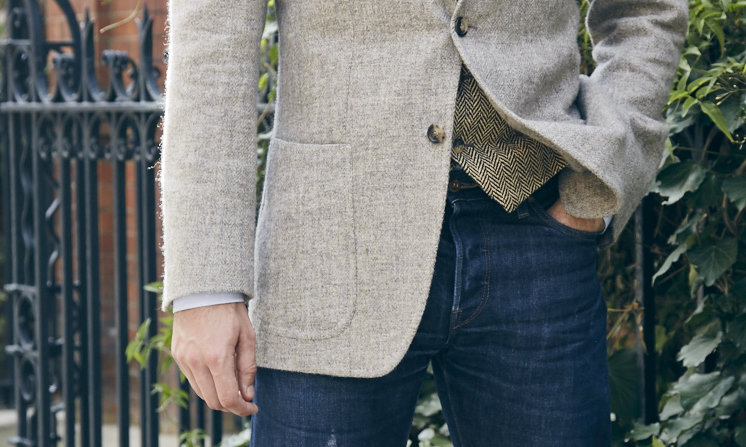 Tweed's spongy feel also makes it lovely and comfortable to wear - certainly more so that those synthetic alternatives.
And in all its flecked, nepped and multi-coloured variants, it has to be one of the most diverse and beautiful fabrics in the world.
Permanent Style don't need to be convinced of these pleasures. But the broader world does - and those that tell them should use this language of versatility, practicality, and subtle beauty.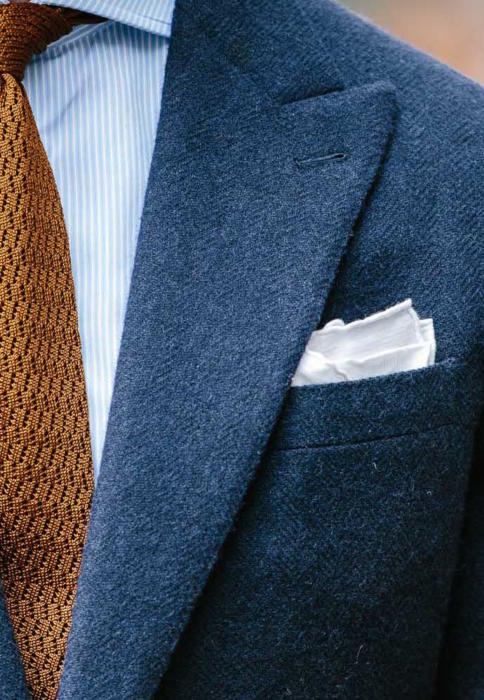 Once a man starts to love tweed, there is a huge amount of information to delve into, including the history, the estates and the different weaves.
In many cases, these have little impact on what he selects - as a ready-made garment or to be made bespoke. Looking at the colour and texture is enough to tell whether the tweed is smart or casual, and feeling it quickly establishes whether it is light or heavy, soft or rough.
But knowledge can be useful in communication.
Knowing the basic terminology enables one to understand what a tailor or retailer is talking about when they describe a tweed as a donegal or gun-club - whether it's about the pattern, the finish, or simply the heritage.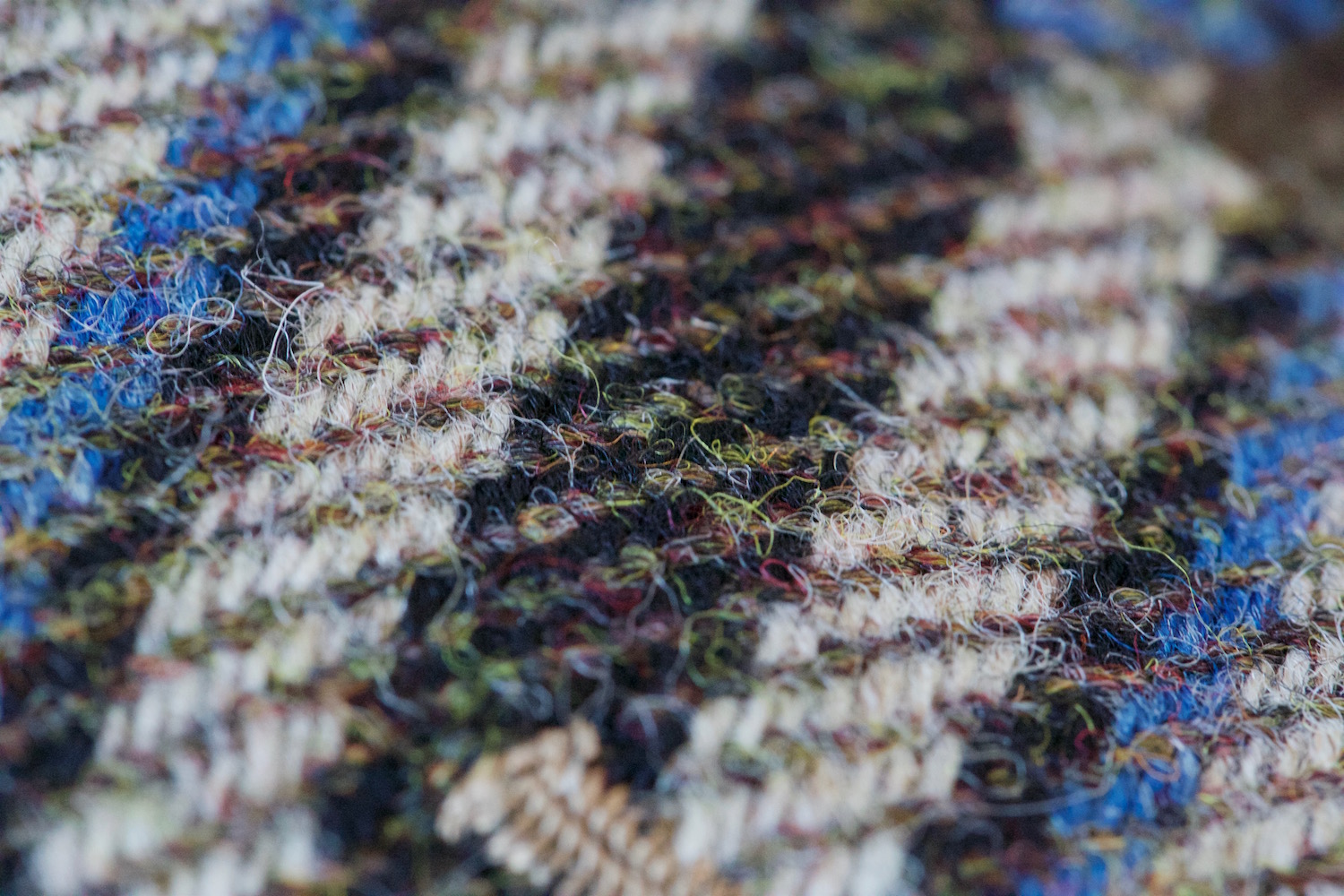 Tweed today is a generic term for a flecked fabric made of woollen (rather than worsted) yarn, with a rough surface, and made in mixes of earthy, natural colours.
Its influence is so broad, however, that these various elements are often used in other cloths, and referred to as tweed or 'tweed-like'.
For example, Italian mills occasionally offer a jacketing that has the same nepped style as donegal tweed, but woven from cashmere. This is lovely, and a very versatile material for a jacket - but it is unlike tweed in every other way.
In the United States, and sometimes even in the UK, simply having a windowpane check can be enough for a jacket to be called tweed.
And there are many cloths made of worsted yarn that lack the rough finish of a traditional tweed, but use worsted to make a smoother, smarter cloth.
So traditional tweed is perhaps best thought of as a reference point, an archetype from which many others draw inspiration.
Whether they really deserve to be called 'tweed' isn't that important. As long as we all understand the traditions they're drawing on.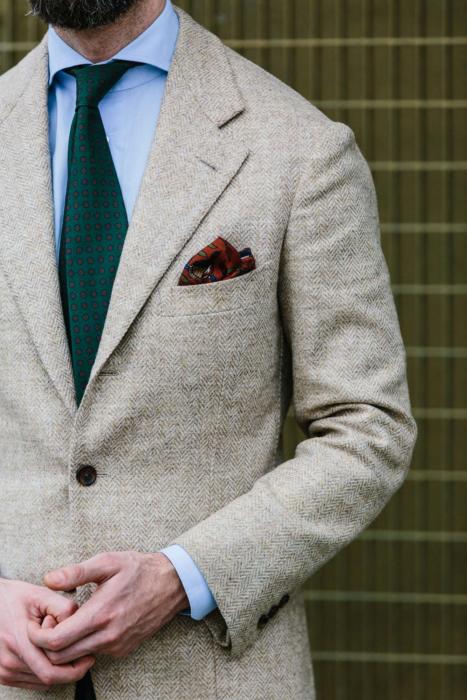 So what are the different types?
Well, the two best-known varieties are theoretically defined by their origins: Harris Tweed from the island of Lewis and Harris in Scotland, and Donegal Tweed from the Donegal region of Ireland.
However, while Harris has been closely guarded as a label, Donegal has not. Harris created its own trademark in 1909 that defined which wool could be used to make the cloth, and where it could be made.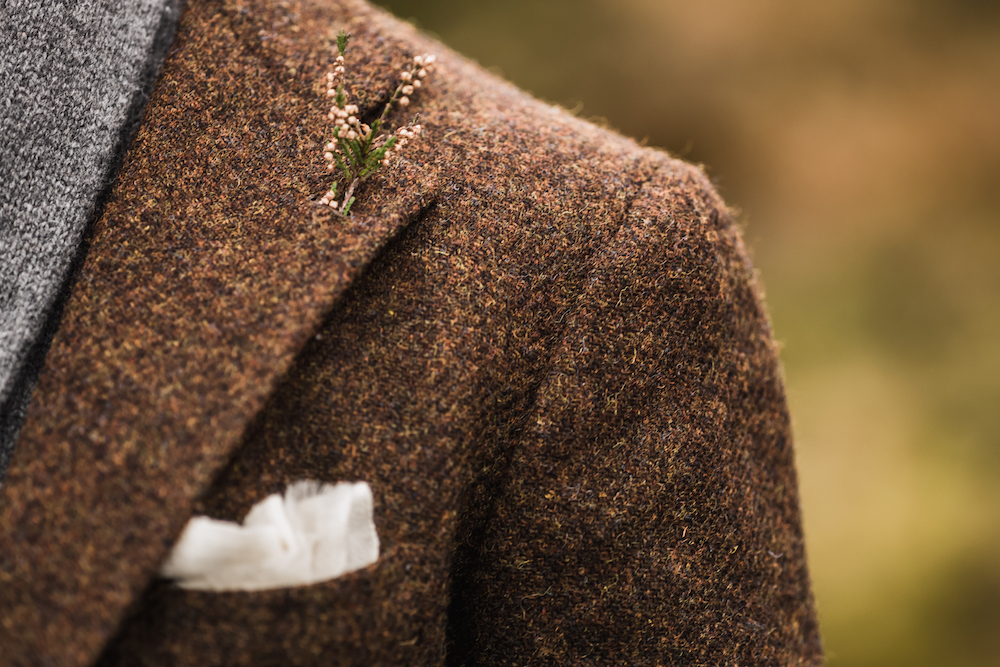 As a result, Harris Tweed is now more consistent - with that traditional roughness of finish and an open weave that makes it spongy and naturally stretchy.
Harris tweeds also tend to have a lot of colours woven through them - often up to 12 coloured yarns even making a simple brown (above).
Donegal, by contrast, is used today to refer to any cloth with the flecked pattern of the original Irish tweed (below). Very attractive, but not necessarily as deserving of the original label.
Other types of tweed are defined by a variety of things, from location to sheep to functionality. They include:
Saxony

: A fine, soft tweed usually using merino wool. Sometimes Saxony uses a mix of woollen and worsted fibres, which can make it appropriate for suits. It was originally made in Saxony, Germany but is woven quite broadly.

Cheviot

: A thicker, rougher tweed than most, named after the British sheep it takes its wool from. Cheviot is often stiffer and more densely woven than other tweeds, again making it useful for heavy suits.

Shetland

: One of the softer tweeds to come from Britain, but not particularly fine. Often spongy and good for jackets, it originally used wool from Shetland in Scotland, but often doesn't today.

Thornproof:

A tweed that uses higher-twist yarn that most others, in order to make it tougher and harder. Usually made in the muted green colour of hunting suits.

Estate tweed

: This concerns design rather than location or animal. Estate tweeds are usually unique to a particular estate and worn by their staff. They all tend, however, to have a windowpane check, usually over a herringbone weave.

Gun club:

A type of estate tweed, but woven as a shepherd's check with various coloured checks over the top. It originated with the New York Gun Club, which modified a Scottish estate tweed.
Other designs (eg Glenurquhart) or weaves (eg barleycorn) are not that specific to tweed, being used in other suit or jacket cloths. But they are so prevalent in tweed that they are often used as names of different types.
Today, tweed is slowly becoming more popular, and witnessing its own trends and fashions.
For example, mills say they are seeing increasing demand for brighter colours. Traditional tweed echoed the colours of the Scottish countryside - browns and pale greens, the blues and greys of heather. It was originally a form of camouflage.
But once in the city, browns and greens don't necessarily make as much sense - and don't help with the old/rural/posh associations.
Darker blues and navy have been used for a while, but designers today say they are using more soft pastel colours like pink or yellow, and weaving them into more muted, urban versions of grey, blue and brown.
Arguably these modern tweeds are subtler and more wearable than their rural ancestors, given the latter tended to use bright red and yellow overchecks that couldn't be seen at a distance, but were quite stark up-close.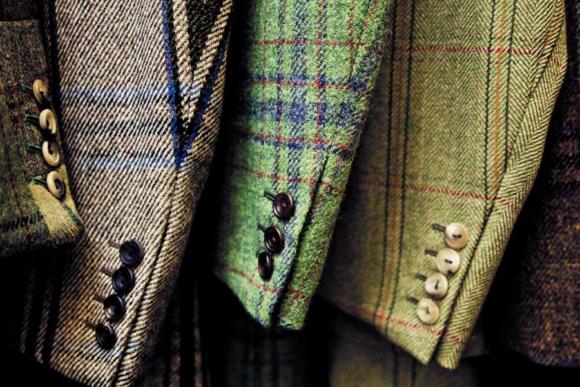 I have a few tweed jackets that could fall into this modern category, including my pale-yellow shetland tweed from B&Tailor (below). It mixes a sherbet-y yellow with several different shades of grey, making something that feels light but also quite modern.
Elsewhere, I tend to favour browns and greens, but in darker shades than most traditional tweeds. I also have a dark-blue tweed that has proven very useful as a modern version of a navy blazer.
I also find I consistently shy away from checks on tweed jackets, and from tweed suits. In both cases, the desire is to avoid standing out too much - and I usually wear them with an open-necked shirt (oxford or chambray), and jeans or flannels, for the same reason.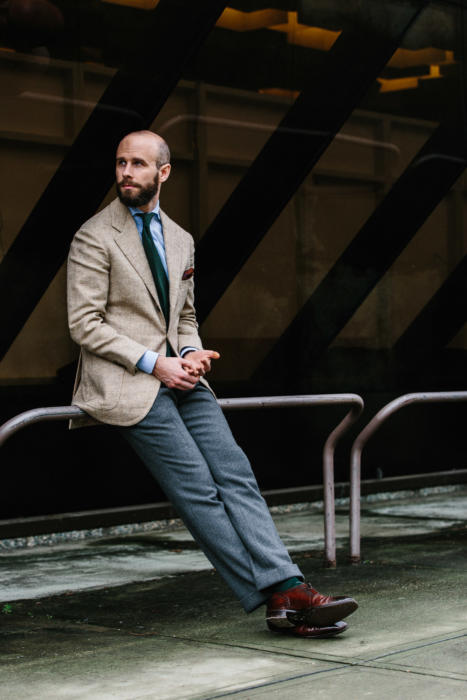 Many thanks to Fiona Anderson and the dozen or so other contributors to this article, some from England and Scotland's finest tweed mills.
Tweed, by Fiona Anderson, can be found here.