Why I rarely wear a pocket square today (and what I do instead)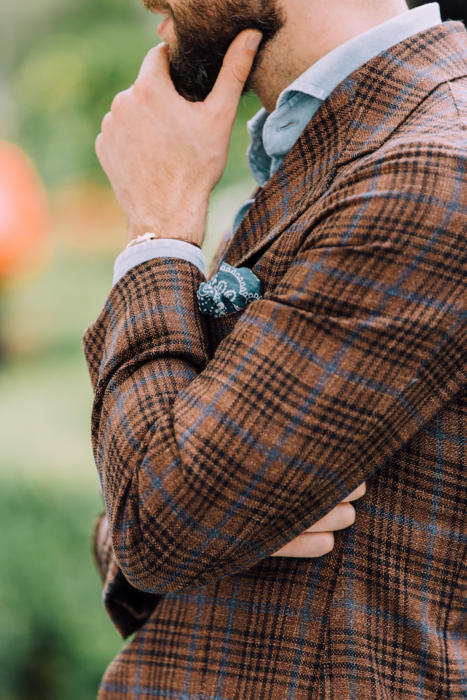 The pocket square, or handkerchief, is an interesting indicator of how dapper clothing has trended in the past 15 years.
Broadly speaking, the late 1990s were all about business casual and the dotcom boom. Silicon Valley was not concerned with dressing up. That began to change around 2003/4, after the recession, with those out of work perhaps more concerned with appearing professional. (Sales of tailoring jumped 24% that year in the US.)
Interest in handkerchiefs grew too, and when Thom Browne and Tom Ford launched tailoring lines a few years later, both were heavily pocket squared.
It was still a niche accessory, however: it took the launch of Mad Men in 2007 for the handkerchief to go mainstream. That was when every salesman in every office started wearing one.
US Esquire wrote a nice piece about this trend back in 2015, using Google search data. Back then they could see some men being turned off by them, saying the pocket square had become too ubiquitous. But they also noted that they had never been more popular in cheaper, mainstream shops.
Five years later, the same data shows a clear dropping off in interest, albeit a slow one. Below is a graph showing indexed use of the search term globally.

It seems intuitive that fashionistas would have been the first to adopt the look, and then the first to drop it when it became too common. And that mainstream consumers might hold onto it longer.
But how about menswear enthusiasts? It feels like they might be both early adopters and laggards as well. After all, this is precious piece of traditionalism that was suddenly wearable.
That's certainly been my experience, and what I've seen around the industry generally. There was a slight reaction against the pocket square a few years ago, perhaps when it reached peak popularity. But men into tailoring have largely held onto it until recently.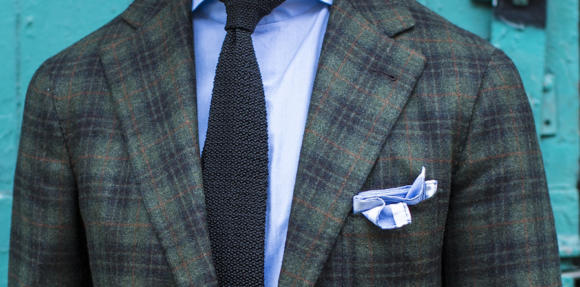 I began to wear a pocket square less about a year ago.
This is a shame in some ways. As ties become less common, and are seen as a sign of dressing up, a pocket square can be a nice replacement. Michael Bastian, commenting on the growing trend, called the pocket square 'the new tie' way back in 2005.
It also deprives men of a way to express themselves with bright colour, and pattern. Without the handkerchief or tie, few men will have any way to justify wearing printed silks.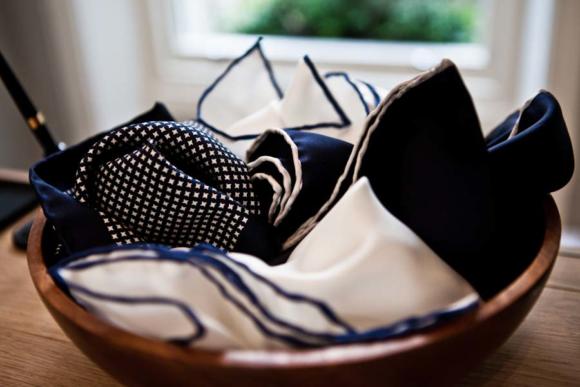 But it doesn't sadden me.
First, because when you've been into menswear for a while, I think you learn to accept such trends. If you want to appear in any way relevant - and not 'period' - you need some awareness of cultural norms.
Clothing is a language and language is social.
Second, I know from experience that trends do not mean that you have to give up everything. You just move more slowly.
Savile Row tailors used to talk about how lapel widths have varied over the decades. As fashion brands fluctuate from 1 inch to 6, a tailor might move between 3 inches and 4.
In the same way, I won't stop wearing a pocket square. It was not a trend for me, and I won't drop it like a trend. I will just wear it more narrowly.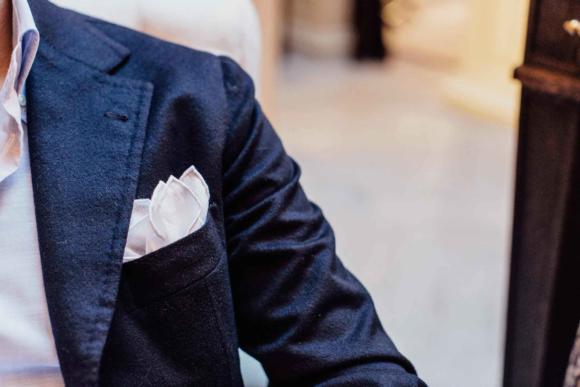 For example, I will continue to wear it on formal occasions. With a suit and tie at a very smart event, certainly, and perhaps adding a white linen to a jacket for a local dinner.
It will also continue to be part of my wardrobe more generally, considered in the same way as a colourful scarf or sleeveless cardigan: no longer the default, but always an interesting option.
So I might wear a muddy little paisley with a tweed jacket, just because the colours go so well; or a red bandana style because I think it complements the western shirt underneath.
Those squares might be less showy than in the past, but then I never liked very strong patterns or bright silks anyway.
I've also found myself doing a few things to compensate for the lack of a handkerchief.
The first is carrying a favourite pen or pencil in the outbreast pocket.
I usually carry one anyway, and it's nice to display ones I love like Yard-O-Led silver (above), Dupont lacquer or the 'Perfect Pencil' from Faber-Castell.
I also like the fact that, like the best menswear, it's obviously practical. I get it out, use it, and put it back, unlike a handkerchief.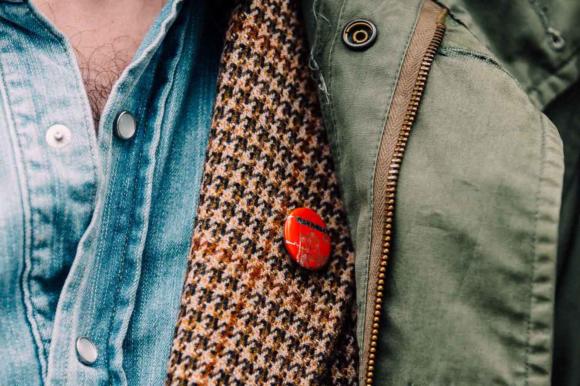 The other thing is occasionally wearing a badge or pin.
This was inspired by a friend that often wears old pins on his workwear, but it also reminds me of being a teenager, when my jacket would be full of badges of bands I was into.
A badge is more akin to a handkerchief in terms of colour and decoration than a pen. And it's more unusual and personal: an opportunity to display something you believe in, or are passionate about.
This is completely unrelated to menswear, but I personally think people in the UK don't talk enough about things they believe in. And if they're going to wear a logo, I'd much rather it was a musician or a museum, rather than Supreme or Nike.
The only problem with a pin is you can only wear it on more robust or open-weave jackets without damaging the material. So it's limited to tweeds and some linens and cottons.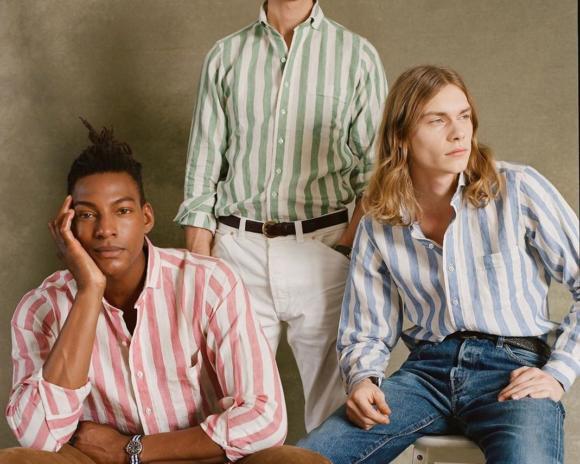 Finally, I find I'm bolder elsewhere - particularly with shirts.
I'm sure the lack of tie or handkerchief is a reason awning stripes (above) have become more popular recently. And I personally wear more unusual colours like red and green than I would have previously.
The Zizolfi tweed jacket below would look a lot more boring worn with just a plain shirt.
The only danger is that this assumes the jacket is kept on. It's worth keeping in mind what the shirt will look like when the jacket is taken off as well.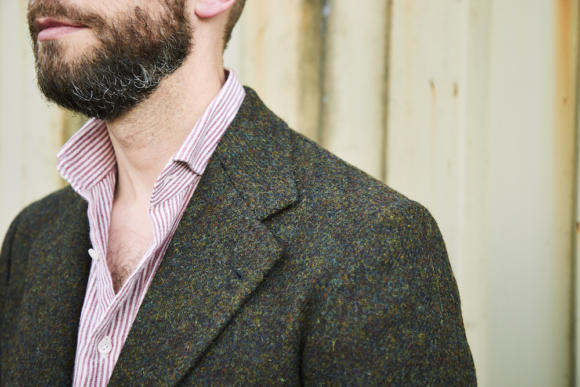 I'm sure the pocket square will make a re-emergence at some point.
While the trend of the past century is inexorable casualisation, this is a shorter-term, 15-year swing, which will probably sway back.
For the moment, embrace the idea of change, and potential for new ideas.
No clothing or style lasts forever (despite the name of this website) and at least menswear timelines are long. Trends in womenswear are a lot less forgiving.