Orazio Luciano made-to-measure jacket: Review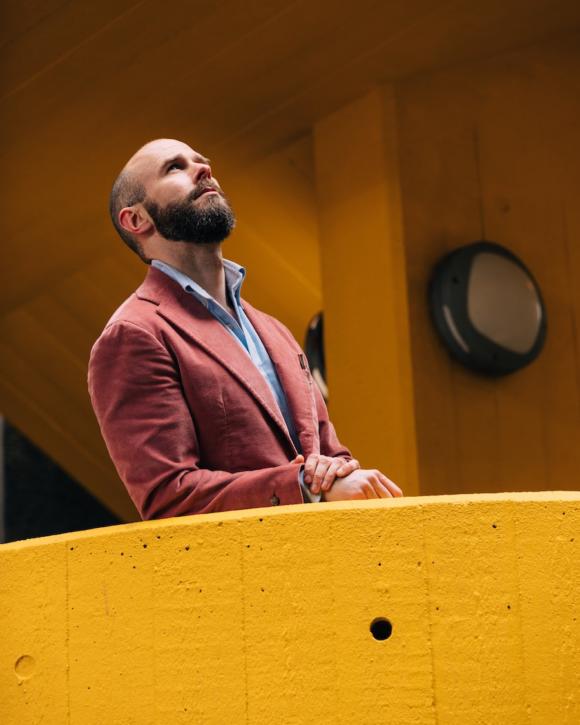 [Correction: This piece originally stated that the jacket did not have a hand-padded lapel. It does, and this has now been added below.]
This pink corduroy jacket was made for me by Orazio Luciano, over a period of six months.
I was measured at Pitti in June last year, had two fittings in London in the Autumn (as Orazio started visiting for the first time) and then picked it up at Pitti in January.
Orazio is a well-known option for MTM tailoring, being offered by stores around the world such as Pauw, Michael Jondral, The Armoury and others, as well as doing their own shows.
For many, Orazio is their introduction to high-end MTM Neapolitan tailoring. So it's good to be able to cover it, as well as to broaden the coverage of made-to-measure on Permanent Style.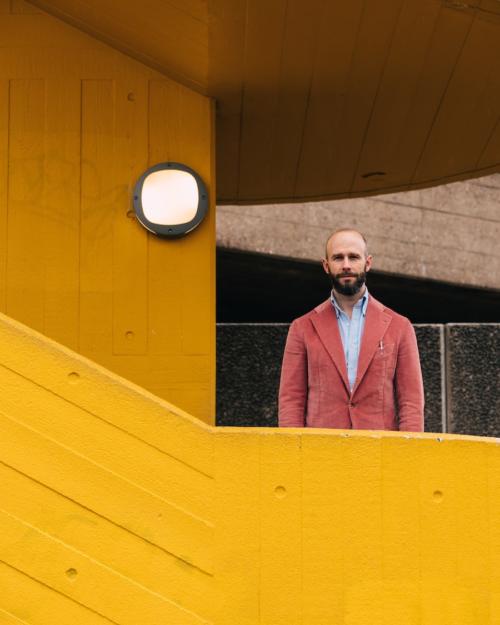 Overall this jacket was a decent fit, while not perfect, in a difficult material.
There were points of style, in particular trimmings and closeness of cut, that were issues for me - but may not be for the others.
Price might also be an issue. My Orazio jacket cost €2,200 and suits start at €2,800, with prices often higher through stores.
This is a lot cheaper than Kiton, where Orazio Luciano left to set up on his own. And prices have actually come down in recent years. But it's more expensive than most other MTM, and several bespoke options we've covered. Although it does have a hand-padded lapel, which puts it above most MT in terms of craft.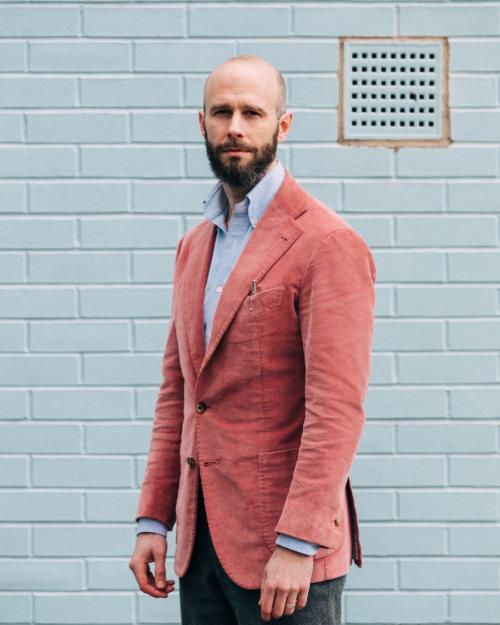 I was impressed that Orazio did two fittings, and gave the impression they were happy to do so with any client. The aim seems to be flexibility: some customers are happy to simple order and not have a fitting, while others want (or need, if they have more difficult physiques) one or two fittings.
And one thing that was different to most other made-to-measure was the fact the first fitting was partly basted.
Most MTM is effectively finished when it is delivered for a fitting, limiting the possible changes. This is largely driven by the production process: it is made in a ready-to-wear factory, and delivered as a finished piece like any other.
This Orazio wasn't a full basted fitting, as you would get in bespoke, but it was similar to a forward, with lots of change still possible.
I did need several things changing, including space in the waist, in the back, and in the sleeve. The Orazio cut is by default a close, short one, and many of the changes we made were pushing against that.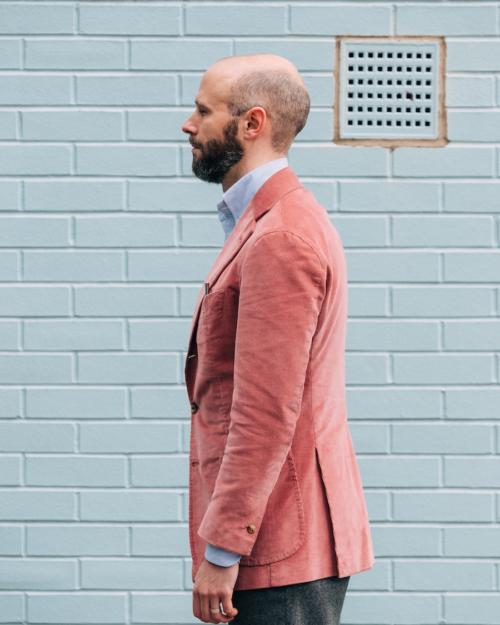 Of course, having a baste is only useful if you do make lots of changes, and make them well.
In some areas this was done effectively. For example, at the first fitting the collar of the jacket was a little low on my neck, and standing off slightly. Moritz, the fitter, shifted this up and onto my neck, and it was much better at the second fitting.
You can see the effect of this high fit on the neck in the title image of this post, and the profile shot above.
(Moritz Kossytorz runs his own made-to-measure company, Massura, but also works travelling for Orazio. This means neither Orazio nor Pino conducted my fittings, but they did take the initial measurements, and approve it at the end in Florence.)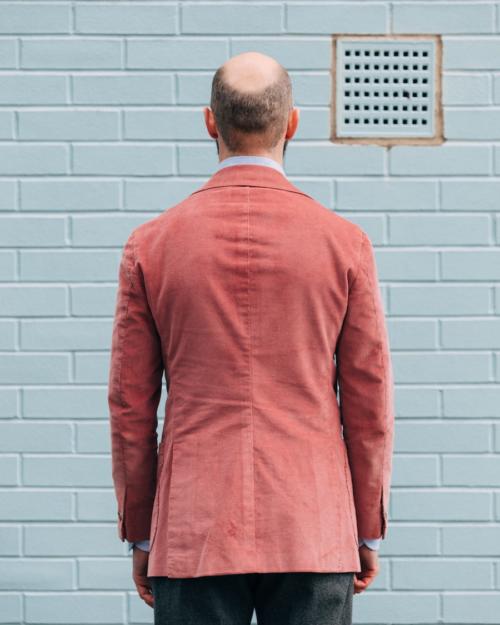 In other areas the fit could be improved. The sleeves, most obviously, are still too short and need lengthening by around 1.5cm.
There are plenty of wrinkles elsewhere - but this is corduroy, which has zero drape, and wrinkles are inevitable.
The improvements that could be made to the fit - in my experience, from wearing and watching it - are perhaps a lifting up of the shoulders to reduce drape at the back, and a little collapsing on the front on my right side.
Some other issues are an inevitable result of MTM manufacture, rather than bespoke. If the armhole and collar were a little more shaped, for example, it might be possible to stop the collar riding away from the neck when moving or using the pockets, as seen below.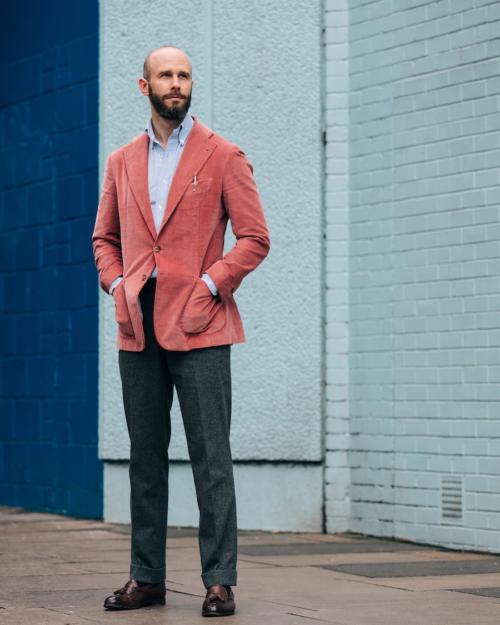 That last issue is not something any MTM usually addresses - even my best MTM, for example from Saman Amel.
No overall, if the sleeves were lengthened a little, this Orazio jacket would be a decent MTM product.
A subtler and more subjective issue is the Orazio style.
I was inspired to use this pink cord when I saw it on an Anderson & Sheppard jacket, and loved how unusual yet muted it was. (I would never have ordered it otherwise, just from a swatch.) But when I saw my first fitting from Orazio, it looked different.
I realised it was the buttonhole thread, which was a bright shiny pink, where A&S had used something matte. You wouldn't think the colour of buttonholes would make much difference but - rather like buttons - with nothing else decorating the jacket, they really stood out.
Suddenly the pink looked flashy. I talked to Moritz about this, and the workshop found a replacement and re-did the buttonholes. Unfortunately, as anyone has seen buttonholes being done will know, they are rarely as neat the second time around.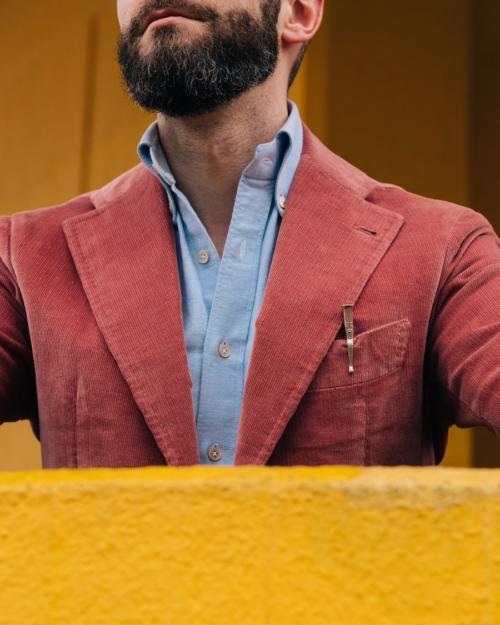 The Orazio team could not have done that work any better.
Rather, my point is that the Orazio style is a little showier than what I would normally go for - and you wouldn't think that would make much difference with bespoke, but it does.

That cost me with the buttonholes, and the team also used a fairly bright pink lining that didn't bother me previously, but I now notice. (That, of course, is easy to change.) Plus the overall cut of the jacket is still pushing a little towards slim and short.
We did put more space into the back of the jacket twice during fittings, but it still feels tight. Orazio said in Florence that the cord would stretch over time, but I'm a little sceptical about that as it hasn't been the case with my other cords.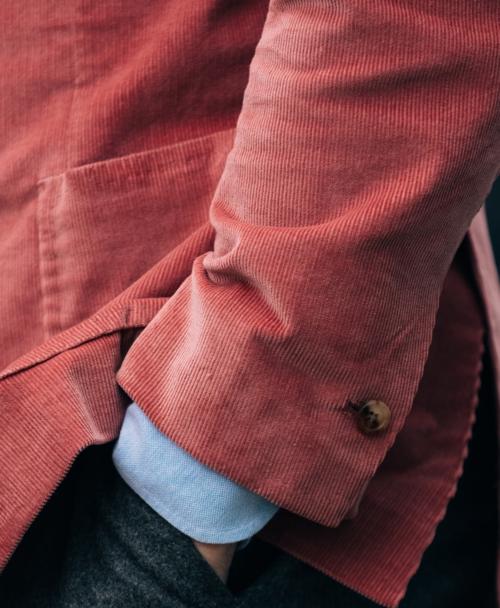 I've said many times before that you shouldn't try to get a bespoke tailor to make something that isn't their style.
This might be even more true of made-to-measure. Those that offer it are usually more of a brand, after all, often with ready-made tailoring on display to see and try. I think you should only buy MTM from them if you would buy RTW based on their style, as well.
Although there are other things that make my Saman Amel jacket a better MTM result, it is this point that I think is the most important.
Fans of classic menswear spend a lot of time burrowing into knowledge about quality and craft: that's admirable. But once they've done that, they need to climb back out again and make sure they have perspective on style.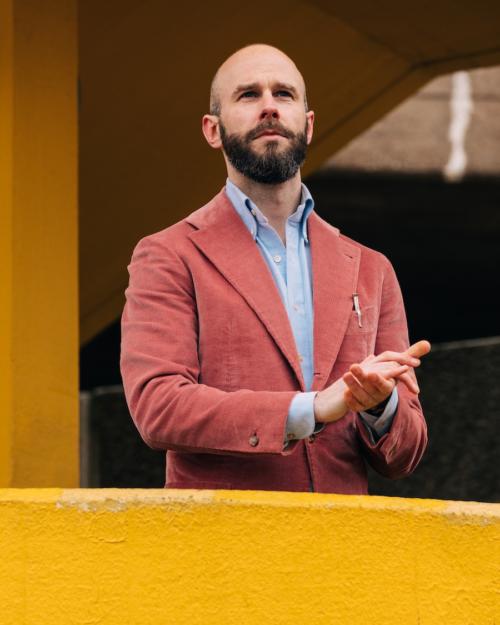 Sometimes in reviews like this, I worry that I concentrate too much on the negative.
Certainly, it surprises me when readers refer to a review as bad, when I felt it had both good and bad points (as almost any review, of anything, would do).
Partly that's because so much little fashion coverage is still fluff. But also, I think, it's because positive points can be taken for granted.
I want to say, therefore, that this is a really nice jacket. Orazio makes beautiful Neapolitan tailoring, with a lovely roll to the lapel, a soft clean shoulder, and good hand-finishing throughout: buttons, buttonholes, pick stitching.
The fit is also above average for made to measure, if anything. Corduroy is a cruel material to give someone for a test garment.
The important critical points are style and price, both of which will matter less to some people. Many will identify with Orazio's style more than me; and others will either not care about the price or have no choice - as there is no other access to Neapolitan tailoring where they are.
I always try to write balanced reviews, but this one I feel particularly deserves to be so.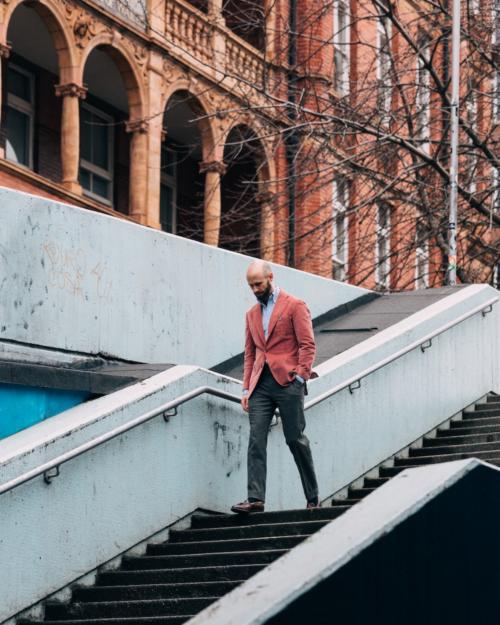 Photography: Milad Abedi
The fabric is Holland & Sherry 187006
Also worn: PS Oxford shirt, bespoke by Luca Avitabile; mid-grey Fox flannel trousers, bespoke by Whitcomb & Shaftesbury; Edward Green Belgravia loafers; Yard-O-Led silver pen.
Stores that offer Orazio: Pauw, Oder, Michael Jondral, Tailormail, The Armoury Hong Kong, The Armoury New York, Isetan, Strasburgo, Sartorial, Uncommon, Liles Clothing, Gentleman Footwear and Artigiano.