Anglo-Italian: Jake Grantham and Alex Pirounis open in London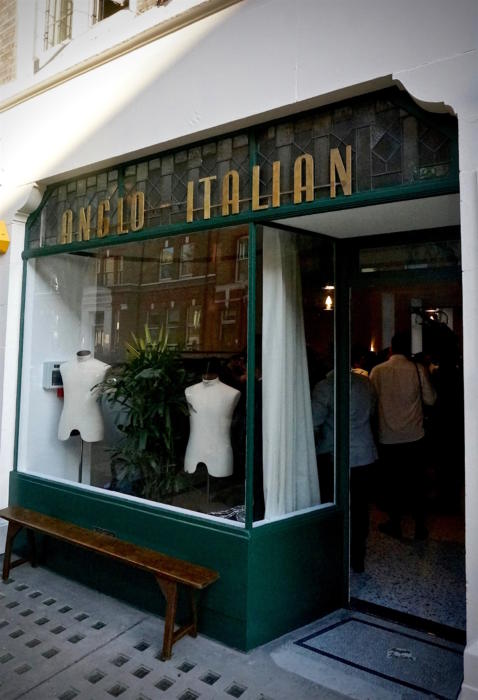 Last night was the (soft) opening of Anglo-Italian, the new shop in London being run by ex-Armoury buddies Jake Grantham and Alex Pirounis.
It's been a long time coming. Various events have slowed things down, and even last night the mirrors were going up a few minutes before everyone arrived.
The shop will officially open to the public in June. But this was a first chance for friends and family to get a look at what Jake and Alex have put together.
The focus - in the charming shop off Marylebone High Street - is Italian tailoring and things to wear with it.
The jackets and suits are all made in Naples, with soft shoulders and a tiny hint of rope in the shoulder. They have a 3-roll-2 button configuration, patch pockets, and a generous lapel.
There is lots of handwork: hand-fixed collar, hand-sewn buttonholes, hand-attached lining, and most usefully of all, a hand-padded lapel (though not chest). All have a full, floating canvas.
The plan is to offer a lot of made-to-measure tailoring, with try-on samples of the various sizes - and here there will be two styles of shoulder, one roped and one Neapolitan-style shirtsleeve.
The price is good given the amount of handwork: around £990 for a jacket, £1300 for a suit, with a small uplift for made to measure.
The two themes of tailoring and customisation extend into the casual clothing.
The stand-out piece here is a suede bomber jacket, available ready-to-wear in tan and dark brown.
Cut in an aviator style similar to the Valstar, its distinctive feature is a high collar of ribbing that can be flipped up or down - the latter being warmed and having a lot more swagger.
These will be available made to order in seven different suedes, zip or button front, with simple changes to the pattern like body length and sleeve length.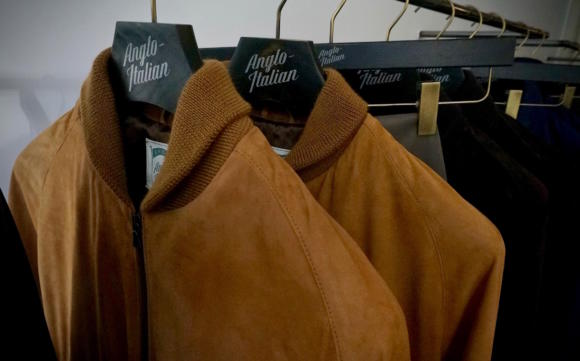 There is also a navy-nylon field jacket, to wear over the tailoring, a range of odd trousers, to wear with the bombers or the tailoring, and a selection of crewneck knitwear.
Throughout, the aesthetic is relaxed and muted. The jackets are in faded checks and the trousers come in soft browns and greens; the ties and scarves too are muted and versatile.
As Jake puts it, "like chucking talcum powder over the normal bright colours of summer".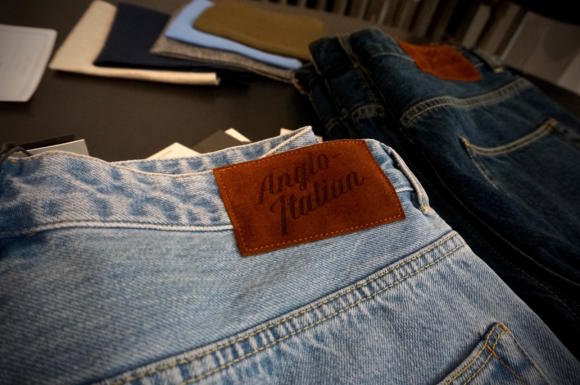 This aesthetic carries across into the jeans - perhaps the most interesting category of the lot.
Made in Kyoto, they have a relatively high rise and a subtle taper. Unusually, Jake and Alex were able to experiment with their own washes - and that is the emphasis here, with just one fit but three current washes, and more to come.
As much as I love raw denim, and would pretty much always prefer it, you can never get the same colours as the lightest fades here. And they are useful, particularly in the summer.
The shop is still work in progress. The shirts haven't come in from Germany yet, the basement isn't done, and nothing has been completely styled out as Jake and Alex will want.
But Anglo-Italian already has a nice vibe: a 1930s Italian feel that can be seen in the signage, the decoration and (last night) the catering of the wonderful Bar Termini.
It is fantastic to have another independent menswear store in London, doing well-considered, quality clothing, that is highly wearable and relevant to a modern man.
I wish Jake and Alex all the best, and look forward to seeing the shop develop.