It really is a lovely feeling walking into the pop-up shop for a new week.
There's Carmen from Camiseria Burgos in Madrid, whom I haven't seen for five years, pretty much.
Next to her is Benedikt from Shibumi, lining up his ties with his typical perfectionist's eye.
Lia from Codis Maya is by the door, arranging the new bracelets she's been making herself.
And in the corner is Adam Cameron of The Worker's Club, bringing a casual but high-quality feel to the shop for the first time.
It's like a strange party for all your favourite people. You want to talk to everyone at once.
Readers should be familiar with all four brands, but I'll run through the new things each has to offer - two today and two tomorrow.
As with all posts on the pop-up, the things highlighted here are also available in the brands' online or physical stores. As with any normal post.
Rosh and Lia (above) from Codis Maya are great fun - a real asset to the shop last time, and this one as well.
They work with traditional craftsman around the UK to produce their precious-metal and vitreous enamel jewellery - cufflinks, tie bars, studs and bracelets.
But while supporting all those crafts is great, and they design pieces themselves, it adds a little something that Lia has been training to make herself.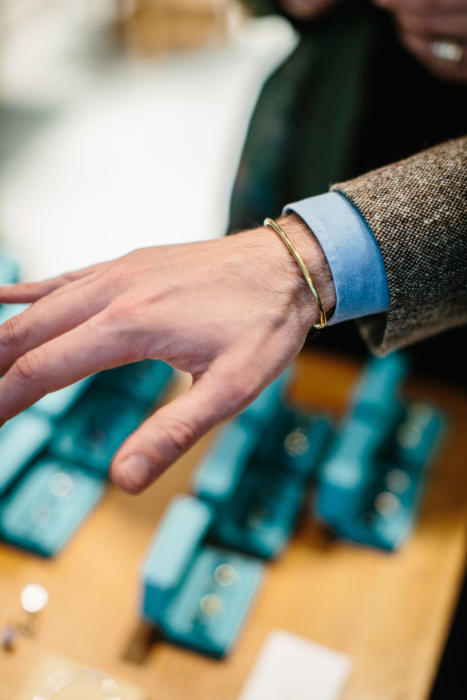 For the first time she's offering pieces of her own - here bracelets in brass (above), copper, silver or gold, all with the possibility of initials stamped on one end.
They come in a range of sizes from small to extra-large, but given the design can easily be adjusted for different wrist sizes as well.
Priced from £65 for brass all the way up to £800 for gold.
The Workers Club is run by Adam Cameron (above), a designer who works for Connolly and Mr Porter as well as having his own brand with wife Charlotte.
Its core appeal, for me, is The Works: a water-resistant cotton shell, tweed gilet and down jacket that can be combined to create outerwear for the entire year.
The gilet and down can be worn separately, but largely their appeal is the ability to zip into the shell jacket and give it just the level of warmth required.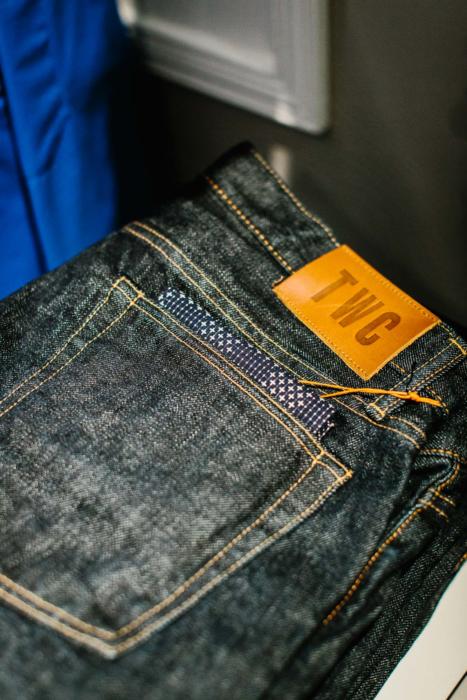 There are several versions of the shell in the shop: the original H2O version (an Italian version of Ventile); a rubberised one that is more waterproof but a little less breathable; a rip-stop with a (very) subtle camo design; and a wax with much bolder camo (shown below).
I particularly like the camo from a grahic design point of view - the way Adam worked with a designer to modernise a classic camouflage print and make it look both original and much more modern.
Since I first wrote about TWC there have also been some additions to the range. These include a parka is lighter in weight than the other shells, and packs away into itself. And into that parka, a wool liner than can also be worn on its own.
There is also yet one more option in The Works: a gilet that sits between the tweed and down, with water-resistant microfibre on one side and Loro Piana Storm System wool on the other.
Elsewhere, Adam also offers Japanese-made denim (indigo, black and natural, raw and washed) in a pretty slim cut (though with more room at the hips than most slim jeans.
There are scarves, wool beanies (below) and some T-shirts in a slightly short cut, with subtle red-kite branding.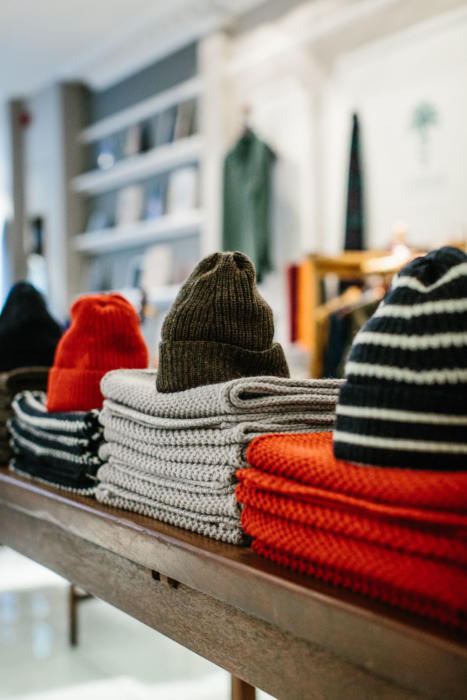 The kite symbol comes from the birds of prey that populate the countryside around Adam and Samantha's home in Oxfordshire.
It's a bird that, as an ornithologist in my youth, I am also very fond of and always associated with being at Oxford.
The pop-up is open until Sunday, 11am to 7pm today and tomorrow, 10am to 6pm on Saturday, and 11am to 5pm on Sunday.
Details on Burgos and Shibumi tomorrow.
Photography: Jamie Ferguson @jkf_man