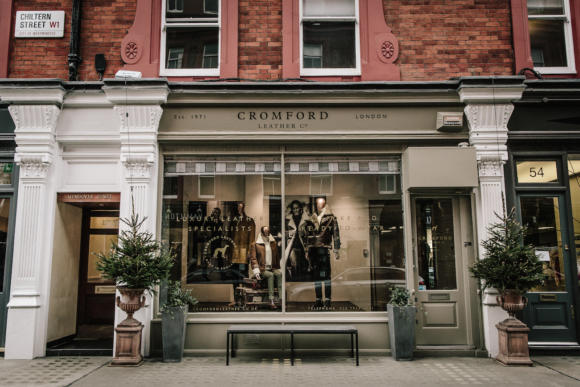 At the end of last year I got to know the new owners of the General Leather Company on Chiltern Street - now renamed Cromford Leather.
This was exciting because they not only make leather and suede jackets on the premises, but undertake alterations for brands and for private customers.
I've wanted to find a place to alter leather and suede garments for a while.
If you like (and, in reality, get used to) bespoke tailoring, you become increasingly frustrated at not being able to achieve anything like the same fit in leather.
Of course, the beautiful suede jacket Cifonelli made me last year is one way to get a perfect fit, but that is expensive, time-consuming and - for anything other than a simple sports-jacket shape - difficult to design.
For whatever the perils of bespoke tailoring, suits are pretty easy to commission as a customer. There are relatively few variables, and there are clear traditions and rules around most of them.
Leather jackets, on the other hand, are much harder.
A collar can be many different widths, heights and shapes; the body can be skin-tight or have a lot of excess; design details like zips and pockets fundamentally alter the look.
And a bad leather jacket is just awful. Nothing else will make a man look more dated, sad or unfashionable.
I went through the difficulty of this process with the leather jacket Davide Taub made me at Gieves & Hawkes.
I still really like the result, but there are a few things I would definitely change if I could, and I also realise how many other things could have gone wrong.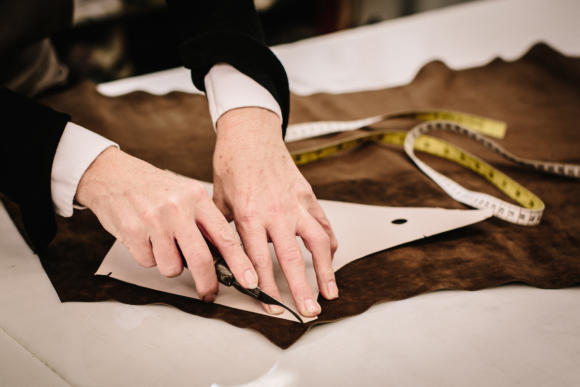 Far safer, then, to buy ready-to-wear. Let Ralph Lauren, Seraphin or Nigel Cabourn design the jacket for you.
They may still get it wrong, but at least you can see the finished garment before you buy it, try it on and consider its style.
The only issue is fit. A ready-made garment is made to fit an average customer, and few people are average.
So the solution: buy a ready-made jacket and have it altered somewhere.
The problem is there are very few workshops that can do this. Davide worked with one for my leather jacket, but they are outside London and often don't have capacity.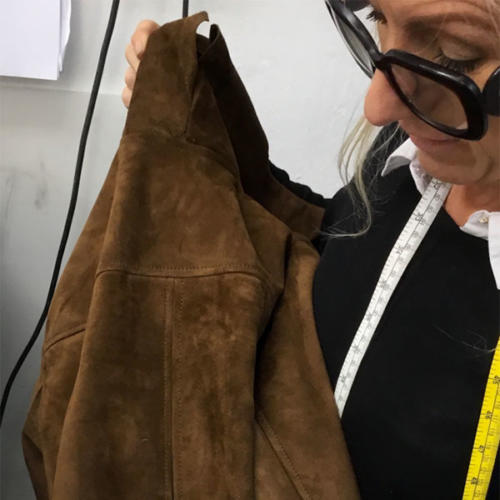 Cromford, it turns out, are central, lovely to work with and also very good.
The workshop dates back to 1971.
Run by Alan Sprooles and Peter Goodall, it made bespoke jackets for everyone - rock stars, film stars and even the Queen.
It also made and continues to make for several designer brands, including Mulberry and Margaret Howell.
Pauline Harris (above) had worked at General Leather for 20 years when Alan and Peter retired in 2015, and she took it over together with Katherine and (as of last month) a new apprentice.
They re-branded as Cromford Leather, and created a new line of ready-made leather and suede pieces to replace the (frankly, rather 70s) collection of Alan and Peter's.
The new collection has some nice pieces in it, although none I really love - as mentioned earlier, this is hard thing to analyse and dissect.
Shown above are three pieces - the De Niro suede jacket (£1200), Douglas flight jacket (£2800) and Eastwood Leather coat (£1850).
The alteration work Pauline and Katherine have done for me, however, is fantastic, and I'm sure I'll use them to make a bespoke jacket at some point.
(Below - bespoke piece made for Brad Pitt in the film Allied.)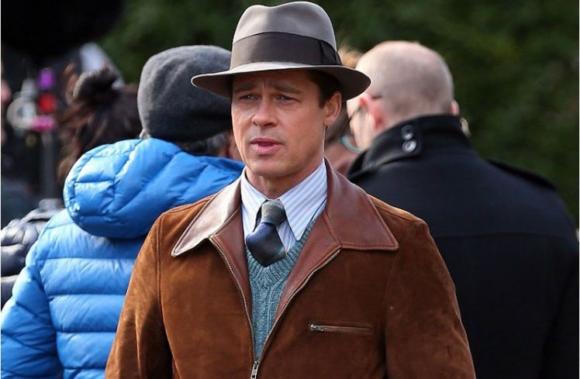 The first alteration project I gave them was a Loro Piana jacket I picked up at Bicester Village years ago.
The quality is lovely, and is cashmere-lined, but the fit was never quite right. Collapsing at the top of the back (with my sloping shoulders) and a touch too big in the waist.
It also always looked a little too rustic, largely because of its large, shapeless patch pockets.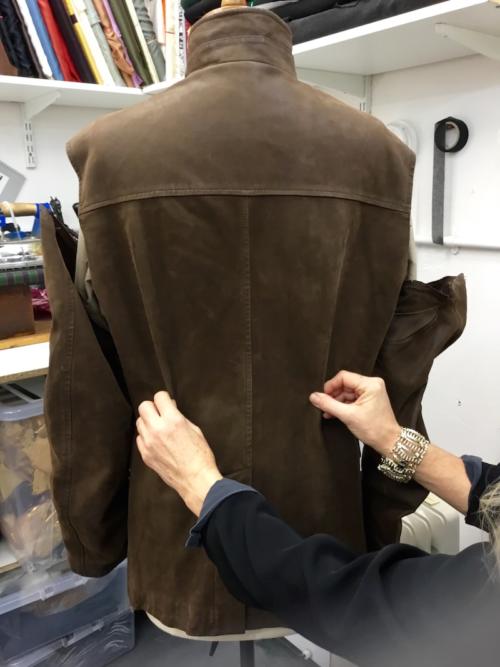 Pauline lowered the shoulders for me (by taking off the sleeves), which made the back much cleaner (and as a side effect, created a smaller armhole).
She slimmed the waist, using both the side seams and putting two extra seams in the back. And she took off the patch pockets, cutting them down so they were flush with the jacket.
Overall, the effect was great. It made a piece I never really wore into something I want to wear every day. And we've already moved onto the next piece - a Seraphin bomber. The two jobs cost £250 and £300 respectively.
I'll post more, and far better, photographs on the next post on them.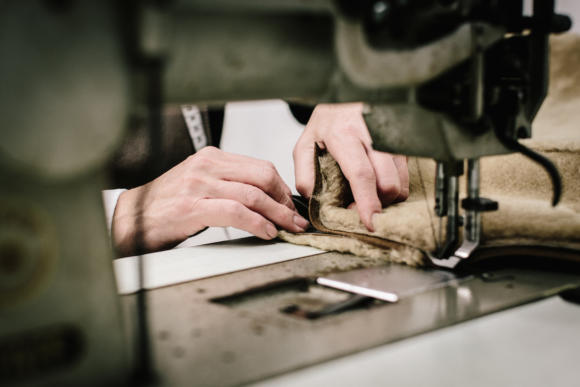 One last point: altering a jacket like this is not easy. For most things you essentially have to take the entire jacket apart and re-make it.
That's simpler than with bespoke tailoring, but it does take a lot of time and there are limitations.
For example, there is rarely any inlay in a jacket, so it's much easier to take in than take out. Best to buy a jacket that's a little too big and reduce it than the other way around.
Also, jackets are often washed to create certain effects, and these would not be reproduced on new seams. Plus if you remove anything (like my jacket flaps) it will likely leave a mark.
Do go and talk to Cromford about anything you want done, but don't expect the same kind of potential as with tailoring.