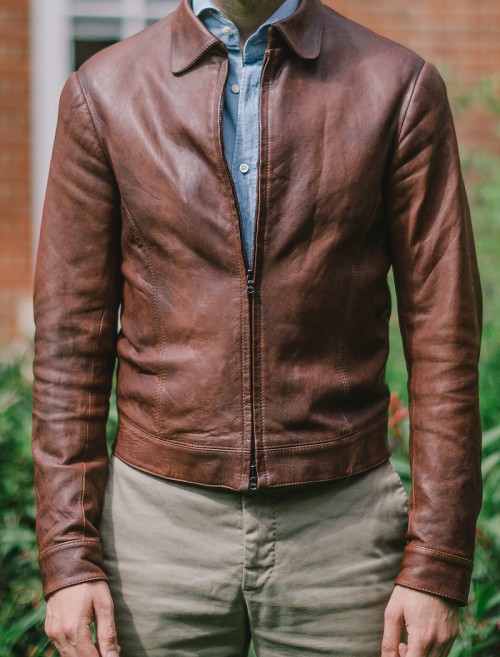 The 'How Great Things Age' series celebrates and examines how quality menswear ages over time. Often, it becomes more beautiful, though different materials from leather to cotton to board age in very different ways.
The last two we featured – a Levi's big-E jacket and a Barbour motorcycle jacket – were vintage items, rather than things I had aged myself through wearing. This instalment, then, is a return to more personal pieces – such as the Edward Green Oundles (the first quality pair of shoes I ever owned) and Globe-Trotter suitcase.
Regular readers will be familiar with this leather jacket, which was made bespoke for me by Davide Taub at Gieves & Hawkes. As well as being cut and fitted by hand, it had a padded, jacket-style shoulder which set it apart construction-wise from anything off the peg.
(There are six posts in total on that process, from initial watercolour sketch, through fittings in two different waste cloths, to details on the final piece. Click on the links to read more.)
It's only been two years, but the jacket's calf leather has darkened significantly, as I'd hoped it would. Veg-tanned leather will normally acquire a patina in this way, but without specific knowledge of the tannery or evidence of pieces made in its leather, it's very hard to know exactly how it will age.


When we say patina, of course, we mean dirt. Leather builds up atmospheric dirt, and then darkens more in places where it comes into contact with dirty surfaces – the elbows, top of the back, bottom edge. Or indeed with your own skin, on the fold of the collar or the bottom of the zip.
As the whole skin settles into a darker tone, this ageing will slow down, but it will continue to change colour indefinitely.
Such changes are particularly noticeable when there is some leather facing inside the jacket. This won't age anywhere near as fast, and so you can see the change simply by folding back the cuff, as above. (As ever, click on the images to enlarge.)
A reader made the comment a while ago that the jacket's cut makes it slightly more of a fashion piece. I agree: the bespoke cut is quite form fitting, and most leather blousons would use ribbing around the waist to keep it tight, expanding into a much more generous fit around the waist.
But this cut has more in common with motorcycle jackets, which of course were always cut close to reduce wind resistance and retain warmth. It doesn't have an asymmetric zip, or quick-access external pockets, but the shape is very similar.
That ageing is also now a big factor in how it looks. The blackness of the elbow and chest, as well as the wrinkled texturing everywhere, give a touch more ruggedness.
Beautiful and more personal, certainly. And hopefully it will only get greater as it ages more.
(Polo shirts coming later this week by the way, for those waiting…)