During my recent series of posts on Levi's bespoke jeans, a reader commented that he didn't like denim because it didn't drape like wool, linen or other materials commonly used for suiting. He's not wrong, but denim and other cotton materials have a beauty all of their own.
That beauty is more similar to leather than to wool. Like leather, these cottons adapt to the shape of the wearer. They take on his physique, become unique and personalised, and are more precious as a result. A structured suit jacket, of course, does this too. But leather reflects the wearer on the surface as well as inside – in the patina that builds up through use, shape and circumstance.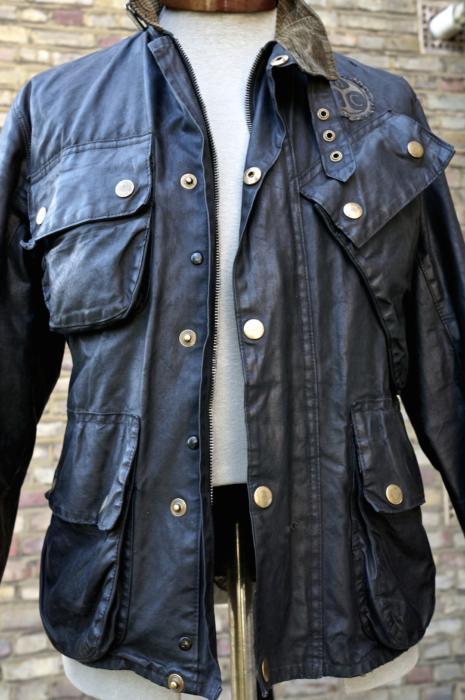 This is the first of a handful of posts demonstrating that beauty. Although part of the 'How great things age' series, they focus on vintage items and those not normally associated with tailoring, such as denim, leather and waxed cotton.
The first piece is my 1960s Barbour motorcycling jacket. Originally part of a suit, it still has the internal buttons that would have attached the matching waxed-cotton trousers. It has clearly seen a lot of user over the years, with darning in several places. The great thing about cotton, of course, is that even the outside can easily be darned when it frays or rips. Note the original cycling club patch, with has also been carefully sewn on by hand.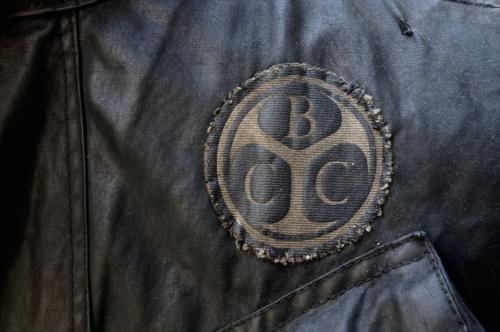 As owners of more modern Barbour and Belstaff jackets will know, waxed cotton is unique for the speed with which it ages, developing a vintage look very quickly. It's one reason that artificially aged versions haven't really caught on – unlike jeans and leather jackets. But a waxed jacket that has been worn, beaten and rewaxed several times also develops a deeper hue that is particularly attractive. The photos here give some sense of that. (As ever, click images to enlarge.)
This Barbour is from the excellent Vintage Showroom in Covent Garden, which I recommend (also Josh Sims's book on the same store). However, as with most vintage jackets be aware that they will be cut shorter and squarer than any modern piece, and it may therefore take quite a while to find one that fits well. The only advantage of models like the Trialmaster is the belt, which can be cinched to deal with some of the squareness.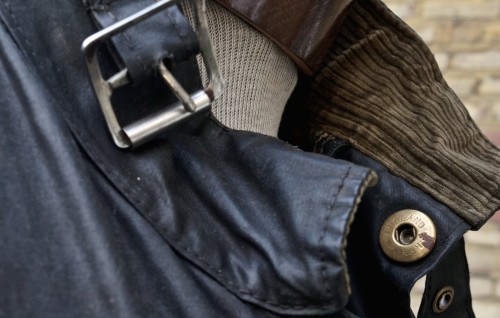 For more on vintage pieces, see my post on RRL.
And my recent feature for The Telegraph contained more about the history of the motorcycle jacket and other pieces.