Interview: Brunello Cucinelli on formal/informal style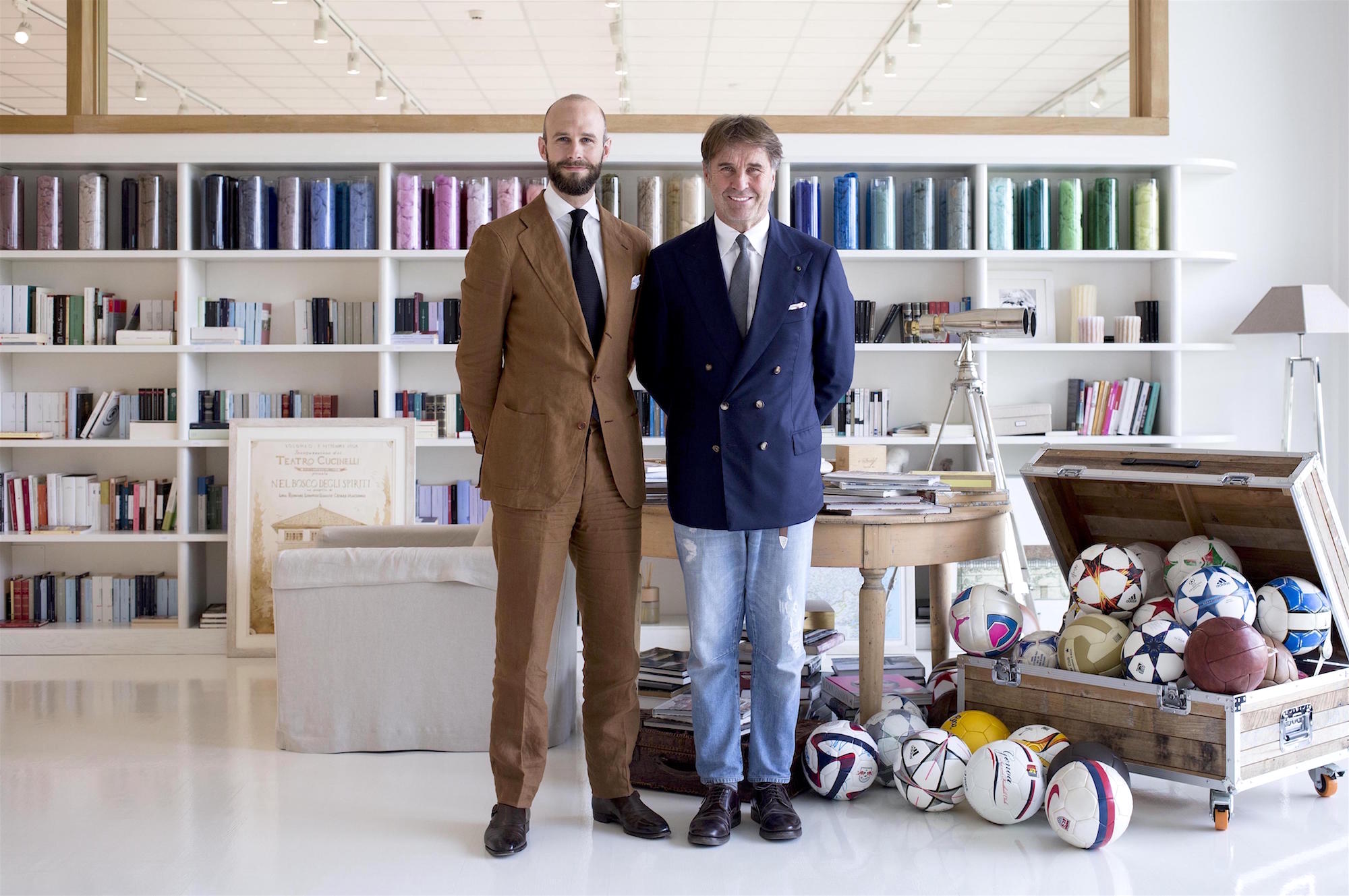 A few weeks ago I was invited by Brunello Cucinelli to visit the HQ in Solomeo.
Perhaps surprisingly, when I interviewed him Brunello was one of the most open and unpretentious people I've met. He was creative and honest; grounded yet passionate.
In the interview we focused on style - the aspect of the Cucinelli brand I think most interesting (consciously avoiding any discussion of pricing, quality or philosophy).
And so we spent most of the time in the creative studio, with a couple of his team (pictured below) and clothes scattered across the floor.
On two occasions the translator and I had to turn quickly away as he changed his trousers - in order to swap denim for flannel and demonstrate a point about texture.
~
There are some aspects of the Cucinelli style we all like and have been highly influential - essentially bringing the old Italian textures of navy tailoring, grey cashmere and brown suede to a global audience.
But I'd argue many others are completely at odds with traditional style. Most noticeably, the mixing of very formal and informal items (often in order to subvert expectations).
While this isn't my taste, I've always been interested in how brands like Cucinelli formalise such styles in order to apply them consistently. What rules do they have? What can change and what cannot? And so I asked Brunello to rationalise his style in the same way we do with more classic menswear every day.
The images used below were sent by Brunello after the inteview, to demonstrate how he and his team wore the same ideas in different ways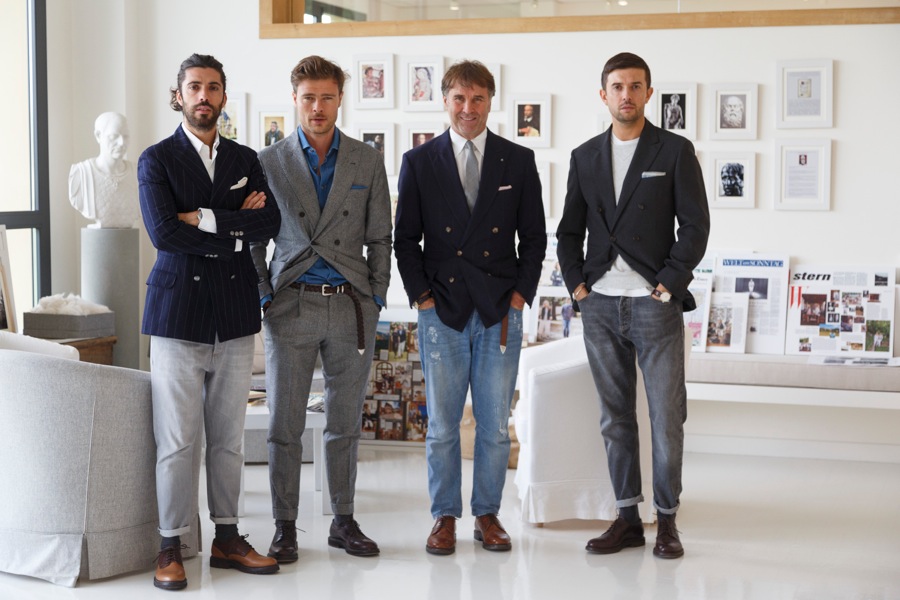 Permanent Style: What piece do you start with when you assemble an outfit?
Brunello Cucinelli: The jacket, always. It must well made, and the fit must be perfect. So when you undo the waist button, for example, the jacket must stay in place, it mustn't wander about. That keeps the flattering fit through the waist, and enhances the chest.
And for my style, the jacket must have a contemporary cut. That means a little shorter, with what we call a one-and-a-half breast - a small gap between the buttons on a double breasted. That keeps the look slim, narrow.
Our tailors in Italy are very good, we have some of the best. But personally I think they have a tendency to make the shoulders too wide, to impose a look on the body, rather than flatter what's already there.
So, always the jacket first. Then below the waist. When I wear jeans, as I am today, I always wear a tie.
You'd always wear a tie with jeans, even though the tie makes the outfit smarter?
Yes. In the same way I never wear denim with a jumper, or denim with sneakers.
It's too sporty. You need to balance the two sides.
Always the same kind of tie?
Yes, pretty much. It's wool or sometimes cotton. The texture might change - wool vs cashmere. And I have four or five different shades of grey, two or three of blue. But always solids in one of those two colours.
How about footwear?
The shoes must also be beautiful, good leather, nicely made. Mostly shades of brown - this dark brown or a slightly lighter shade.
But they're also relatively casual shoes, with a thickish sole, a derby style.
Yes, that's a good point. But they're still a long way from sneakers. They're smart. Sneakers and denim never works for me.
Why do you like this look so much?
Age has a big part to do with it. I'm 65; I couldn't just wear a normal suit, a nice shirt and tie. Because I don't want to look that old - I want to look at least 10 years younger.
It's easier for you in many ways, in your brown-linen suit, shoes and tie. You're not concerned with looking older. In many ways the young can wear anything.
But this look, the jeans and tailoring, is for anyone. If I cover my face, if you just look at my clothes, you would have no idea what age I was - I could be 20, I could be 60.
That's one thing we do when we're developing the collections. My assistants and I line up, guys in their late 20s, into their 30s, and me in my 60s - and see what things look like on different ages.
OK, and then how would you change this outfit for a more formal occasion?
I think this outfit you could wear most places, and you would look chic. Not to Wall Street of course, but to university, at the office, in town. You would look elegant but not too fussy.
But if you were going to a smarter occasion, you could swap the denim for grey wool trousers. A lightweight wool for the season.
In that case, it would be the fit that would keep it contemporary - this outfit would rely more on the fit for that effect.
The jacket is already good, but the fit of the trousers becomes very important.
The English are the best in the world for how to wear trousers. The length, for me, must be just above the shoe. The width must be 20.7 centimetres. (The Americans used to always push me for wider trousers. They wanted 23 - huge. But I knew what gave it my look.)
The length must be perfect, just like yours. And with this brown linen jacket, I'm wearing wool trousers - always wool on the trouser with linen on the top, to keep that contrast in texture.
Again, the look is ageless. I could be 30, I could be 60. And it's not that classic if you look closely, just nicely tailored.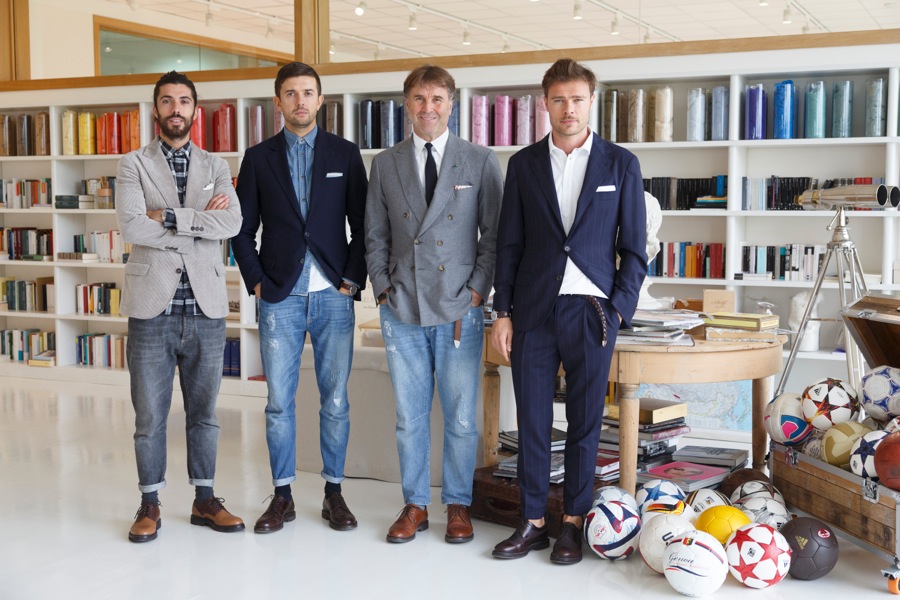 And would you adjust other parts of the outfit - like the material of the shirt?
No, it's interesting but I usually like a more formal shirt material. It's balanced by being a button-down, and of course by the wool tie.
You might substitute a denim shirt for the white, if you wanted to be sportier, but that's all.
How about an overcoat?
Ah yes, so here perhaps this camel-coloured vicuna coat. Worn over the top, perhaps even with just knitwear underneath. I wear the collar up, the top buttons fastened.
This vicuna coat is an old one of my own, but we're also introducing a similar one this season - just in a fuzzier, thick wool. It has a grey cast to it, and far more texture. That makes it much easier to wear with sportier clothing.
On the point about trouser style, do you think this will change over time? Do you think a short, 20.7cm trouser will achieve your aim of looking contemporary now - but that will change in five years?
Possibly, but these things do change very slowly. When we started we were the first to be rolling the bottom of the trousers up, now everyone is doing it.
The trouser might change - we use more pleats now than we used to - but it's a slow change and an easy one for a man to keep on top of.
How would you describe the colours you use? Muted, earthy?
Yes, exactly - muted, natural. We are looking at doing it now, but we haven't really used strong colours for more than 10 years. Always these very natural, subtle colours.
When we do have colour often it will be in a little accent, like the spot on a handkerchief, or the lining of a jacket.
These kind of accents are like a handbag for a woman. We have just those to play with, plus a watch.
And a lot of emphasis on texture?
Yes, on soft, rich textures. Flannels and suede. It's not showy but it looks luxurious and valuable. This is what I want to achieve with my clothing - this subtle luxury.
I learned this from the English - and you'll have to accept the compliment this time. The English are the masters of conservative dress, it all stems from you and runs out, filtering down here to Solomeo.