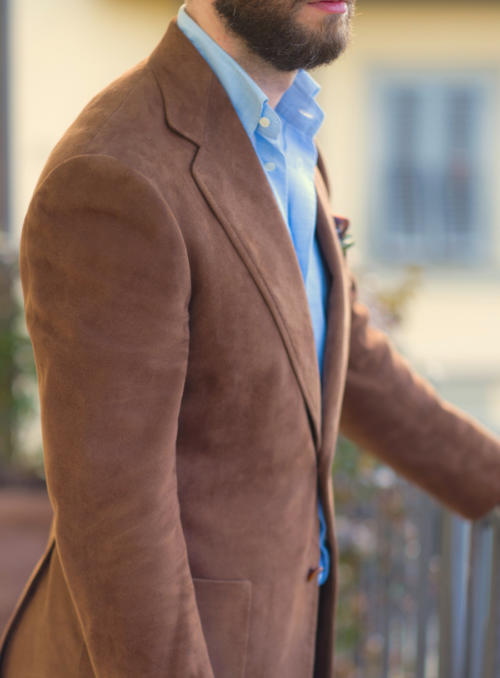 This finished suede jacket from Cifonelli shows the beautiful breadth of what bespoke tailoring can do.
Bespoke is not just for business suits; it is not just for casual jackets; it is for anything that benefits from hand-cut line and structure.
I always say – have always said – that the most important thing about a suit is fit, and a perfect fit is what you get with a bespoke suit.
In the same way, a bespoke-cut suede jacket like this is immediately separated from anything jacket-like made in suede or leather that is bought off the peg.
The line through the chest and waist is different – elegant, flowing. The shoulders and sleeve are precise. The back is smooth and even.
Of course, suede is never going to fit in the same way as wool. It doesn't have the natural stretch and drape. You can't steam it and shape it to the same extent.
This means that wearing it is never going to have the same comfort as other tailoring, but it is again noticeably better than anything off the peg.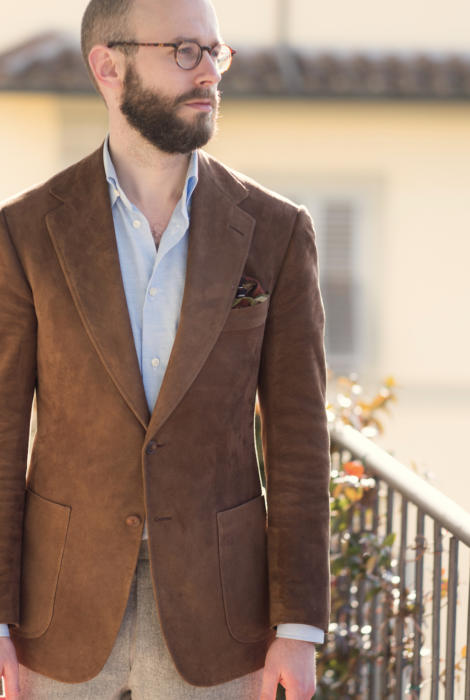 After a few months of fittings back and forth between here and Paris, I couldn't be more pleased with the end result. The fit is great and the finishing – as you'd expect from Cifonelli – is superb.
There is something really special about seeing a Cifonelli Milanese buttonhole in suede, not to mention the other beautiful buttonholes, the silk top-stitched lining, and the swelled edge around the lapels and front edge.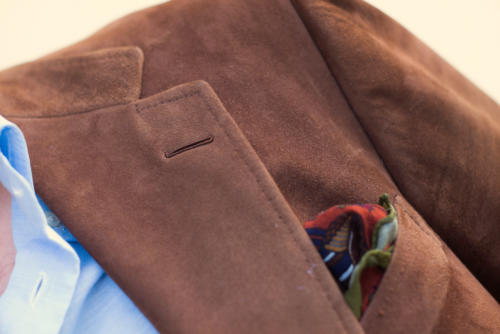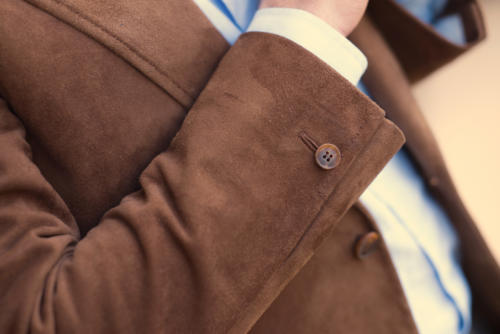 The only things I don't like, and we are now changing, are the length and the roll at the top of the sleevehead.
The length was a hard one to judge at the fittings, as we wanted it to be a little shorter than a regular sports jacket, so that it worked better with casual trousers like chinos. But I think we went slightly too far, and we will add about an inch from the shoulders.
Adding that length from the shoulder will have the added benefit of moving the waist button down by the same amount and lengthening the lapel – which feels a little short at the moment as well.
The shoulder was meant to be very natural, but currently has a little touch of rope. Lorenzo is softening that too.


I wouldn't have anyone but Lorenzo Cifonelli make something like this for me, largely because he is such a master of different materials and techniques.
His tailors have been working with suede and leather for a long time, and it is nothing therefore to alter a jacket like this from the shoulder and be sure of leaving no mark. I may not always like his designs, but his technical expertise is unquestionable.
The colour of the suede was interesting. It's actually not as bright and rich as the pictures suggest (blame a sunny day). And not the classic, tan suede you would see in Ralph Lauren or other preppy outfitters. It is a little more muted, a little less saturated.
But I'm coming to like that colour more than the classic one. It's subtler, and more versatile as a result. You don't have to worry that with an Oxford button-down shirt and some pale trousers, you'll look like a Loro Piana ad. It's also less formal, and better with denim.


Price: €5500
Also worn here:
Chambray button-down shirt from Luca Avitabile
Wool/silk pocket square from Drake's
Pale grey flannel trousers from Anderson & Sheppard