My leather jacket from Sartoria Melina arrived a couple of weeks ago, and I'm relieved to say the fit is good and the product excellent.
I was rather worried at the fitting we had in Naples, because the canvas toile they had created was rather too short.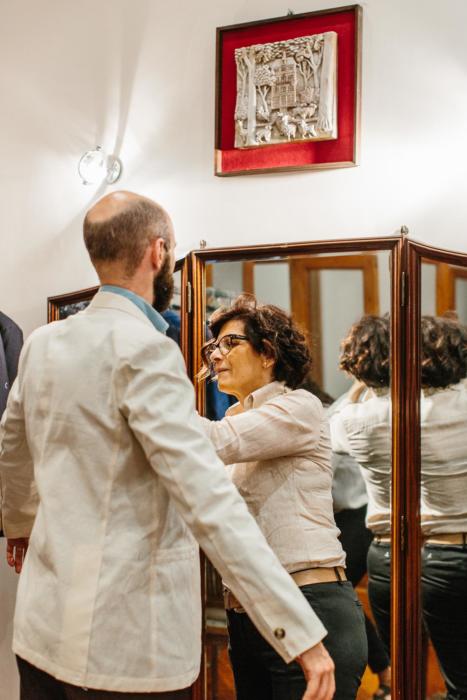 I should perhaps have been more specific that it should copy the proportions of my existing Neapolitan tailoring - and I see why they offer a service of completely copying the proportions of one of your jackets.
Ready-to-wear leather is more commonly this bumfreezer length these days, but that was not what I wanted.
We talked about it at the fitting, and decided to add 3cm to the length in the end.
Fortunately the jacket that arrived was perfect for length. Perhaps a tiny bit shorter than most of my tailoring, but no more.
The fit elsewhere was also pretty good. It could do with lifting up in the shoulders a little - that affects both the front and back under the armpits, causing those areas to collapse a little.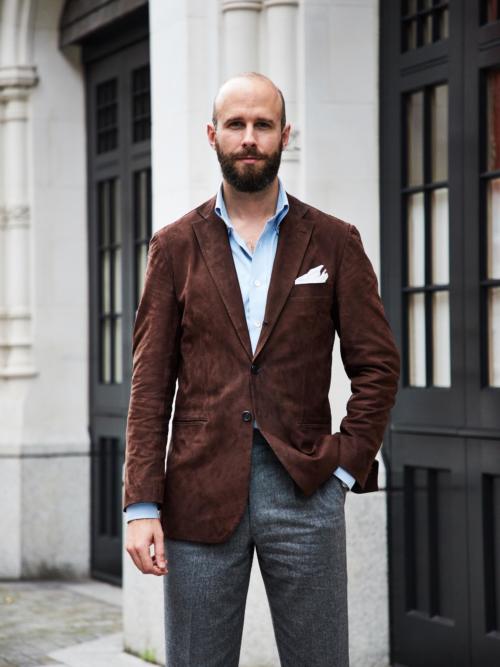 It also needs a little more shape in the small of the back, and perhaps cleaning up a touch below the collar on the back.
All of these things Melina can tweak easily (except perhaps picking up the shoulders - that's harder).
But, and this is very important, it should not be compared to the fit of bespoke tailoring.
As far as fit is concerned, this jacket is very much made to measure.
It uses standard blocks, which are then altered for the customer. There is no canvas structure that the tailor can use to help create shape. And there's no use of an iron.
The leather is also extremely soft and pliable, making it hard to maintain straight lines.
It would be more useful to compare it to ready-made leather - which, trust me, would fit a lot worse than this. I've tried enough of them.
A leather or suede jacket from Cifonelli or Camps de Luca would use canvas and could be shaped more easily - but it's a different beast, far more expensive and with less emphasis on the external finishing.
That finishing - the pick stitching running around every seam and edge - is just beautiful.
Not only is it a nice style point (the kind of thing everyone notices, but only once they're up close), but it also makes you appreciate the leather itself more, seeing it pricked and swelled.
As I mentioned on that original post, I really love the nubuck calf leather.
This jacket has been worn about four times so far, and it already looks beautifully aged. Getting a leather jacket that looks beaten up and natural, yet still fits well, is a real challenge - and one this achieves.
Interestingly, I've found that I want to wear this jacket all the time. With jeans and with flannels, at work and at the weekend.
More than my Cifonelli suede jacket - even though the only thing that makes that less wearable is the slightly lighter colour of the suede.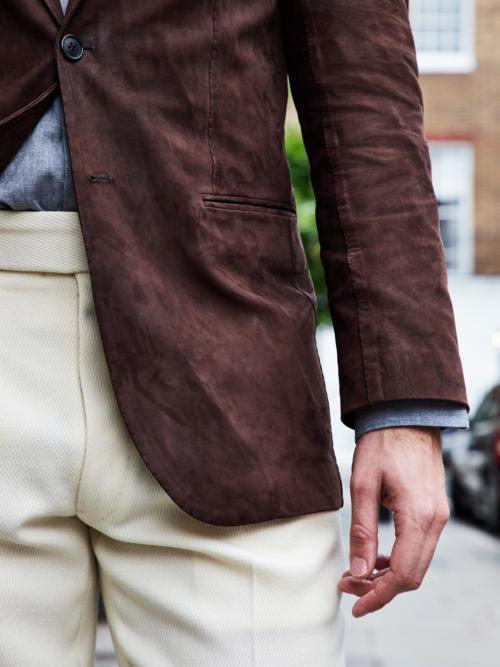 The pockets actually have flaps, but I found I preferred the look of besom pockets, so I've tucked the flaps in.
Somehow it looks more casual, even though besom is meant to be more formal. Perhaps it's just that it looks cleaner and less like it's aping a suit jacket.
In that same spirit, I wouldn't normally wear a pocket handkerchief with a leather/suede jacket, but liked it with these combinations. The white is a nice pop.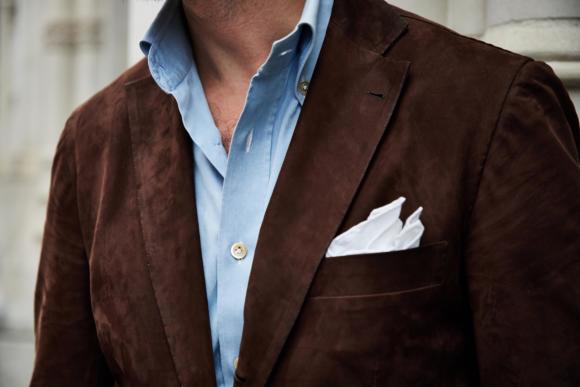 Melina were keen to put a little flash somewhere on the jacket, reflecting their speciality with exotic skins in particular.
And so we put a lovely piece of alligator under the collar - visible only when it is popped up and the jacket buttoned by the top two of the three buttons.

The two outfits I've shown the jacket with illustrate its versatility, I think.
The first, at top, has it with a grey shirt and heavy cream trousers (from Pommella, review coming soon). I really like this combination of deep brown, grey and cream, but it is quite strong - not one for the office.
The second outfit, which I was also pictured in when interviewing Adam of CQP last week, is much more conservative.
It has a blue button-down shirt (actually our Everyday Denim) worn with grey flannels, and the brown leather on top.
If it were a brown-wool sports jacket, it would not be that different - such is the matte texture of the leather.
The only reason I can see someone not liking the leather is that it feels a touch rubbery. I don't mind this at all, but if you are thinking of commissioning something too, it's worth seeing the leather first hand.
Jolanda and her mother will be coming to London before the end of the year, but are just finalising dates at the moment.
I'll have my fit points amended then. Fortunately none of them involve letting the jacket out, rather than taking it in.
Sartoria Melina bespoke leather jackets start at €2900. For more details on the sartoria and the product, read my original profile post here.
Photography: James Munro