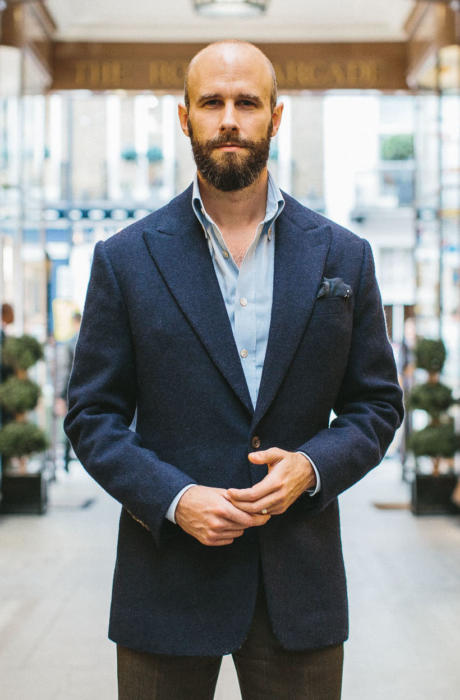 Today I'm very proud to launch a new collaboration, produced jointly by myself, Albiate and Luca Avitabile: 'Everyday Denim'.
We picked the name because it is a shirt a man in a modern office can wear every day: an update on the classic blue dress shirt, that sits well with a blazer but equally a tweed jacket or a suede aviator.
The shirt is in the same pale-blue colour as a regular office shirt - to increase its versatility - but is rendered more casual by subtle denim texture and fading at the edges and seams.
And that fading only develops over time through wearing and washing.
This means that if you have the shirt made bespoke, it will have no fading at the start but gradually acquire a lived-in denim look over time - something that's often difficult with most bespoke denim.
We therefore have two offers: ready-made shirts in various sizes, and the shirting itself, which can be bought and given to a shirtmaker.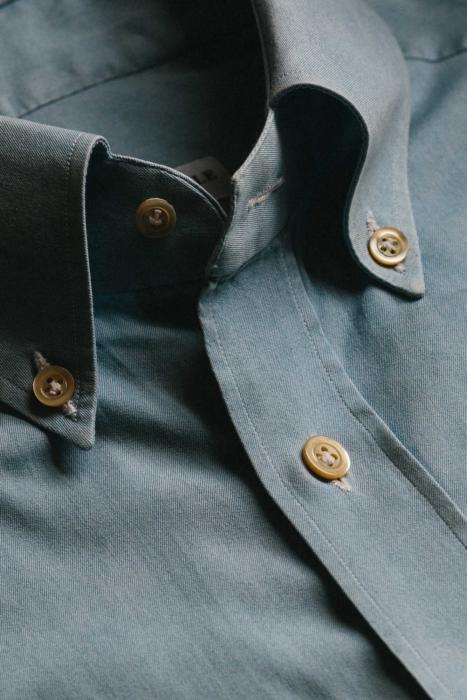 The story of Everyday Denim goes back a year.
In mid-2016, I got into a conversation with Albini (owners of the Albiate brand) about why they had discontinued a version of their Victoria shirting, which I loved.
It turned out that they had had returns from customers, who complained that the shirts lost their colour over time. But that was the whole point of the shirting.
A core characteristic of denim is the way the indigo fades from the surface of the yarn over time, exposing the white core. It's what makes a denim shirt look so casual and relaxed, and what designer brands spend millions replicating with washes.
Those Albiate customers couldn't deal with the fact that the product they bought would be different to the one in a month's time, after four or five washes.
But I think Permanent Style readers can. In fact, I think they will actively appreciate it.
We tried several different versions of that original denim, looking at different washes and strengths of colour.
The darker, more saturated ones would have shown more fading. But I settled on this classic light blue in order to achieve that everyday versatility.
I wear it with a smart jacket like my oatmeal cashmere from Elia, with flannels and brogues; but also with rough Armoury chinos, under a sweatshirt.
The model you can see pictured, on me and in the close-ups, has been washed six times.
It will fade a little more over time, but not much. The fading effect is deliberately subtle. (Like many things on Permanent Style, I guess).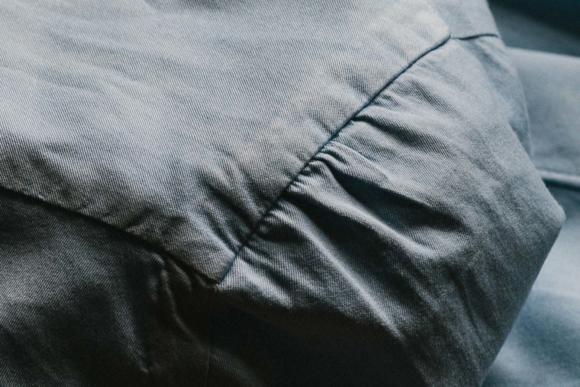 As mentioned above, bespoke denim shirts are often tricky - because the thing that defines a denim shirt is the fading, and that is achieved in RTW shirts by industrial garment washing.
With Everyday Denim, you can buy the cloth (which is exclusive to us), give it to your shirtmaker, and then wear and wash it over time to achieve that fading effect.
We have 50 pieces of the denim, all 2 metres by 1.5 metres - enough to make a shirt for almost any size of man. (In terms of height alone, it should be fine unless you are 6'3'' or over.)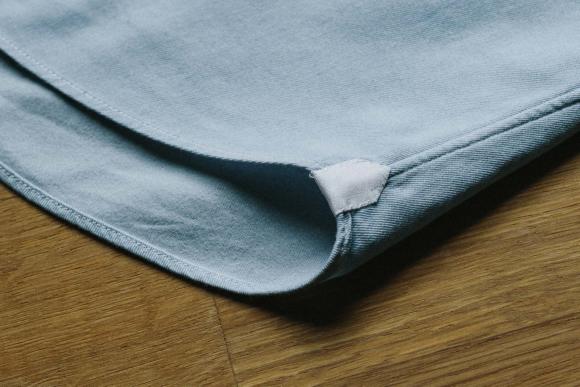 And for all those that can't reach a shirtmaker, we have ready-made shirts across four sizes.
These broadly reflect the sizing of our Friday Polos, and are made in the same facility in Naples with the help of Luca Avitabile.
They therefore have all of Luca's normal points of construction: hand-attached collar and sleeves, hand-sewn buttonholes and buttons.
The buttons are different though: here we went with flat, yellowed mother-of-pearl, which I think has a vintage look that suits the denim.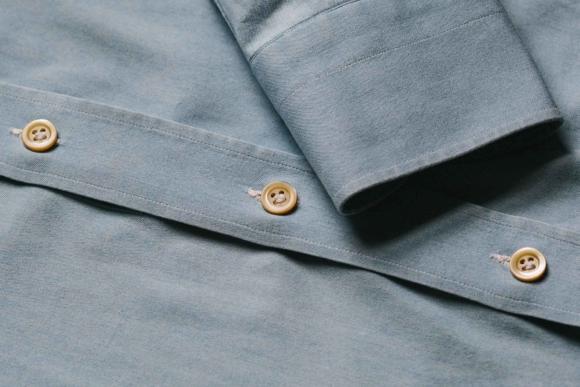 The shirts also have the button-down collar that I developed in recent years with Luca on my bespoke shirts.
The aim of this collar is to curve subtly outwards when worn open, rolling around the collar of the jacket and framing the face. It is an effect I know readers have commented on in the past.
But when the shirt is buttoned up, the collar also has enough shape to curve around a tie knot, rather than sitting flat and lifeless.
It looks good both ways, and it's lovely to be able to use something like this that has been developed for bespoke, on a ready-to-wear product.
The denim is a cotton twill, using 60/2 yarn in the warp and 120/2 in the weft.
That 2 refers to the ply of the yarn, which is significant with denim. Most brands use cheap, single-ply yarn - which to a certain extent is because they want a tougher, coarser feel to the cloth, but also means it doesn't soften in the same way over time.
I've been pleased to find, by contrast, that the Everyday Denim softens beautifully, and is probably one of the most comfortable shirts I own as a result.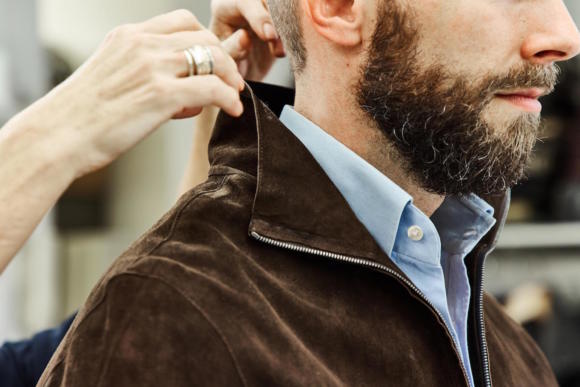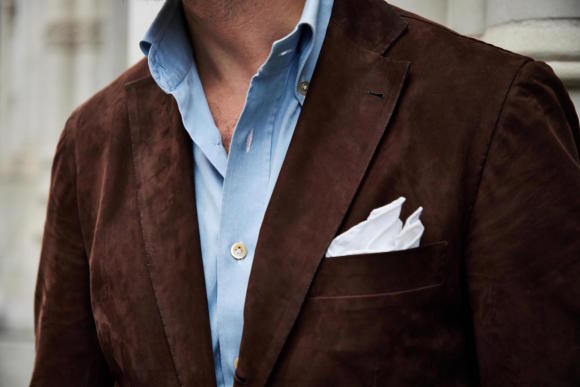 There are 150 RTW shirts across four sizes. Hopefully that will last us a few weeks at least, but we'll see.
The shirts are slightly more expensive than the Friday Polos, reflecting the exclusivity of the cloth, at £180 (ex-VAT). And the lengths of shirting are £55.
Sizing details below.
I do hope you like Everyday Denim. It's been a long time coming.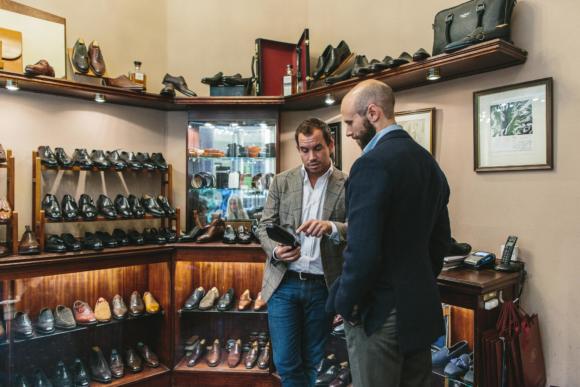 | | | | | | |
| --- | --- | --- | --- | --- | --- |
| | Chest | Waist | Yoke | Sleeve length | Body length |
| Small | 100cm | 94 | 45 | 64 | 79 |
| Medium | 108 | 100 | 47 | 66 | 81 |
| Large | 116 | 108 | 49 | 68 | 83 |
| Extra large | 124 | 116 | 51 | 70 | 85 |
Neck sizes:

Small:

neck

37 (14,5 inches)

Medium:

neck

39 (15,5 inches)

Large:

neck

41 (16 inches)

Extralarge:

neck

43 (17 inches).
Ships from Naples. Details on the PS Shop.
Photography: Jamie Ferguson @jkf_man
Shot in the GJ Cleverley shop in the Royal Arcade, London. Many thanks to George Glasgow, Jr (above), Senior, John and everyone else for their hospitality.