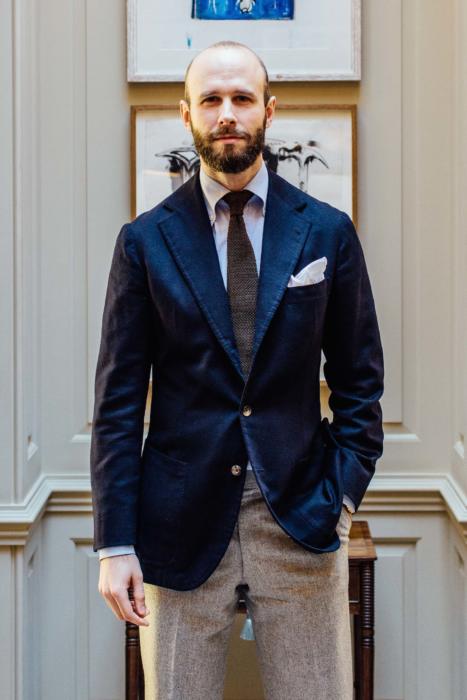 Dressing well is as much about propriety as it is about style, quality or personality.
This is particularly true at work, where there are often prescriptions, or at least expectations, about professionalism and clothing.
I have often talked over the years about sliding scales of formality – about how formal certain shoe styles are compared to each other, or ties, shirts etc. In this post, I wanted to set out a sliding scale for whole outfits.
In the ensembles below, I have changed one thing each time in order to make it more formal. So we start with something very casual, and with each new piece, become gradually smarter.
The different combinations are suitable to different work environments – or to different occasions. One for a normal work day; another for casual Friday; perhaps a last for the weekend.
With each swap, the propriety changes. The same outfit with a shirt rather than a T-shirt, or jacket rather than knitwear, transforms when and where it can be worn. Small changes make a big difference.

1. Ultra casual


We start with the most casual combination:
These are all things that I have written about in the past on Permanent Style (at those links above) but I don't think readers have ever seen me in such a casual combination. It's what I often wear at home.

2. Add a shirt


Adding a shirt immediately and obviously takes the outfit up a notch in formality. (From Luca Avitabile, chambray button-down.)
Given the slight dressiness added by the shawl collar around the neck, and the sparkling-white Common Projects, this is an outfit I can see friends in creative industries wearing. When everyone else is in T-shirts and jeans, this is not too smart yet clearly implies extra style and presence.

3. Swap trainers for shoes


These first three elements – shirt, shoes and trousers – could have been swapped in any order. Flannels would have been an interesting look with the trainers, and these slip-ons could easily have come afterwards.
But I feel these are the steps most men are likely to dress up in, particularly given the popularity of jeans. The bespoke hatchgrain slip-ons from Gaziano & Girling work with denim because of their colour (mid-brown), their style (loafer) and to a certain extent their casual texture.

4. Flannels instead of jeans


Swapping jeans for flannels (bespoke, Anderson & Sheppard) is perhaps the biggest change in this step-by-step process. Jeans will never be appropriate in many offices, but once you're in a shirt and trousers, this could even be worn in a law firm on a casual day.
Certainly, when men tell me they don't know what to wear once they get rid of a suit, I would point them in the direction of this outfit and the next one: clearly smart, clearly well put together, but with none of the formality of a traditional, worsted suit.

5. Replace knitwear with jacket


The sports-jacket-and-odd-trouser outfit is perhaps the office attire of the future. It's certainly something that could save tailoring as more and more people abandon the suit.
This combination is the simplest, easiest and most classic: navy jacket (bespoke, Solito), grey flannel trousers and a blue button-down shirt. The handkerchief will be too dandyish for many offices, but even if you remove it, you're a hell of a lot more interesting than the guy in a suit and no tie. And this can be livened up with knitwear etc more easily too.

6. A tie: the finishing touch


A brown knitted-silk tie finishes off the outfit. Ties that are more casual – knits, wools, wovens – are easiest to wear with sports jackets, and a knitted silk sits bang in the middle of that range. A black knit-silk and darker brown shoes would be a step more formal.
With that finishing touch, we've run the gamut from slouch to sartorial; with every stage in between. And again, if you remove the handkerchief this wouldn't be too dandyish for many offices.
So which would you wear, and when?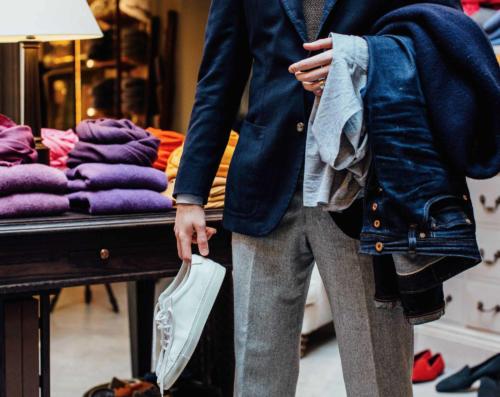 Images: Jamie Ferguson @jkf_man
Shot at the Anderson & Sheppard haberdashery, Clifford Street, London