Codis Maya enamel cufflinks and jewellery
Pop-up Shop update: Lavabre Cadet gloves are in the shop today and tomorrow (Tuesday and Wednesday) for a trunk show.
And on Wednesday, Neapolitan tailor Elia Caliendo will also be in the shop for a one-day show.
Please do come along, and feel free to contact the makers themselves or us at [email protected] to make an appointment.
Two of the brands in our pop-up shop that readers won't be familiar with are Codis Maya and General Eyewear.
I'll cover both during the tenure of the shop, so readers understand who they are before going in - beginning today with Codis Maya.
Codis Maya was founded by jewellery designer Roshini Aluwihare in 1987, and has become one of the UK's best-known makers of high-end cufflinks - particularly involving vitreous enamel.
Unfortunately, most things called enamel today are not the real thing - they are plastic resin, rather than the melted glass that makes up vitreous enamel.
The difference is immediately obvious if you ever compare the two side-by-side.
Vitreous enamel can accommodate a lot more detail in its designs, and has far greater strength of colour. Hold it alongside plastic, and vitreous virtually glows, while plastic seems dull and flat.
Vitreous enamel is largely used for high-end jewellery and decorative pieces, often bespoke - by French houses like Lalique and Fabergé.
It is rare to have it used at any scale; the only other British brand doing it is Deakin & Francis.
One of the drivers behind Roshini's launch of the business was to bring this beautiful process to a wider audience.
Roshini runs Codis Maya today with her daughter, Lia, and I highly recommend talking to them in the shop if you get a chance. They are both highly knowledgeable and highly entertaining.
Roshini originally started Codis Maya as a brand, with its own sales, but after a few years broadened out into third-party work.
Today this work for other brands takes up about half of their time - and historically has included Asprey, Dior and Louis Vuitton.
As well as enamel cufflinks, they do lovely lapel pins and links in various metals, stones, horn and mother of pearl. You can see most of the range on their site.
Codis Maya don't own their own workshops, but work with 12 different shops and workers around the UK (as is the case with most jewellery makers).
There is a broad range of craft stories you can get buried in as a result - from the original designs, to stamping, to the painting with enamel.
My favourite is probably die carving, however, as this is both one of the most artistic processes and still quite heavy duty.
For the basic outlines of a design - and anything that is symmetrical - the workshop scales up Codis's designs (above) to six times their size, and then uses a pantograph (below) to go over the shape whilst a small steel tool mirrors it at a smaller scale onto a hardened steel rod (the die).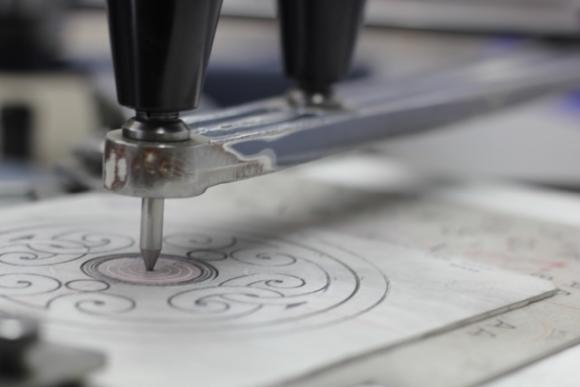 Once the outer shapes are in place, they add in details using steel cutters to directly engrave into the die (again, below).
This is delicate work, but can create some really fine details on the designs - such as on the pins below.
The last thing to mention is that Codis Maya do a good made-to-order business, taking their existing designs and remaking links in any combination of colours for an extra £35.
They have a range of the colour options in the shop, which are worth looking at in person if you can.
Shop photography: Jamie Ferguson. Other photographs: Codis Maya.
Full details on the 'Permanent Style presents' pop-up shop on Savile Row here.