During an event in Brussels last year I met the young glasses-maker Ludovic Elens, who runs Lunetier Ludovic just off Place du Sablon.
Ludovic is worth highlighting for many reasons, but most obviously because he is the only bespoke glasses-maker in Belgium, and has a particularly in-depth consultation and creation process.
Ludovic's first job was in a high-street glasses shop, but he disliked it so much they asked him to leave. "It was all about sales numbers, margins and volume," Ludovic remembers.
Disheartened, he went abroad, eventually spending a year living in Togo before he returned home.
Again, he worked in a glasses shop - but this time at designer Hoet, which also did custom frames.
"It was demi-mesure, I guess. We took existing designs and tweaked the width, the height etc," he says. "We used a factory in Germany that could do it quite efficiently."
Ludovic asked his boss whether there was a glasses maker in Belgium they could use for full bespoke, but was told there wasn't one. He hunted around for a while, but couldn't find one.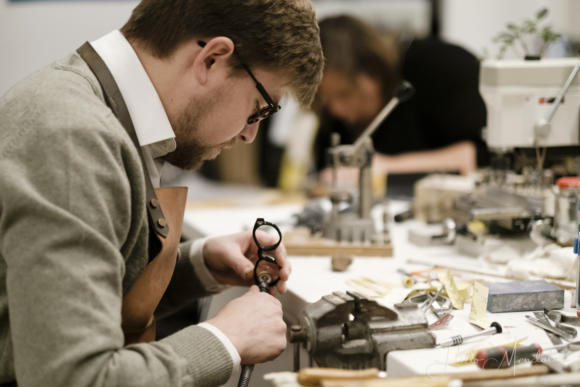 Ludovic eventually decided to take time off and learn the art in Jura - the area of France that is the historic home of spectacle makers. ('Lunetier' is such a better word than 'glasses maker'. I do wish there were an English equivalent…)
There, he trained in an informal school and moved between workshops, learning both how to make different types of frames and how to fit them to the face.
"These old men make for so many of the top French brands, and the have gold in their fingers - they really do," says Ludovic.
"They know so much, so many little techniques, that just aren't appreciated today."
Traditionally, the French houses encouraged makers not to share knowledge. "But now they're all 60 or 65 and don't care any more - they want to pass it on," says Ludovic.
In January 2015, Ludovic quit his job and began a business plan for his own bespoke business.
In September 2015 it opened (shown above) and the business plan quickly went out of the window.
"I had estimated that we would make one pair of bespoke a month, with the majority of the business being ready-made," he says. "But I was out by a factor of 10 - we made 120 bespoke pairs in our first year."
The volume of work has led to Ludovic taking on an employee just for bespoke, and for the ready-made taking a bit of a back seat.
"I also bought ready-made glasses at the start that were probably a little too cheap, not special enough," he admits. "I'm slowly improving that, bringing in some interesting brands."
I can attest to the latter point, having picked up a beautiful pair of brown-and-gold metal frames from Japanese brand Eyevan when I visited Ludovic last.
I have not experienced Ludovic's bespoke process, but it sounds more involved that any I have tried elsewhere. (I have tried Tom Davies, Maison Bourgeat, Cubitts and General Eyewear.)
First there is the normal, initial consultation, where Ludovic and the customer discuss lifestyle, models of glasses, and measurements are taken.
"How long this takes really depends on the customer," he says. "I had one customer, an architect, who wanted to talk about anything and everything - that appointment took four hours. Others are more happy to follow my lead."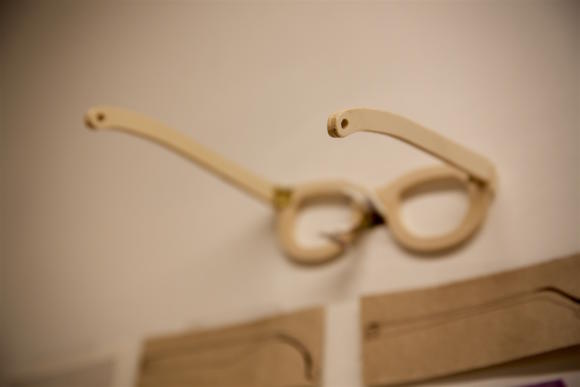 At the second appointment, Ludovic has six options to present to the customer. These have been sketched by hand, scanned into a CAD machine, and then printed onto cardboard.
Once one is selected, a rough cut is made of the frame, and the customer comes in for a third appointment - downstairs in the basement workshop.
"This is normally their favourite stage," Ludovic says. "We have the rough frame and we talk about how it will be finished, the lines, the little details. And of course the fitting is checked again."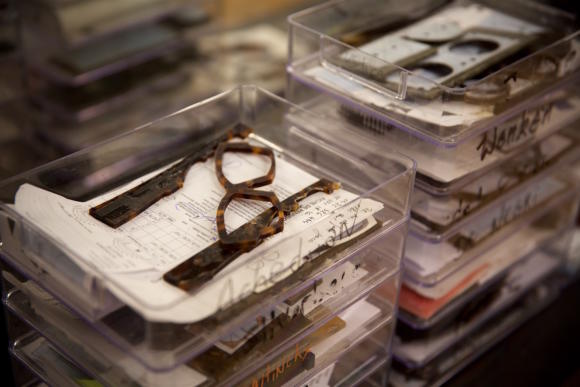 My experience of having glasses made is that it is safer to start with an existing model and refine it - the margin for error is so small on glasses and it is very difficult to imagine or describe what you want.
But I've never been through as involved a process as Ludovic's, and certainly seeing more options helps.
Ludovic's prices also reflect that process - acetate starts at €800 and buffalo horn €1500, compared to General Eyewear (the most recently reviewed service) at £450 for acetate.
Perhaps the latter would suit someone that wants fewer changes, as I often do, while Ludovic is particularly good for someone looking to be as creative as possible.
On that point, Ludovic once made a pair for a man with one ear. You can see the resulting design on his blog here.
He also designs his own rivets (they can have letters cut into them…) and is the owner of a collection of cabinetry wood going back three generations - which he glues into multiple layers to make wooden frames (from €2500).
He also went back to France to learn how to make metal frames last year (part of the process requires heavy machinery, and has therefore to be done off site), and he restores silver frames he finds in the Sablon market.
Ludovic is considering starting trunk shows, and has worked with customers abroad - doing appointments by video. But these are never quite as good as meeting in person.
If you have any interest in glasses, it's worth stopping by if you're in Brussels.
Photography: Permanent Style and Lunetier Ludovic, except those watermarked by Lillo Mendola