Wearing navy trousers as separates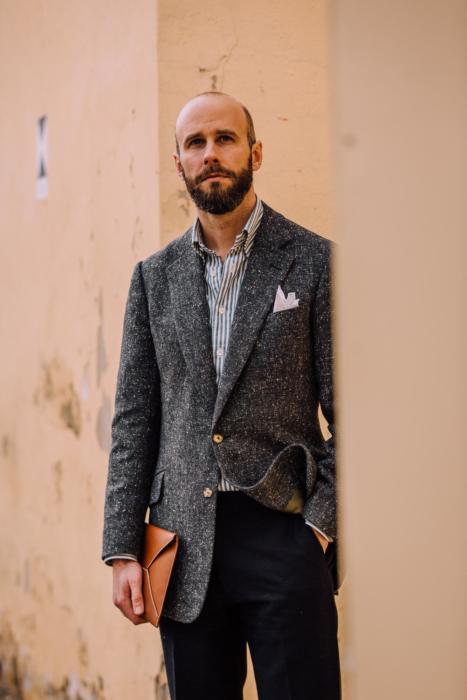 I've generally cautioned in the past against wearing navy tailored trousers as separates, with a jacket. This is for a few reasons.
First, I know from experience that it's an option men often go for. They're likely to already have trousers from a navy suit, and think these will be a great option on their own.
Unfortunately they're unlikely to work with a jacket - both because navy is a hard colour to pair well, and because the material of the suit is likely to be a fine worsted wool, which is often too sleek as a separate.
Such material is always going to be hard to work as trousers, but navy has the additional problem of being so associated with a suit.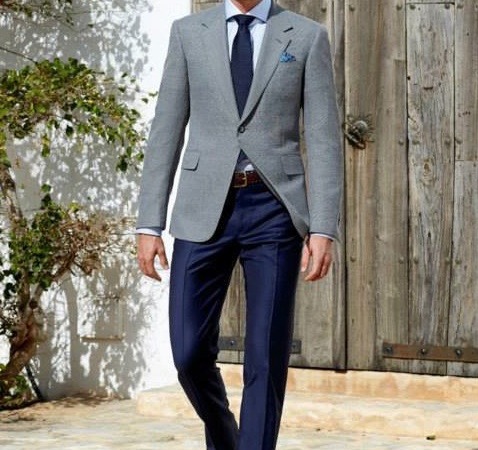 Second, I warn against it because of that pairing point.
Navy is quite a rich colour, and rich colours are nearly always harder to combine with others than weak ones. That's the same whether it's a blue, brown or green.
The contrast, of course, is with grey. There's a reason grey is the most universally used colour for separate trousers - it's very lack of colour makes it easy to combine with everything else.
Grey flannels (or high-twists in summer) are as good with a dark navy blazer as they are with a bright yellow tweed.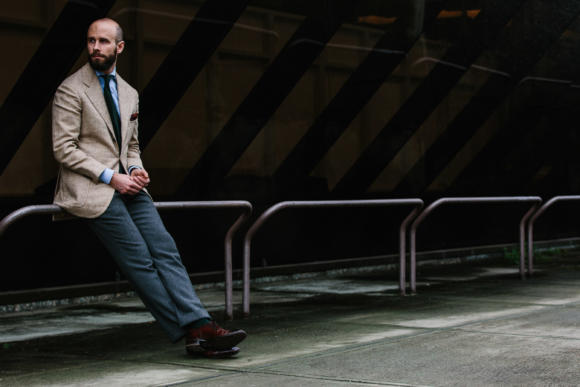 Third, if you're starting out wearing sports jackets and trousers, it's always easiest to start with dark on top and light below.
Keeping the top half generally dark, and the bottom half generally light, makes it much easier to build up a wardrobe of jackets and trousers that work together - as well as shoes that go with both.
And of course navy is only dark. There are lighter blues, but if anything their colour makes them even less versatile.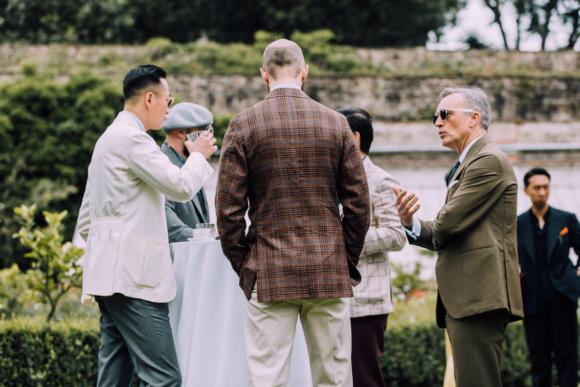 After grey, men generally find that colours such as beige, olive and cream are better options for separate trousers than navy.
And if dark colours, then quite muted - not rich. So dark green and dark brown, in greyed tones (see examples of mine at those links).
I'd even recommend charcoal first among dark colours, certainly before navy.
If nothing else, I'd point readers towards the best-dressed men of today and historically, who rarely wear (or wore) navy trousers as separates.
They may have done it purely through custom or instinct, but there were good reasons behind it.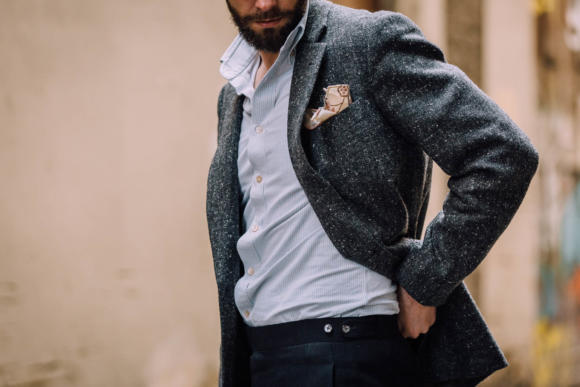 Having laid all that out, I do think there are times when navy can work.
I generally don't go into that when this question comes up in comments, mostly because it would require all of the qualifications above.
But if the navy is dark, and in a casual finish like flannel or (pictured here) serge, then I find it can look good with jackets that aren't rich enough to clash.
In the images I'm wearing my Fox Brothers navy-serge trousers (made by Whitcomb & Shaftesbury) with my W Bill charcoal-donegal jacket (by Steven Hitchcock).
The jacket is essentially grey, and therefore provides an easy partner for something richer below the waist.
It's not instinctive to think of navy in this way - almost as you would a bright colour - but in my experience it's the best way to work it.
Another combination I've shown in the past - below - has the same trousers with a very muted brown jacket and grey knitwear.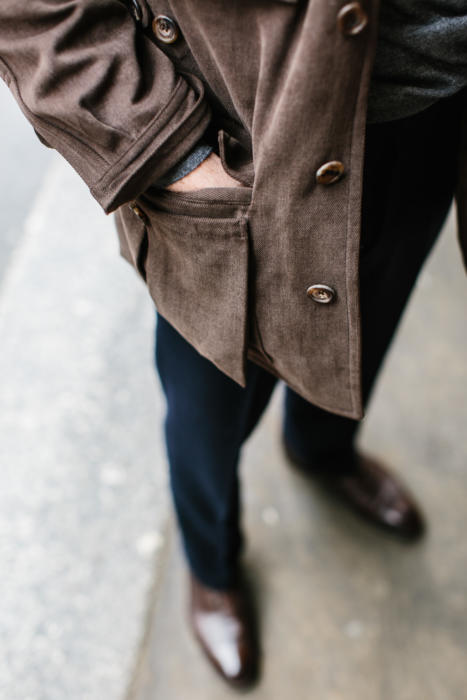 It's also worth saying that while navy is definitely easier to wear as an odd trouser with knitwear, or just a shirt, this is partially because those pieces are also muted, or because the whole outfit is more casual.
So navy is a good colour for chinos, but often the shirts or T-shirts worn with it are blue, white, grey or a variation on those colours.
And when they're not, or it's the knitwear that creates contrast, I think it's because the look is more casual - and clashes of colour are fine. Elegance is no longer the aim.
Lastly, denim falls outside this navy argument - because it's casual, because indigo is not that rich, and because it wears and fades, and so is not that dark anymore and has natural variation.
I'm sure others will disagree, and I'm interested to hear what everyone thinks. But this is what I've found from my experience.
The shirt worn with the outfit above is a heavy Japanese cotton with indigo and undyed stripes. From 100 Hands.
The shirt shown with a cream Shibumi handkerchief is a PS Striped Oxford - which just came into stock on the PS shop in finished shirts, having been available as cloth before.
The brown-cotton casual jacket is from Anderson & Sheppard. The tan-leather folio is the one I designed with Equus leather.
Photography: Jamie Ferguson @jkf_man