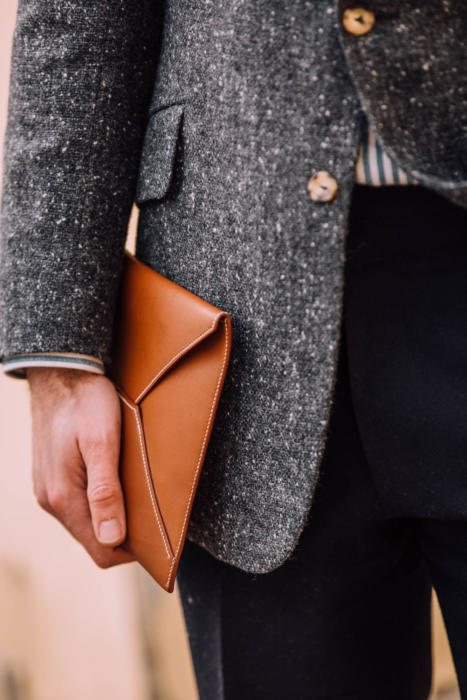 Writing about this leather folio feels like a release more than anything else.
It is the result of two years of work, back and forth, with the aim to produce a simple but beautiful hand-sewn envelope - in which to carry a phone, wallet, keys, headphones and notebook.
I can carry a phone and wallet in my jacket, but it's keys that push me over the edge. They definitely shouldn't be in your jacket.
One of the most satisfying things about this design is the fact you can fit so much in there, because it is so soft and unstructured - almost more pouch than folio.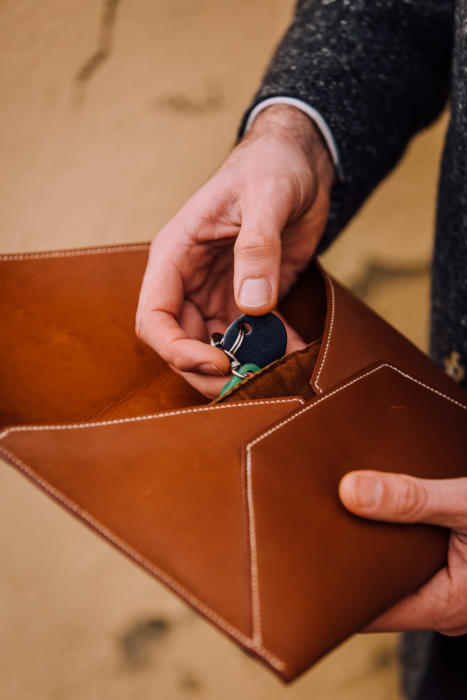 Its lengthy gestation was due to two failed prototypes and two failed collaborators.
Last year, fortunately, I started working with Charlie from Equus Leather, and things went smoothly from that point on.
I've covered Charlie's work several times in recent years. He designs, cuts and hand-stitches leather goods in County Durham, England, and has done particularly well as a result of videos made covering his process.
[See wallet-making video here]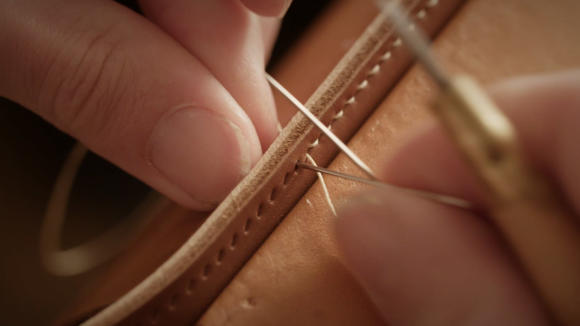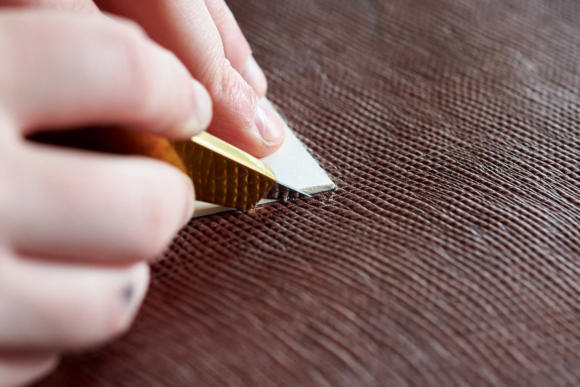 Charlie immediately understood the concept for the folio: something unfussy, easy to use, and in the finest materials.
So no fancy hardware, entirely hand sewn, and showing off leathers that the owner appreciates every time they hold it and use it.
The simple, soft construction means the folio can expand easily when things are added to it. And yet empty, it returns to a flat envelope that slips inside a drawer or suitcase.
I'll post more images and video of using it in the future. But the current video below gives a good sense of it in use, I think.
It also shows how easily the folio can be held, opened and closed.
Getting that right was the hardest technical part. The flap had to have sufficient size to flop down cleanly, while the bottom had to have an opening at the right angle (and be sufficiently large) to make the flap easy to slip in.
Like a good brass lock, the resulting mechanics are quite satisfying.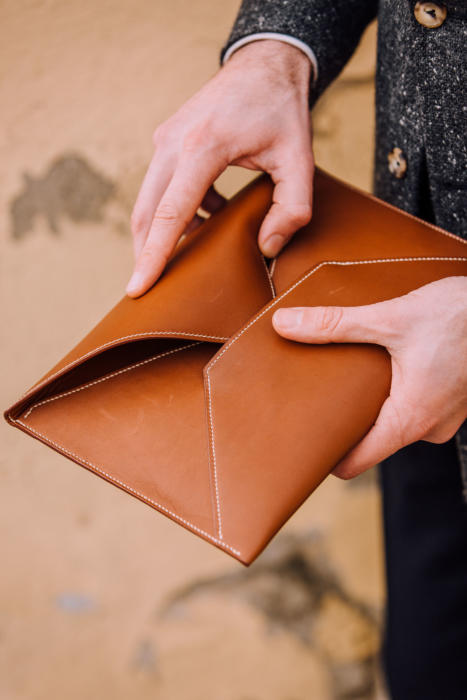 I should say at this point that Charlie will be selling the folios, rather than me, and that they will be made to order - like most things on the Equus website.
There might be a little stock when Charlie gets ahead of himself, but the assumption should be that they are all MTO.
Each should take four weeks to make, largely depending on leather supply.
He is offering it in three leathers: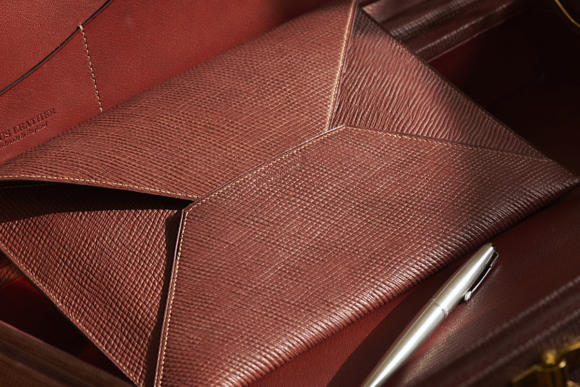 The baranil is a fine, soft calf from Tannerie Degermann in France. It will gain a patina noticeably - as you can already see on the close-ups of mine.
The cuir de russie is stronger but no less supple. Readers might recognise the texture, as it's a recreation of the Meta Catherina leather that I had my Cleverley shoes made out of.
Tanned by J&FJ Baker and developed with a French expert in the original Russian calf, it has a similar texture and smell (largely birch oil) to the original, though less variegation of colour.
In all three cases, the lining is a lambskin with a lovely depth of colour. It not only provides a soft protective surface for the contents, but develops a patina of its own too.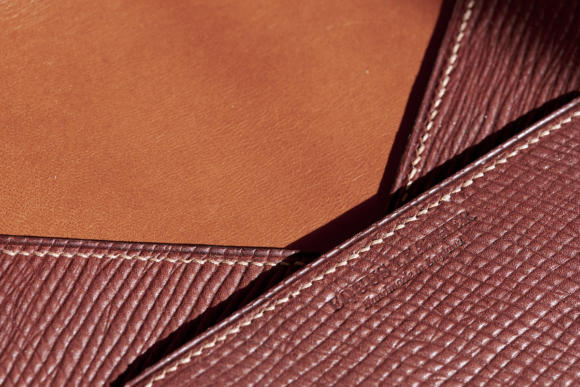 I've moved this post forward a couple of weeks as I just received the sample in the cuir de russie - and so will have it and the fawn baranil in the pop-up shop next week, for anyone to try for themselves.
Charlie also tells me he now has stock of every leather except the fawn, and that should arrive in a few weeks.
Apologies that a lot of coverage at the moment is about new products or brands in the pop-up - a necessary part of informing everyone that's appearing Normal service will resume next week.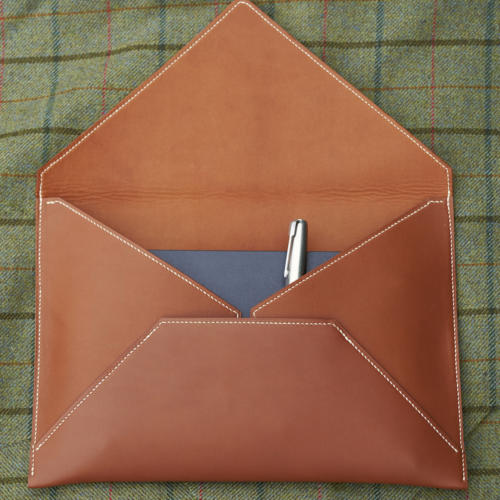 For some, I can see how this folio might feel too feminine. But I find it too squashy and practical in use for that to be an issue. It's just so functional - something at the root of all good menswear.
Details:
Folio designed by me but sold only on

the Equus website

(like

the suit-carrier holdall

)

Entirely hand sewn, in beige linen thread, in England

Made to order, in three leathers

Price £550 + VAT (Baranil) and £600 + VAT (Cuir de Russie), with embossed initials available

Size approximately 267mm x 190mm when closed

Sized to hold an A5 notebook, but with space to hold several other things alongside it
Photography: Jamie Ferguson (me and barinil carried by me), Equus Leather (making shots and cuir de russie)
Video: Itch Media
UPDATE:
Thanks for all those that have placed an order in the past month.
Interesting to see some going for A4 rather than A5, which is better for documents and more masculine. Also interesting to see one order for navy, with a navy lining.
Below is the sample promised above in the espresso-colour calf. Quite striking against the thread and lining.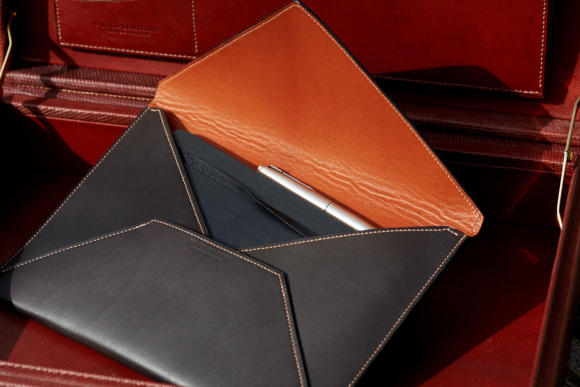 What to learn more about how Permanent Style is funded? Read here: 'Is this an ad?'