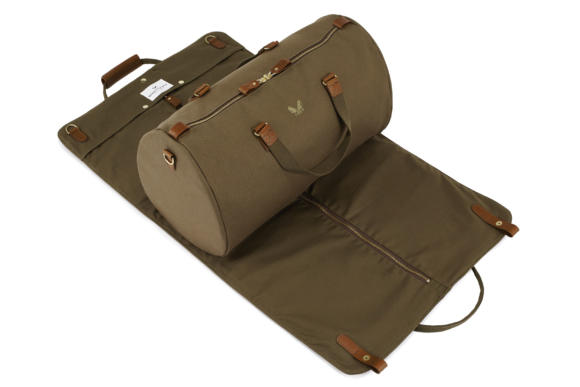 Although many of our collaborations have taken a while, this has been the hardest and most time-consuming ever.
Perhaps because it is so different, and functionality so important.
It is a bag and garment carrier in one - and it is called the Suit-Carrier Holdall (or SC Holdall for short).
A suit carrier wraps around a central, cylindrical bag, attaching to it with magnets and straps.
Because both are made from canvas, and have minimal structure, they can be carried as one bag without being too heavy.
But they can also be carried and used separately, particularly at a destination - when you no longer need the suit carrier, for example.
It was developed with the wonderful people at Bennett Winch, is made in the UK, and is available to buy now on their site (in either black or olive).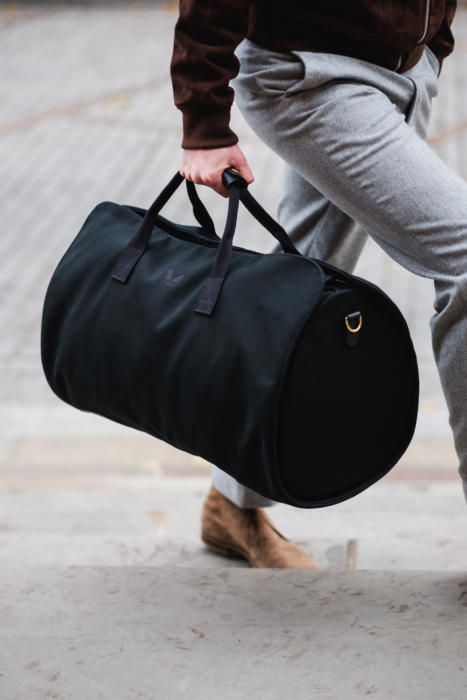 Hard, tight folds are what cause creases in tailoring. It's why folding a jacket around something, such as shirts or knitwear, is a good idea when packing a suitcase.
But even better is not folding the jacket or suit at all - and as with the SC Holdall, wrapping it around the case instead.
A few brands, including Vitale Barberis Canonico at one stage, have sold garment carriers with a similar idea.
They generally roll up into a cylinder, leaving a space in the middle for shoes and clothes.
Unfortunately this means the inside has no structure, making it soft and unable to hold much weight. The internal contents also flop out when you unzip everything.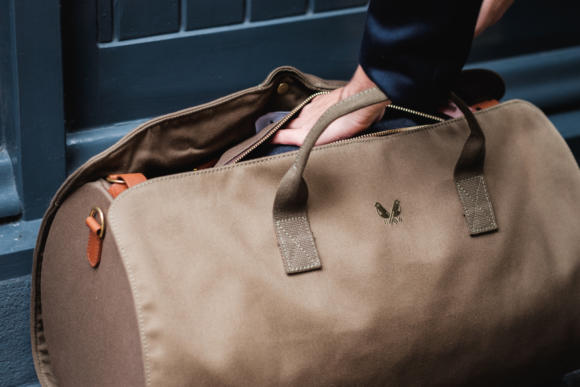 I came to the guys at Bennett Winch with the idea of making something similar, but with more structure and in their waterproof canvas.
That's where we started.
But over the next 18 months - and more than a dozen iterations - they changed, improved and refined the idea into something a lot more original and versatile.
We looked at a simple, rolled-up suit carrier, but found it hard to give real room and structure to the contents inside.
That design also requires two odd circles of material attached at either end, which mean the carrier can't be hung up or otherwise used.
Much better, it was decided, to have a separate, internal bag, and wrap the suit carrier around it.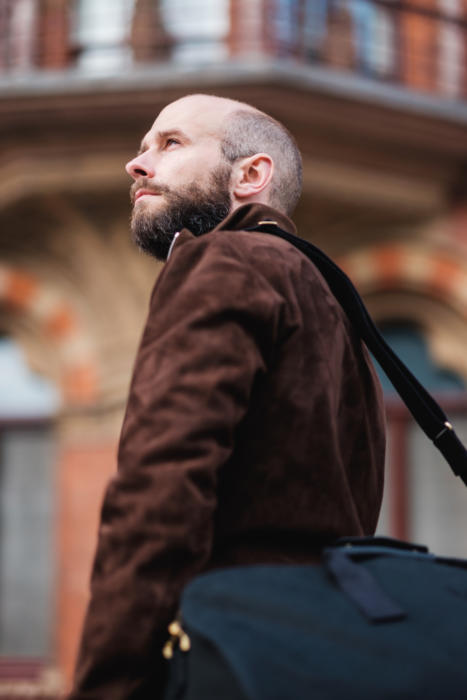 The problem then is weight. How do you make two bags that are not much heavier than one?
Bennett Winch stripped back their normal bag structure to achieve this - the central bag is simpler and softer than their normal Commuter model, for example.
But when the two bags are together, the multiple layers of canvas mean that not much structure is actually needed. The only bits that have to be firm are the two ends of the bag.
(Those ends, again unlike other designs, are also teardrop-shaped rather than round, which means the bag sits upright and doesn't roll over. A nice touch.)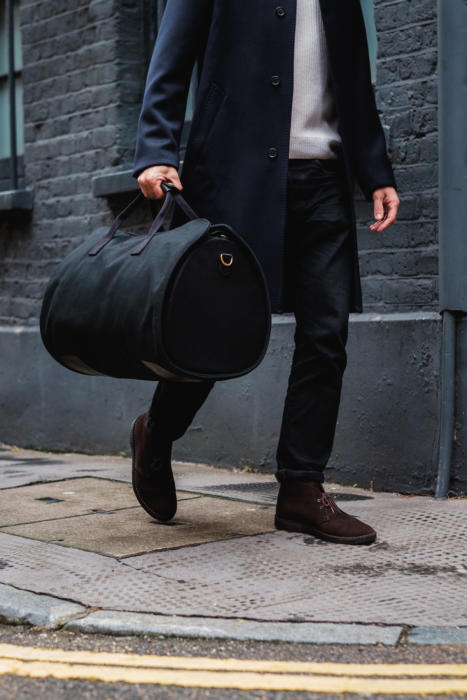 We also realised it was important to make the bag(s) simple to use.
If the means of joining them together was too complicated, I can see people not bothering when they're in a hurry.
Magnets were therefore used on the bottom of the central bag, rather than poppers.
And on the top, the straps that slide through and fasten back on themselves were refined several times to make them easier to use.
Helpfully, Bennett Winch have also shot a video where you can see the whole process, below.
Everyone in the team has been trying the holdall over the past few months, with great success. (Ru, pictured with me trying the bags here, is the brand's designer.)
Jackets don't crease; the fastenings all work well; and the weight is no more than most other weekenders.
It's such a lovely sense of accomplishment to make something so functional.
And I can hardly take any of the credit - rather like an interested consumer, I have merely said at every stage what I would like and what I would use.
The Bennett Winch team have done everything else.
Manufacturing points on the Holdall:
It is made in the Bennett Winch

24oz cotton canvas, which as I have written previously, has a lovely handle and is waterproof (being actually two layers of canvas bonded together).

The leather sections, such as the panels on the bottom of the bag, are all veg-tanned full-grain leather.

The hardware is solid brass.

It is made in the UK.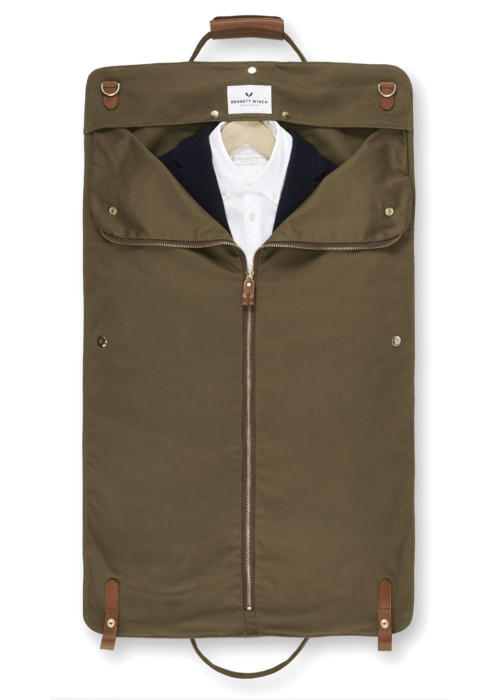 Functional points:
The suit carrier

comes with its own slimline, wooden hanger

but can take any regular, flat hanger.

It is designed to accommodate one jacket and one pair of trousers.

The suit carrier has one, zipped external pocket

. The holdall has no internal or external pockets.

It also comes with a shoulder strap, and a removable waterproof section that fastens inside the central bag.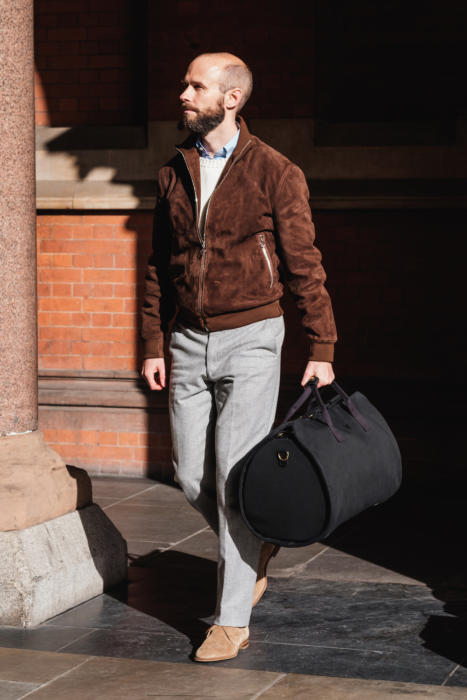 The Suit-Carrier Holdall is available to buy now on the Bennett Winch website - not the Permanent Style shop.
(This is what I tend to prefer with items I am not buying and stocking myself, such as my colour of Baudoin & Lange Sagans.)
There will also be a few bags in the pop-up shop, which opens on November 15th. So you can see and try it out there.
Thanks everyone, I really hope you like it.
In the shoot I am deliberately wearing an outfit I might put on for travel, with a suit in the carrier, as well as a second pair of shoes. That outfit is:
Seraphin waterproof brown-suede bomber jacket
Anderson & Sheppard grey-flannel trousers
Edward Green unlined desert boots
Luca Avitabile button-down shirt
Anderson & Sheppard cream-cotton knitwear
Photography: Joshua K. Jackson