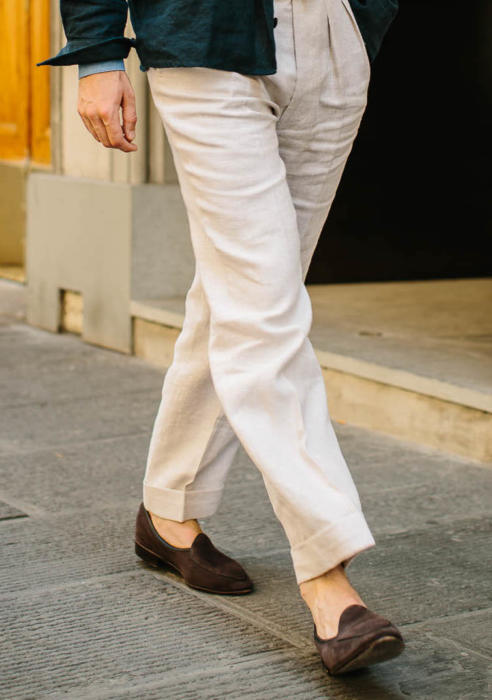 For the past year - ever since they were first launched here on Permanent Style - I have been wearing Sagans by Baudoin & Lange regularly and consistently.
But it has only been in the past few weeks, as the temperature has soared and I've been travelling in Italy, that they have really come into their own.
In hot weather, with a small invisible sock, I can wear Sagans all day long and remain cool and comfortable.
No blisters, no sweaty feet.
If I walk for hour after hour, my feet will get tired without the normal structure and sole of a proper shoe.
But even this Allan (Baudoin) has mitigated with a particular insert under the ball and heel of the foot.
I'll go into this in more detail in a fuller piece on dressing for very hot weather, in a couple of weeks.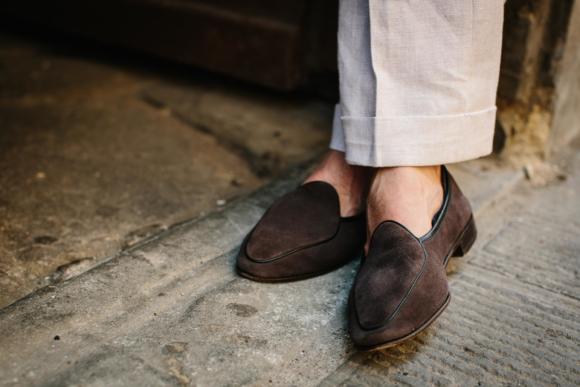 Right now, I am proud to say that Allan and Bo are offering a new colour of Sagan that I have designed myself - the lovely grey/brown you can see pictured here.
I've worn both brown shades, and black, in the Sagans but I always felt there was a gap for a versatile suede that bridged slightly smarter and more casual clothing.
This is the result. A brown whose earthiness will make it perfect for warm colours such as brown, tan and green, but whose grey cast also makes it suitable for cooler colours - greys and navy.
In the pictures here I'm wearing them with off-white linen, but they have also gone well with a navy cotton suit, green linen trousers, and grey Crispaire.
The versatility also has the advantage - of course - of making them even more useful for travelling.
There is also - though it is very slight - a subtle purple cast to the colour. You can see this particularly when you look at the reverse, inside the shoe. As they are unlined, you can see the topside of the leather there, and it has a grey/purple tinge.
I was honoured to be asked by Allan and Bo to help come up with a new colour for the range, and even more pleased now to see the results.
The new 'Bark Grey' colour is available on their site as of this morning, in a limited run of 50 numbered pairs. There are three styles, as shown above.
You can see and buy the pair here.
Now back out into the heat of Naples...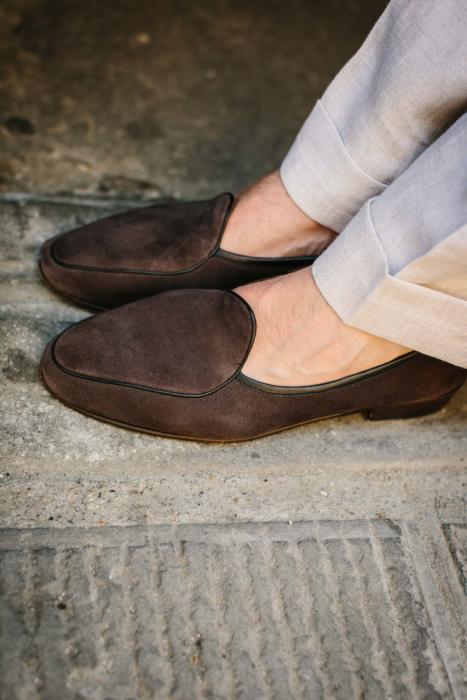 Photography: Jamie Ferguson @jkf_man