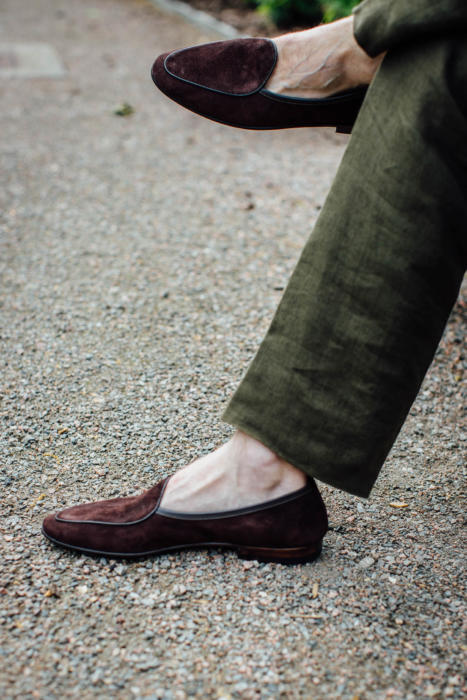 I recently became involved with - and more importantly, started using - the best Belgian-style loafers I have ever worn.
They are made by Allan Baudoin, a French bespoke shoemaker who now lives in England and has a workshop in east London. The Sagans - as they are called - are the first thing to come out of his new ready-to-wear brand, Baudoin & Lange.
A Belgian loafer is a fantastically useful shoe. Part way between a slipper and formal loafer, it is smart around the house and casual in the office.
Although it has little internal structure and only a light leather sole, you can still happily wear a Belgian loafer outside - down to the cafe or out to a local dinner.
I wouldn't commute in them every day, but I do wear them frequently in warmer weather with formal clothing (see Pitti post here) and they are great to keep in the office, given I cycle in most days.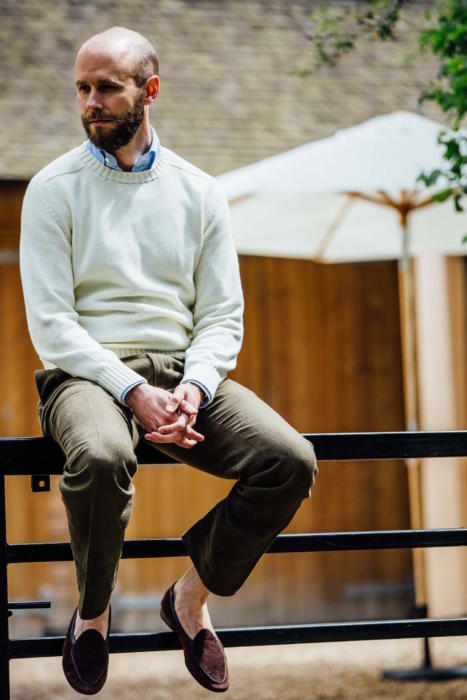 The Sagans are distinct from other Belgian loafers in several ways.
Most importantly, they are made of suede lambskin, rather than the calfskin normally used in Belgians and other dress shoes. Lambskin is most commonly used in gloves and leather jackets, and is softer than calf.
You feel that softness immediately because the Sagans are unlined. Again, most loafers (though certainly not all) are lined with another layer of leather, which gives them greater structure but reduces the softness.
Lambskin isn't usually used in loafers because it is often poor quality and is too delicate for more structured shoes. Fortunately, Allan has been able to source small runs of very high-quality lambskin from a tannery in Cyprus.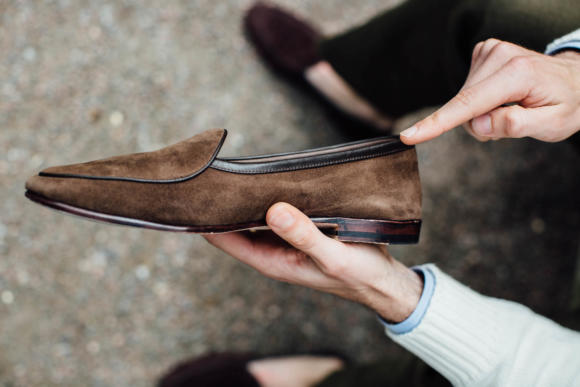 The second thing that sets the Sagans apart is their quality of make. Allan's background is as a bottier and although these are nothing like bespoke shoes, they carry across some of this attitude to quality manufacture.
For example, the leather binding that runs around the top of the shoe is finished by tucking underneath itself, leaving a neat line of leather around the outside. (Indicated above.) All Belgians and most dress loafers just cut the leather at this point, leaving a raw edge.
The sock is also French calf leather - softer and more breathable - and the insoles are hand-cut leather, rather than composite cardboard. That insole has a cushioned insert which makes them very comfortable: an actual insole lasted with the upper, rather than just padded socks.
High-end dress shoes have many of these details, but Belgians tend not to, and any shoes rarely do at this price point (£245). The shoes are also hand-lasted, which is useful with the lambskin to help control the tension around the shoe in such a soft leather.
On that point, one thing that I found striking about the Sagans is their ability to adapt to lots of different foot widths.
Although they are built on a relatively slim, elegant last, the softness of the lambskin and the fact they are unlined means they can stretch to particularly wide feet, and remain perfectly comfortable.
My feet are a little narrow - usually E, sometimes D - but they fit me very well, and I've seen them fit people with much wider fittings too. In a casual shoe like this, which is rarely going to come in several widths, this is an important factor.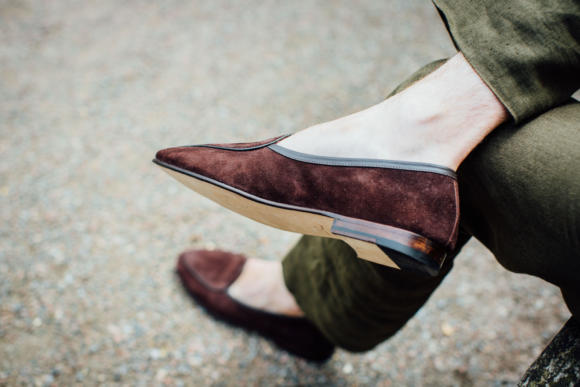 I've been wearing my Sagans for several weeks now, and they were particularly useful in the couple of hot weeks we had in May. They're designed largely for internal use, but can be worn outside (with care).
I used to wear Rubinacci Belgians - those are the ones shown in Florence last summer. But when I pick them up now they feel so poorly made by comparison.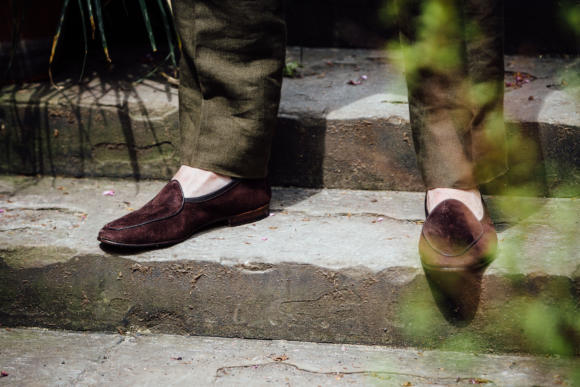 The Sagans are photographed here with green linen trousers from Paul Stuart, a cream cotton sweater from Anderson & Sheppard, and shirt from Luca Avitabile. (The A&S sweater has the same nice, slim fit as the Shetlands and is decent value at £195.)
The Sagans have been available for a while to Allan's bespoke clients, but are being relaunched at the moment - with several improvements like the cushioned insole, thin toe puff and heel counter, and a nice three-nail design in the heel which has become Baudoin & Lange's trade mark.
On the site at the moment there is purely a form to register interest. The full information and sales will be ready in a couple of weeks.
www.baudoinandlange.com @baudoinandlange
Photos: Jamie Ferguson @jkf_man