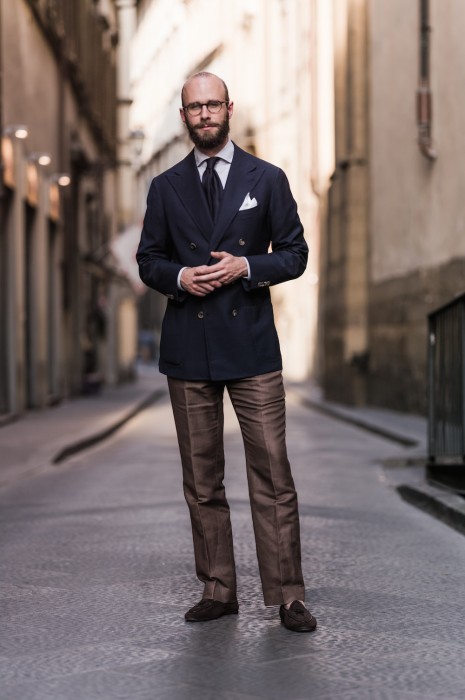 Four things contribute most to the formality of an outfit: shine, darkness, contrast and desaturation.
We see all four of them in formal outfits such as black tie. Dark black or midnight blue is contrasted against stark white. There is virtually no colour – perhaps just a dash in the handkerchief or boutonniere – and there is shine in the grosgrain silk, the shine of the shoes.
Navy is the more common starting point for formality in a lounge suit. When considering what to wear for our Tailoring Symposium last month, therefore, navy was the first thing on my mind.
It was a hot night in Florence, and a double-breasted jacket would be more formal than single. So my navy hopsack double-breasted jacket, from Elia Caliendo, fitted the bill.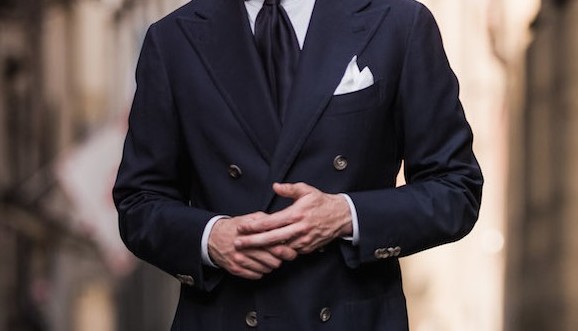 Next, the trousers. Grey would have been the formal default (plain, lack of colour, enough contrast with jacket and shoes). But I was keen to try my silk/linen brown trousers from Panta Clothing. They are very light and the silk gives them a slight sheen, which suggests a touch of formality. I'd consider how to get enough contrast with the shoes (see recent post on Caraceni) later.
For shirt, tie and handkerchief, the default formal option would always be a white shirt, plain dark tie, and white hank. This achieves the desired elements of darkness, contrast and desaturation. This is why wearing a white shirt in the evening is, for some men, a useful rule of thumb; it usually makes any outfit more formal.
But the top half would have been dull if it was just plain navy and white. It might also have looked detached from the trousers. So I substituted the shirt for a pale grey. That retained the lack of colour, sacrificed a little of the contrast, and injected a touch of personality.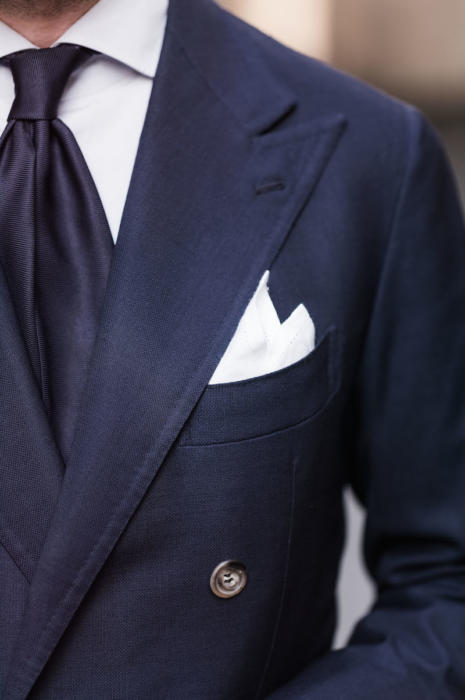 In looking at the top half, above, note how much more formal the bright-white handkerchief and silk navy tie make it. A silk with more texture (eg grenadine), or with less shine (eg wool or linen) would have been much less formal. Equally a handkerchief that provided less unbroken contrast.
The shoes are brown-suede Belgian loafers from Rubinacci. I know some people dislike the sockless look, but I like it and my God it's cool. They also created just enough contrast between shoes and trousers, due to the textures of suede vs silk/linen, and the black bow and piping on the shoes.
Also good here would have been the suede and velvet slippers Gaziano & Girling are producing at the moment (from £380). They have soles and heels that are a touch thicker than normal cemented shoes, making them much more practical than other slippers (including, I admit, these Rubi ones).
Tie from Drake's, shirt from Luca Avitabile. For those in New York, Luca and Luigi Solito will be there in September – the 16th to the 18th, at HMS International Fabrics (730 5th Ave, suite 502). Contact [email protected] and [email protected]