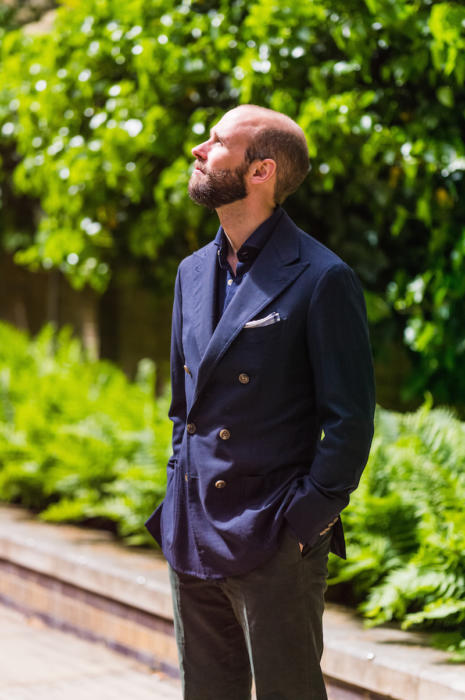 This Caliendo hopsack blazer was completed earlier in the year and is now fast becoming the most useful item in my wardrobe.
Just like the Solito cashmere blazer I had made for Autumn/Winter last year, it is thrown on with everything: with a shirt and silk tie for more formal occasions, with a polo shirt as here for less formal ones, and with a thin crew-neck sweater when the temperature drops. (Anderson & Sheppard for cashmere, John Smedley for harder-finished merino.)
I'd recommend this type of blazer for anyone – bespoke or ready-to-wear – as a staple of a modern wardrobe that needs to look smart, but rarely makes use of a suit.
Lightweight hopsack is particularly nice for a jacket like this because it is so breathable, due its loose weave (see image below!). Yet it retains enough body to not lose its shape, unlike most other summer cloths. (It is usually not hard-wearing enough for trousers, which is why fresco is preferred.)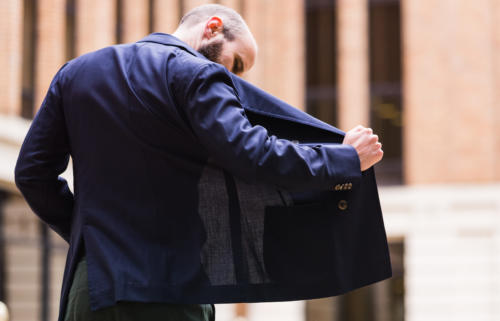 I have worn the jacket regularly for the past two months and – although it has been conscientiously hung and brushed – it has not been pressed. It has done well under those conditions: a few wrinkles here and there, but fewer than most other lightweights.
(As a side note, I generally prefer to show clothes in such a state, rather than pressed and primmed to within an inch of their life. Clothes just don't look like that.)
Elia Caliendo is probably my favourite Neapolitan tailor – he has previously made me a tan summer jacket, my Permanent Style tweed, and my Harris tweed. Together with the Solito cashmere, it's a nice little capsule wardrobe of jackets.
Elia has done a good job here, with fine finishing on the seams, lining and swelled edges. The buttonholes aren't as delicate as any other tailor outside Naples, but they're good for a Neapolitan.
The only area Elia sometimes has issues is the vents, which can be cut a little short and without enough overlap, allowing them to open completely at the bottom. This is an issue here as well, and one we'll correct later in the year. I do like his tendency towards narrow, straight lapels on DBs however.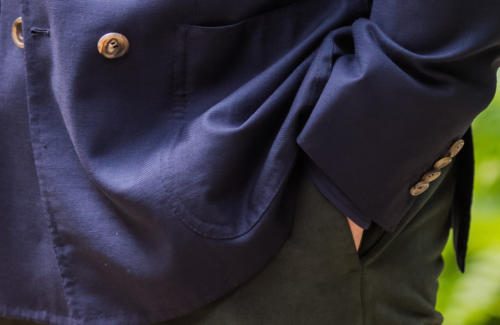 Brown horn buttons, Simonnot-Godard handkerchief and my green cotton trousers from Calvo de Mora. The hopsack is a Loro Piana jacketing, 230g.
The polo shirt is from Luca Avitabile – a collaboration that we'll have more news on soon.