It has always surprised me how many Italian tailors say they can't source good, unpolished horn buttons.
Particularly because, since its launch last year, even customers can buy them from UK distributor Bernstein & Banleys (TheLiningCompany.co.uk).
B&B has a good selection of horn - in different shades, with two buttons or four - plus stag, mother of pearl and corozo.
There is also a small selection of vintage button sets, and a new range of solid-gold blazer buttons that launched last week (making steps shown below).
That lack of awareness among Italians is doubly surprising given that the vast majority of buttons for bespoke tailoring, including 99% of the range at Bernstein & Banleys, are made in Italy.
England used to have a strong button industry.
But sadly the last British manufacturer, James Grove & Sons, went bust back in 2012. It was over 150 years old.
"We bought over 1 million buttons from them when they went under," says Jonathan Bernstein of B&B. "Most of them are still sitting in our warehouse waiting to be sorted."
"It was very sad to see them go, but then most of their machinery was Italian too."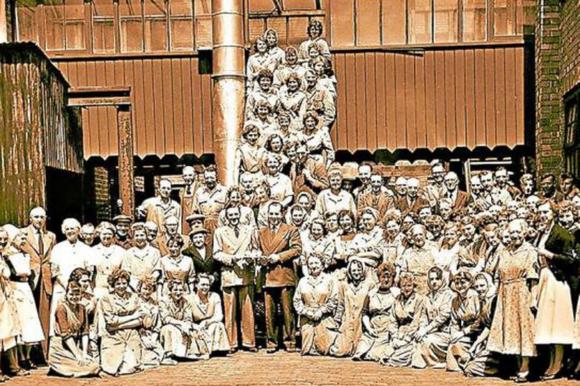 Jonathan and I met for the first time a couple of weeks ago, over coffee. His daughter has recently joined the business, and is trying to get them talking more to the press.
Bernstein & Banleys is one of two big suppliers of linings and trimmings left in the UK - the other being Richard James Weldon.
Jonathan began his career as a commodities trader in the city, joining B&B (his father's business) in 1989 after traders took a hit during the recession.
Back then, there were around 12 large trimmings suppliers in the UK, and 95% of the product was made in the UK.
"Gradually the others began sourcing from China, and chasing the low-end, volume market. They eventually went out of business - just leaving the top end," says Jonathan.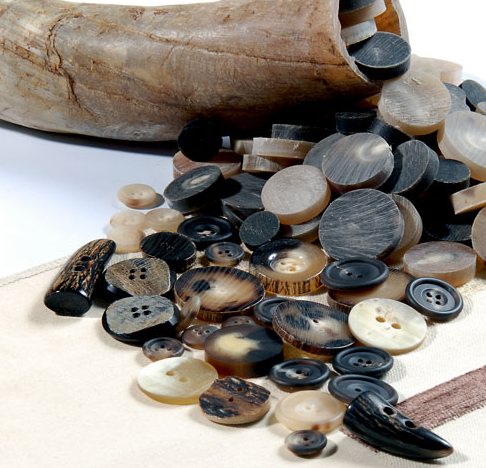 Like many merchants and suppliers, B&B used to be located close to their customers in the West End.
They were on Newburgh Street, then Cork Street, before moving to north London - and since 2010, have been in Southend on the coast.
Fortunately, for the top end of the market, business has been good recently - partly driven by costume in the film industry. Bernstein & Banleys supplied a lot of trimmings for Game of Thrones, as well as Harry Potter.
Recent trends in the lining market have been more stretch fabrics (for womenswear) and more cottons (for vintage-inspired pieces).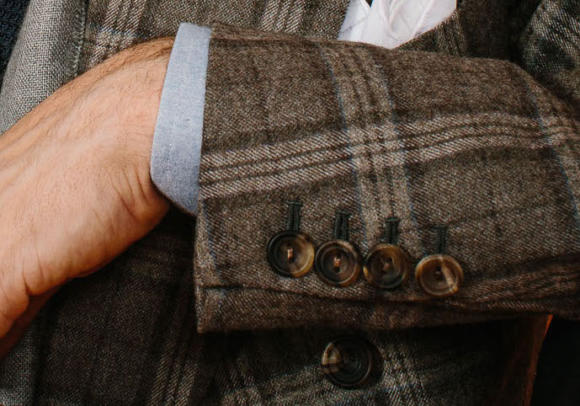 I've always liked matte horn buttons on tailoring, because they feel so different to ready-made suits.
Savile Row tailors have traditionally used them, and often two-hole versions - which again separates them from RTW.
Italian tailors, by contrast, tend to use corozo and polished horn - partly because they like the fact that it is more similar to designer RTW brands.
This perhaps says something both about how the countries' tailors see their prestige, and how big the domestic menswear industries are.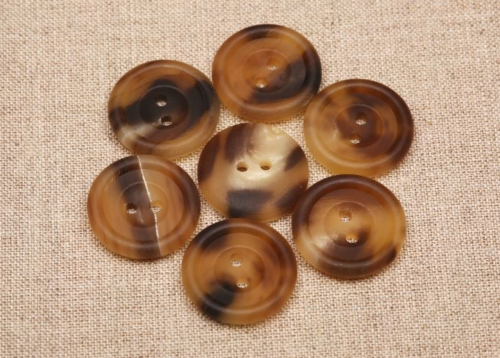 I've bought a few different ranges from B&B (particularly shade 159-03, above), and plan to use them to replace polished horn on my Italian suits.
I may also do so with corozo. I tend to only like corozo when it is paler and colour, and so you can see the natural ripples in the material.
The hardest colour to get in horn is grey, but it is possible.
Makers just take the palest, tan-horn buttons (below), and dye them. Grey-horn buttons tend to have les pattern and variegation in them as a result.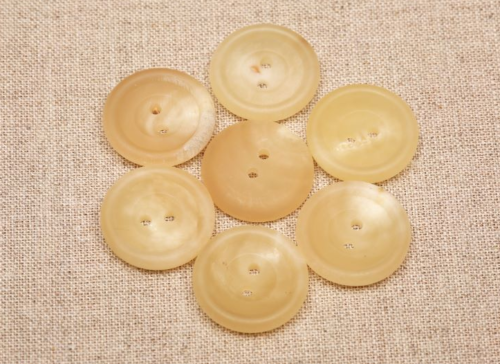 On the subject of buttons, The Vintage Queen in London also now sells its vintage collection online - see site here.
I previously profiled The Button Queen back in 2014, and used some domed buttons originally on my bespoke Gieves & Hawkes pea coat (below).
Good times for anyone looking to source great buttons on their own - and avoid the lack of awareness among tailors.
Photography: Top, courtesy of Gieves & Hawkes; bottom courtesy of Troubadour; suit cuff, Jamie Ferguson @jkf_man; others, Bernstein & Banleys.