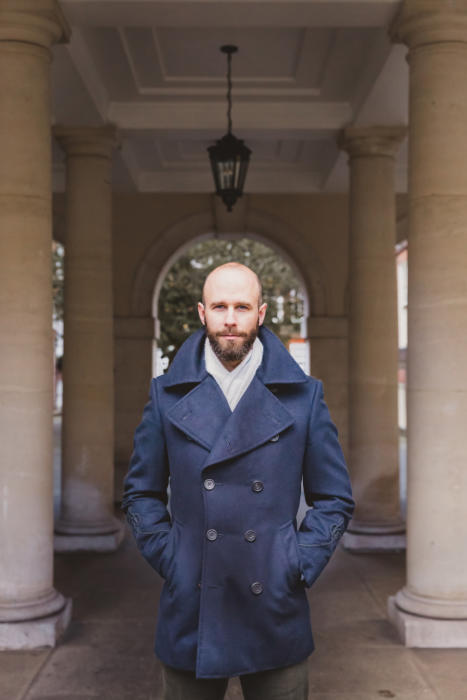 This post could come under the 'How great things age' or the 'Reflections on bespoke' heading.
Whatever the category, readers have asked frequently about this pea coat, how it has held up and – more specifically – whether I ever changed the buttons.
I did.
Much as I loved the vintage gilt buttons I sourced from The Button Queen, the coat was a bit too ostentatious with 10 of them running up the front. Too military vintage; not enough contemporary elegance.
I swapped them for dark-brown horn (with Graham Browne).
I had assumed I'd use black horn, to reflect the colour of the embroidery, and had said so at the time. But when we looked at both on the coat, either worked. And I prefer the varied colour of the dark brown.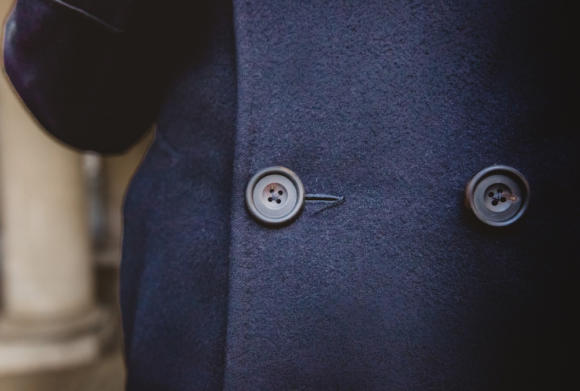 There is very little I would change about this coat if I did it all over again.
One, however, would be the angled welt pocket under the lapels (which you can see on the chest in the image below).
This is very functional, at the perfect height for my right hand and a good size. But I find I fold that left-hand lapel up a lot, which then exposes the pocket.
Davide (Taub, Gieves head cutter) and I had assumed this would be a rarity, but we were wrong. If I designed it again, I'd stick with the internal pocket underneath that lapel, which is only just hidden and almost as convenient (when the lapel is down).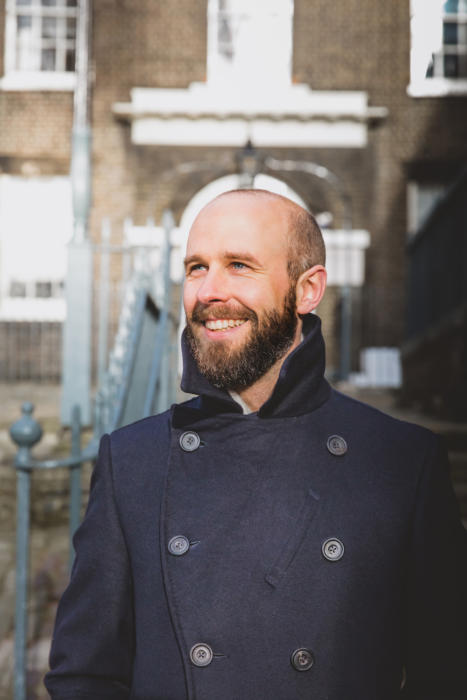 The only other thing I might reconsider is the cloth.
It's loden, which is an alpaca/wool mix and traditionally used for the Austrian coats of the same name.
Loden's key virtue is that it holds a nice sharp line even in light weights, and with no other structure in the coat. That suited my aims, as I was afraid of having something too heavy.
In retrospect, however, a heavier weight would have been fine, and a slightly thicker, spongy wool (as more commonly used for pea coats) might have been nicer.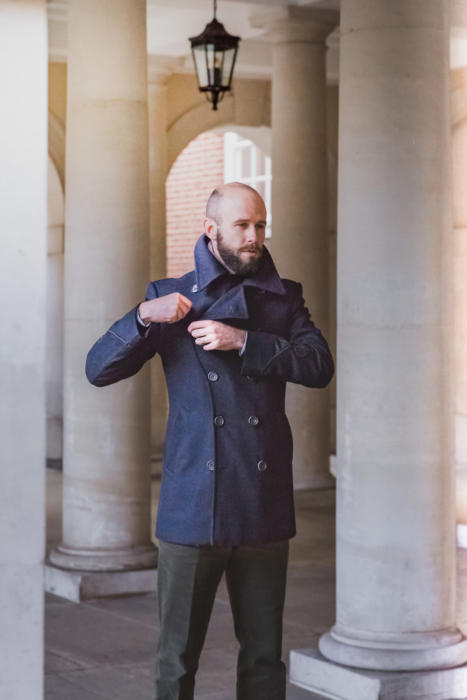 That's a relatively small point, however, and overall I love this coat: it's proved incredibly useful, been widely admired, and I've hugely enjoy wearing it.
One reason it's so useful is that (as with all pea coats) it bridges formal and casual rather nicely.
It's long enough to cover a jacket, and although I wouldn't wear mine with jeans, it covers most other eventualities.
Given I cycle a lot (often going to appointments on a Boris Bike in London), a coat this length is also particularly practical: not as long as a regular overcoat, and not the slightly awkward in-between length of a car coat.
Interestingly, the embroidery (above – in black, by Hawthorne & Heaney, drawing on Gieves archives) is rarely remarked upon.
I was a little afraid that, even in black, it would stand out too much. But often it's not noticed unless I point it out.
The fit and cut, however, immediately set it apart.
No pea coat would ever have this much shape through the waist. Partly because ready-to-wear can't do that and cater to a broad range of men, and partly because pea coats were historically much squarer and so tend to be designed that way.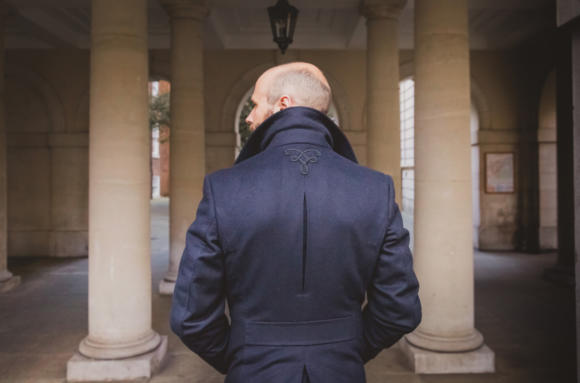 The bespoke make also gives it a natural shape in the chest, which is very flattering, and allows things like the collar to be the perfect height and shape for me.
The undulating curve of the front edge, although achievable outside bespoke, is also very distinctive.
I love the way it starts quite tight at the neck, runs a broad, deep curve around the chest, then dives straight through the waist and hips, before kicking out ever so slightly at the bottom.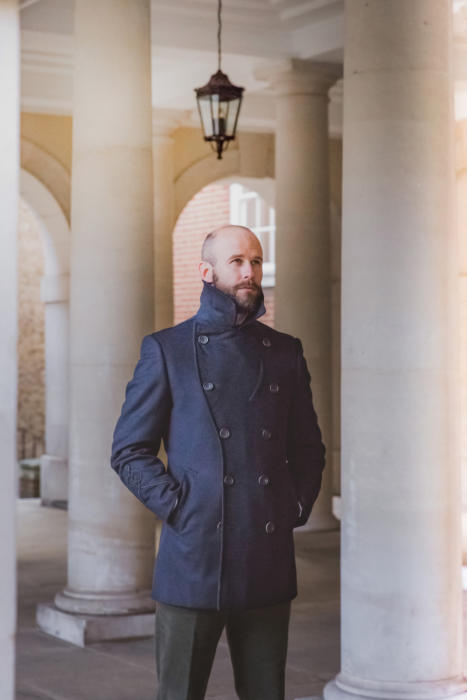 Other subtle but highly enjoyable points include the hip pockets, which were positioned at the perfect height for me to plunge my hands into. And the quilting detail on the inside, which of course no one normally sees.
If you want to, you can read the full step-by-step process of designing and fitting the coat back in 2013 in these posts:
1 The inspiration, design, and 'Who dares wins, Rodney'
2 The first fitting, including sizing for a jacket and knitwear
3 The making details, with quilting and embroidery
4 The final coat, where I first start ranting about that front edge
5 Details: The buttons, the designs, and the outfit it was worn with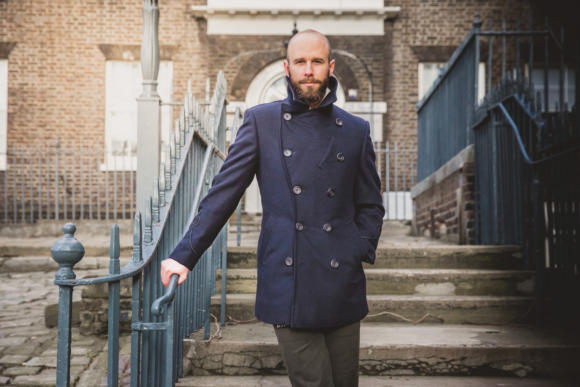 In the images in this post, I am also wearing:
Olive-green cotton-twill trousers from Whitcomb & Shaftesbury (Loro Piana cottons bunch)
Silver/cream Kishorn scarf from Begg & Co
Brown oxfords with alligator insert from Saint Crispin's (also getting their own post soon)
Photography: Hannah Miles @photographybymiles